Greetings, fellow fans of My Hero Academia! Are you ready to step into the world of pro heroes and explore the enticing allure of Midnight? Look no further, for this guide is your ticket to bringing to life the enigmatic character known for her seductive charm and powerful presence. Whether you're preparing for a thrilling cosplay event or simply want to embody the essence of this alluring pro hero, this step-by-step guide will help you create a captivating Midnight costume that is sure to turn heads and leave a lasting impression.
Midnight Costume – My Hero Academia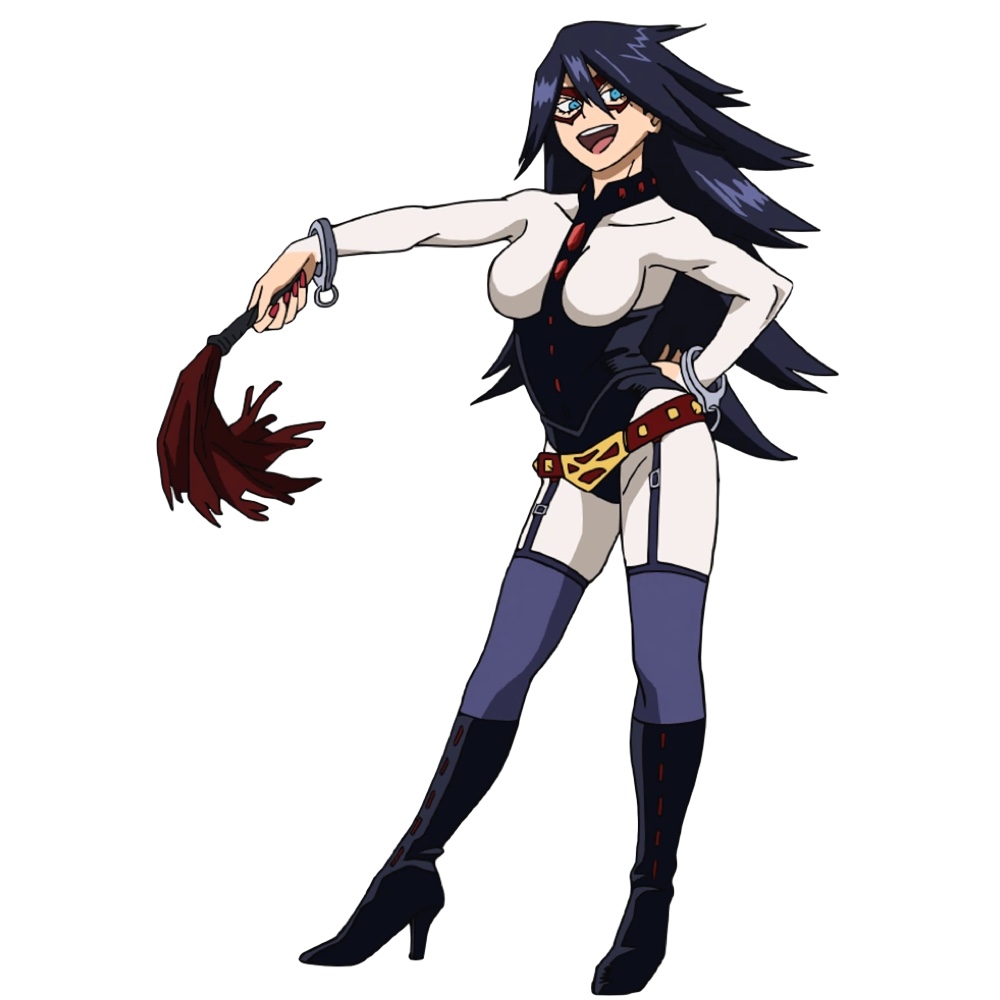 | # | Item | Description |
| --- | --- | --- |
| 1 | White Bodysuit | Create the foundation of your Midnight costume with this sleek and elegant white bodysuit. Crafted from comfortable and stretchy spandex material, this bodysuit will fit like a second skin, allowing you to move gracefully and confidently. Whether you're attending a cosplay event, a Halloween party, or just expressing your love for the character, this bodysuit sets the stage for a stunning transformation into Midnight. |
| 2 | Bodysuit Lingerie | Add a touch of allure and mystery to your Midnight costume with this exquisite bodysuit lingerie. Designed with intricate patchwork detailing, this lingerie piece layers beautifully over the white bodysuit, adding a hint of sensuality to your overall look. The combination of comfort and style makes it perfect for cosplay, costume parties, or intimate gatherings. Embrace the captivating presence of Midnight as you captivate everyone around you with your elegance and charm. |
| 3 | Rhinestones | Embellish your costume with these dazzling rhinestones, adding an extra touch of glamour and allure to your Midnight attire. Whether you choose to accentuate specific areas of the costume or create a shimmering effect all over, these rhinestones will elevate your look to the next level. Stand out from the crowd and embody the elegance and sophistication of Midnight with these radiant embellishments. |
| 4 | Stockings | Enhance the allure of your legs with these sultry thigh-high stockings. Designed to complement your Midnight costume, these sheer stockings add a touch of seduction and sophistication to your overall ensemble. Whether you're dancing the night away at a cosplay event or simply want to exude confidence and charm, these stockings are a must-have accessory for your Midnight transformation. Embrace the powerful and mysterious aura of Midnight as you make a bold statement with your elegant and alluring appearance. |
| 5 | Belt | Add a splash of color to your Midnight costume with this vibrant red belt. The striking scarlet hue complements the overall look, making a bold fashion statement. This belt not only enhances the aesthetics but also provides practical functionality, cinching your waist for a flattering silhouette. Embrace the elegance and power of Midnight as you don this eye-catching red belt and command attention wherever you go. |
| 6 | Leg Harness | Complement the belt with this stylish leg harness, exuding confidence and strength. Crafted from premium leather, this harness adds an edgy and fashionable element to your Midnight costume. The intricate design and adjustable straps ensure a comfortable and secure fit, allowing you to move with grace and poise. Whether you're cosplaying at a convention or attending a themed event, this leg harness will elevate your Midnight transformation to new heights. Embrace the fierce and captivating presence of Midnight as you dominate the night with your powerful presence. |
| 7 | Boots | Step into these elegant and sophisticated Victorian-style boots, completing your Midnight costume with finesse. The lace-up design and high-quality materials exude luxury and grace, making you the center of attention wherever you go. Whether you're cosplaying or looking for stylish footwear, these boots are a perfect addition to your ensemble. Embrace the timeless charm and allure of Midnight as you stride confidently in these stunning boots, captivating all with your captivating presence. |
| 8 | Red Eye Mask | Complete your Midnight look with this eye-catching red eye mask, adding an air of mystery and intrigue to your costume. Inspired by Midnight's iconic thin eye masks, this accessory will help you conceal your identity as you unleash your captivating persona. Whether you're cosplaying or attending a masquerade ball, this eye mask is a versatile and fashionable addition to your ensemble. Embrace the enigmatic and alluring aura of Midnight as you captivate everyone with your mysterious allure. |
| 9 | Handcuffs | Embrace the role of the pro hero with these handcuffs, doubling as a stylish bracelet. Whether you're cosplaying as Midnight or simply adding a touch of heroism to your everyday attire, these handcuffs are a playful and versatile accessory. With their realistic design and comfortable fit, these handcuffs will make you feel like a true hero on a mission. Unlock the captivating charm of Midnight as you confidently display these handcuffs, symbolizing your dedication to justice and heroism. |
| 10 | Whip | Add an element of drama and flair to your Midnight costume with this red whip. Crafted from high-quality leather, this prop captures the essence of Midnight's iconic weapon. Whether you're striking a pose for photos or showcasing your cosplay at an event, this whip will emphasize your powerful and alluring persona. Perfect for cosplayers, performers, or costume enthusiasts, this whip will enhance your Midnight transformation and leave a lasting impression on all who witness your heroic presence. Embrace the fierce and confident aura of Midnight as you wield this symbolic prop with grace and finesse. |
| 11 | Wig | Complete your Midnight transformation with this stunning violet wig, replicating the character's signature hairstyle. Made from high-quality synthetic material, this wig is designed to perfectly capture Midnight's look, ensuring you exude elegance and confidence. Whether you're cosplaying or attending a themed event, this wig will add an authentic touch to your ensemble, making you truly embody the essence of Midnight. Embrace the allure and charm of Midnight as you don this beautiful violet wig, captivating everyone with your mesmerizing appearance. |
| 12 | Full Costume | If you prefer convenience and accuracy, opt for this complete Midnight cosplay costume set. This all-inclusive package includes the bodysuit, bodysuit lingerie, rhinestones, stockings, belt, leg harness, boots, red eye mask, handcuffs, whip, and violet wig. With this comprehensive costume set, you can easily achieve the authentic and captivating look of Midnight without the hassle of piecing together individual components. Perfect for cosplay events, Halloween parties, or themed gatherings, this full costume set is your ticket to embodying the enigmatic pro hero Midnight with ease and style. Embrace the power and allure of Midnight as you step into her shoes and become the hero you've always admired. |
Midnight Overview
Within the world of My Hero Academia, Midnight is an esteemed pro hero known for her charisma, beauty, and mastery over her Quirk, "Somnambulist." As a heroine, Midnight's appearance and personality exude a mature sensuality that captivates both friend and foe. Her alluring charm is complemented by her distinctive costume, which is both elegant and provocative.
Midnight's costume consists of a sleek black bodysuit adorned with a playful heart-shaped opening that reveals her ample cleavage. The bodysuit is complemented by intricate gold designs and accents, giving her an air of sophistication. Her signature eye mask adds an element of mystery, while long black gloves and thigh-high boots complete the ensemble, accentuating her powerful presence.
Despite her seductive image, Midnight is a highly capable and respected hero. She possesses a commanding presence and exceptional combat skills, making her an essential asset in the battle against villains. Beneath her sensual exterior lies a fierce determination to protect and inspire those around her, making her a beloved and admirable figure in the world of My Hero Academia.
In the following sections of this guide, we will explore the materials and techniques needed to craft Midnight's mesmerizing costume. So, prepare to embrace your inner pro hero and let the transformation begin as we delve into the captivating world of Midnight!
Check out more TV show costume ideas here.