Welcome to our comprehensive guide on creating an unforgettable Miss Argentina the Dead Receptionist costume! Prepare to step into the realm of the supernatural as we explore the steps necessary to bring this enchanting and quirky character to life. Whether you're a dedicated cosplayer, a fan of the afterlife aesthetic, or simply someone seeking a unique DIY project, this guide will equip you with the knowledge and techniques needed to embody the elegance and charm of Miss Argentina, the Dead Receptionist. So, join us as we venture into the world beyond and craft an extraordinary costume that pays homage to this memorable character.
Miss Argentina the Dead Receptionist Costume – Beetlejuice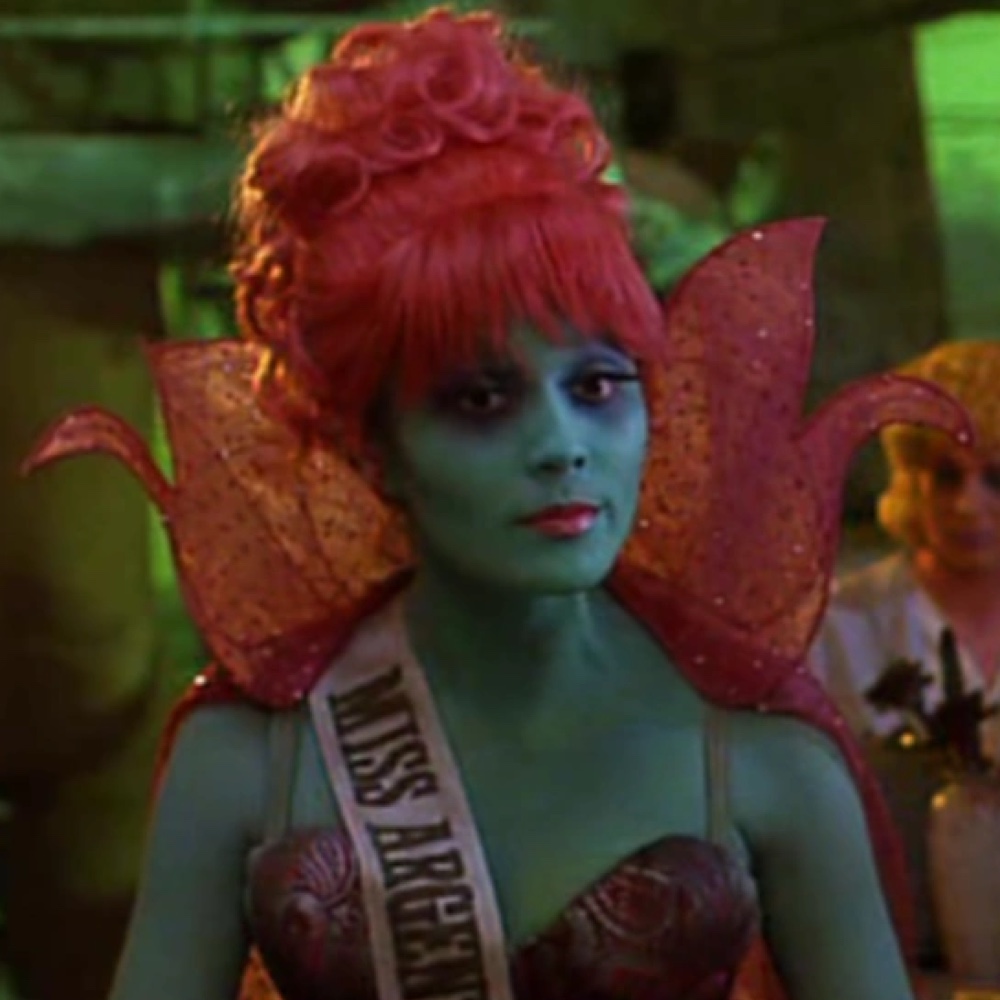 | # | Item | Description |
| --- | --- | --- |
| 1 | Elegant Scarlet Gown | Captivate the crowd with your irresistible allure in an elegant scarlet gown. This strapless dress showcases your winning beauty queen body and exudes confidence and sophistication. |
| 2 | Fiery Red Stilettos | Elevate your style with a pair of fiery red stilettos that perfectly complement your dress. These heels add a touch of glamour and make a bold fashion statement. |
| 3 | Sheer Crimson Cape | Add a hint of vampy allure to your Miss Argentina ensemble with a sheer crimson cape. This flowing accessory drapes gracefully and enhances the mystical charm of your costume. |
| 4 | Upswept Red Wig | Embrace Miss Argentina's iconic look with an upswept red wig that captures the essence of her intricate hairstyle. This wig is a perfect alternative that ensures an effortless transformation. |
| 5 | Beauty Queen Sash | Complete your ensemble with a beauty queen sash, a symbol of your reign over the afterlife. This accessory adds a touch of authenticity and announces your status with pride. |
| 6 | Vibrant Teal Body Paint | Recreate Miss Argentina's mesmerizing teal complexion with vibrant teal body paint. This high-quality paint ensures the same striking hue, allowing you to embody the ethereal beauty of the character. |
| 7 | Complete Costume Set | For a hassle-free experience, opt for a complete costume set that includes all the essential elements of your Miss Argentina transformation. This comprehensive package saves time and ensures an authentic and captivating portrayal. |
| 8 | Essential Guide: Handbook for the Recently Deceased | As a recent addition to the afterlife, equip yourself with the essential guidebook. The "Handbook for the Recently Deceased" provides valuable insights and tips for navigating the spiritual realm with style and grace. |
| 9 | Realistic Slit Wrist Prosthetic | To accurately depict Miss Receptionist's tragic demise, enhance your costume with a realistic slit wrist prosthetic. This special effect accessory adds authenticity and a chilling touch to your portrayal. |
Miss Argentina the Dead Receptionist Overview
Miss Argentina, also known as the Dead Receptionist, is a character from the darkly comedic fantasy film "Beetlejuice," directed by Tim Burton. In the film, she is an employee in the afterlife's Department of Deceased Reception. Miss Argentina appears as a glamorous and stylish spirit, dressed in a vibrant red gown and sporting green skin and a tall hairdo. With her cheerful demeanor and impeccable fashion sense, she serves as a guide for the recently deceased, providing them with assistance and support as they navigate the afterlife bureaucracy.
To recreate Miss Argentina's distinctive appearance, focus on capturing her elegant yet otherworldly style. The costume typically features a flowing red gown with intricate detailing and a glamorous, retro-inspired design. Green body paint or makeup can be applied to achieve the character's unique complexion. Adding height to your hair and styling it in an exaggerated manner, such as an elaborate updo or a voluminous beehive, will help capture Miss Argentina's iconic look.
In the following sections, we will break down the essential components of a Miss Argentina costume, providing you with detailed instructions, materials, and techniques to recreate her enchanting and ethereal appearance. Whether you're preparing for a costume party, a themed event, or simply want to embrace the spirit of the afterlife, our guide will assist you in bringing the elegance and charm of Miss Argentina to life. So, embrace the supernatural and let's embark on this stylish journey together as we create a captivating Miss Argentina costume.
Check out more movie costume ideas here.