Prepare to embrace the dark and mysterious allure of the Castlevania universe with our comprehensive guide on creating a hauntingly beautiful Morana costume! Morana, one of the enigmatic sisters from Netflix's "Castlevania" series, exudes an aura of elegance and power. With her mesmerizing presence and supernatural abilities, she has captured the imaginations of fans. If you've ever aspired to become this captivating character known for her icy demeanor and formidable magic, you're about to embark on a journey into the realm of the undead. In this guide, we'll lead you through the steps to craft an impressive Morana costume that captures all the mystique and allure of this iconic "Castlevania" character. So, channel your inner vampire, summon your dark magic, and let's delve into the world of Morana!
Morana from Castlevania Costume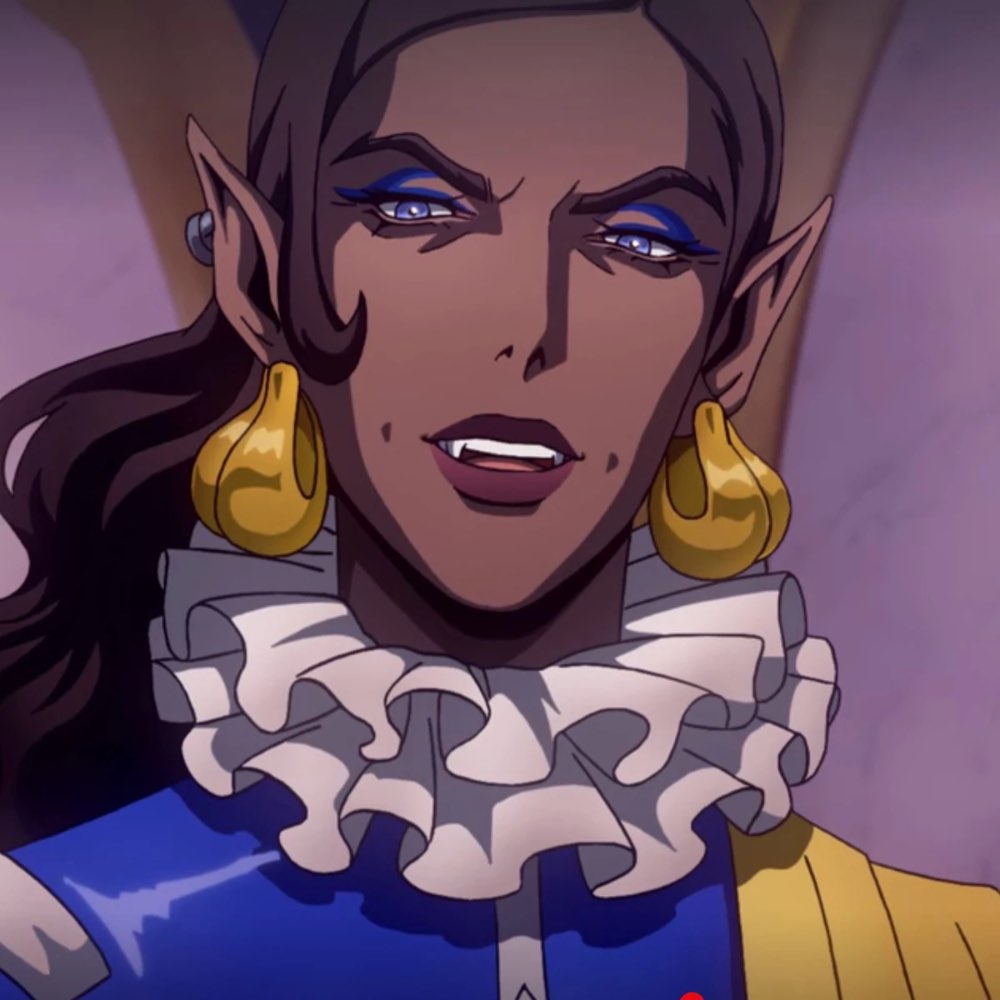 | | |
| --- | --- |
| White Ruffled Collar | The white ruffled collar adds an elegant and regal touch to the costume, reflecting Morana's aristocratic appearance. |
| White Ruffle Wrist Cuffs | The wrist cuffs match the collar and complement the overall Renaissance-inspired attire, enhancing the costume's authenticity. |
| Royal Blue Long Sleeve Bolero Cardigan | The royal blue bolero cardigan replicates Morana's signature outerwear, providing the character's distinctive color contrast. |
| Renaissance Maiden Dress | The Renaissance maiden dress forms the core of Morana's costume, capturing her regal and period-appropriate look. |
| Golden Stone And Chain Brooch | The brooch serves as a decorative accessory, adding detail to the costume and echoing Morana's elegant style. |
| Wine Colored Suede Pointed Chunky Heels | The wine-colored heels match the character's color palette and provide footwear suitable for a vampire aristocrat. |
| Long Elf Ears | Long elf ears are worn to mimic Morana's pointed ears, which are a characteristic feature of vampires in the "Castlevania" series. |
| Vampire Fang Kit | The vampire fang kit allows you to replicate Morana's vampiric appearance, emphasizing her supernatural nature. |
| Eye Pencil | The eye pencil is used to create dramatic eye makeup, enhancing the character's alluring and mysterious look. |
| Sheer Metalic Gold Shawl | The sheer gold shawl adds an additional layer of elegance to the costume and complements the overall aesthetic. |
| Gold Plated Chunky Hoop Earings | These earrings are a fashionable accessory that aligns with Morana's stylish appearance. |
| Lime Crime Velvetines Liquid Matte Lipstick | The matte lipstick in a deep, vampy shade of red replicates Morana's signature lip color, emphasizing her vampiric allure. |
| Wine Red Press On Stiletto Faux Nails | These press-on nails match the character's color scheme and contribute to the costume's overall aesthetic. |
Morana from Castlevania Overview
Morana is one of the key characters introduced in the Netflix animated series "Castlevania," which is based on the classic video game franchise. Here's a brief overview of the character:
Member of the Council of Sisters: Morana is one of the four vampire sisters who form the Council of Sisters, a group of powerful vampire aristocrats ruling in the land of Styria. Each sister possesses unique abilities and talents.
Elegant and Enigmatic: Morana is characterized by her elegant and enigmatic demeanor. She is often seen in elaborate gowns and exhibits an air of confidence and sophistication.
Mastery of Magic: Morana possesses formidable magical abilities, primarily focused on elemental ice magic. She can conjure ice and manipulate it in various ways, making her a formidable adversary.
Companion to Striga: Morana shares a close bond with her fellow sister Striga and often works alongside her in Styria's governance and schemes.
Loyal to Carmilla: Morana is loyal to Carmilla, the de facto leader of the Council of Sisters. She plays a crucial role in Carmilla's plans and alliances.
Complex Relationships: Throughout the series, Morana's relationships with other characters, including Hector and Lenore, evolve in complex and intriguing ways, adding depth to her character.
Dark and Mysterious Aesthetic: Morana's character design reflects her dark and mysterious nature. Her pale skin, dark hair, and stylish attire contribute to her captivating visual presence.
As you embark on creating your Morana costume, it's essential to capture the character's elegance, her mastery of ice magic, and her association with the supernatural world of "Castlevania." With the right costume elements and a touch of Morana's enigmatic charm, you'll become the embodiment of this alluring vampire sister, ready to immerse yourself in the intrigue and magic of the series!
Check out more Castlevania costume ideas.