Welcome to our comprehensive guide on creating a Professor Willow from Pokemon Go costume inspired by the popular mobile game. Professor Willow is a beloved character known for his research on Pokémon and his role as a mentor to trainers in the Pokémon world. Whether you're getting ready for a cosplay event, a Pokémon GO gathering, or simply want to embody the spirit of this renowned Pokémon professor, our guide will walk you through the steps to transform into the knowledgeable and iconic Professor Willow.
Professor Willow from Pokemon Go Costume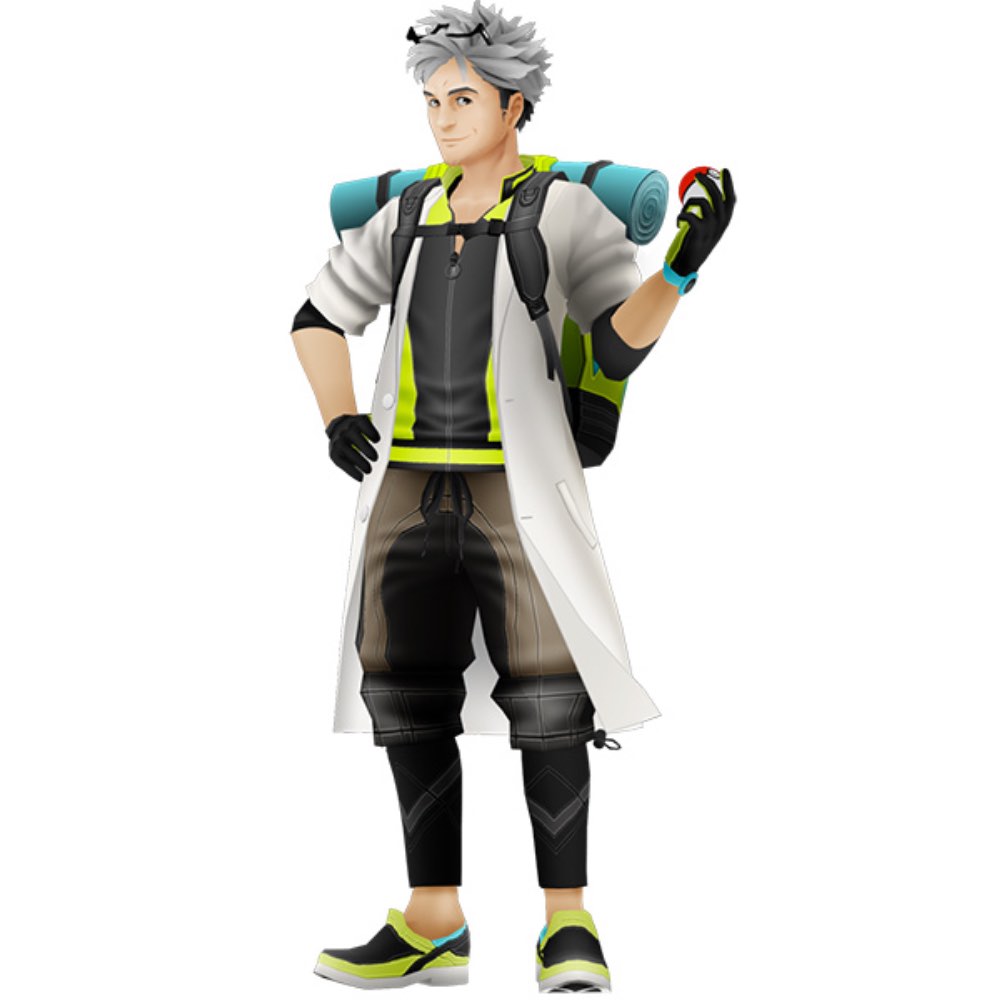 | | |
| --- | --- |
| Short Spiky Silver Gray Wig | The wig replicates Professor Willow's distinctive hairstyle, matching his silver-gray hair with a short, spiky appearance. |
| Black Bottom Half-Rim Glasses | These glasses mimic the character's iconic eyewear, adding an essential detail to your costume and making you instantly recognizable as Professor Willow. |
| White Lab Coat | The lab coat is a signature part of Professor Willow's attire, signifying his role as a Pokémon researcher. It's a fundamental element that ties the costume together. |
| Electric Green and Black Windbreaker Jacket | The windbreaker jacket replicates the color scheme of Professor Willow's lab coat, adding a modern twist. It complements the character's look and provides warmth if needed. |
| Brown and Black Jogger Shorts | These shorts are in line with Professor Willow's casual and active style, adding authenticity to the costume. |
| Glove in Bright Green and Black | The glove mimics the character's handwear, providing a finishing touch and ensuring your costume is true to the original design. |
| Black Compression Calf Sleeves | These calf sleeves replicate the character's legwear, maintaining the overall appearance and color scheme of Professor Willow. |
| Soccer Sneakers in Black and Green | These sneakers match the character's footwear, providing comfort and accuracy to your costume. |
| Turquoise Ankle Socks | Ankle socks in turquoise complement the character's color scheme, ensuring your costume is detailed and well-coordinated. |
| Turquoise Replacement Watch Band for Pokemon Go Plus | Professor Willow is known for his research and guidance in Pokémon GO, and this watch band represents his connection to the game. |
| Backpack in Green and Black | The backpack replicates the one Professor Willow carries, reflecting his role as a field researcher and providing a practical element to your costume. |
| Turquoise Fleece Blanket | This accessory is a playful nod to Professor Willow's association with Pokémon GO and adds a unique touch to your costume. |
| Plush Poké Ball | Carrying a plush Poké Ball emphasizes Professor Willow's connection to Pokémon and serves as a recognizable prop for your costume. |
| Binoculars | These binoculars are a fun addition, symbolizing the character's role as a Pokémon researcher and explorer. |
Professor Willow from Pokemon Go Overview
Name: Professor Willow
Origin: Pokémon GO
First Appearance: Pokémon GO (2016)
Background: Professor Willow is a prominent character in the Pokémon GO mobile game, which is part of the larger Pokémon franchise. He is a Pokémon researcher known for his extensive studies on Pokémon species and their habitats. Professor Willow is tasked with aiding players in their Pokémon journey by providing guidance, research tasks, and important information about Pokémon in the game.
Appearance: Professor Willow is typically depicted as a young and energetic researcher. He is often seen wearing a white lab coat over a light blue shirt and black pants. His outfit is complemented by a pair of black shoes and a stylish pair of glasses. Professor Willow has neatly combed hair and a friendly, approachable demeanor.
Personality: Professor Willow is characterized by his curiosity and passion for Pokémon research. He is known for his friendly and encouraging nature, always ready to help trainers on their quests to catch 'em all. His dedication to understanding Pokémon and fostering a sense of community among trainers makes him a beloved figure in the Pokémon GO game.
Role in the Game: In Pokémon GO, Professor Willow serves as a vital mentor and guide to players. He introduces trainers to the game's mechanics, provides valuable research tasks, and offers insight into Pokémon behavior and habitats. As players progress, they report their findings to Professor Willow, contributing to his research efforts and uncovering mysteries in the Pokémon world.
Community Impact: Beyond his in-game role, Professor Willow has become a symbol of the Pokémon GO community. His character encourages players to explore the real world, discover new Pokémon, and connect with fellow trainers through events and challenges. Professor Willow's positive and inclusive presence has contributed to the game's enduring popularity.
Now that you have a better understanding of Professor Willow's character, it's time to embark on the journey of bringing this beloved Pokémon researcher to life through your cosplay. In the following sections, we will guide you through the costume and accessories creation process, ensuring that you capture Professor Willow's essence with precision and authenticity. Let's get started!
Check out more Pokémon costume ideas.