Here is the ultimate guide for creating a kick-ass Negasonic Teenage Warhead costume! Whether you're a fan of the Deadpool franchise or simply captivated by the rebellious and explosive nature of this powerful mutant, you've come to the right place. In this comprehensive guide, we will take you through the step-by-step process of bringing Negasonic Teenage Warhead's edgy and electrifying persona to life. Get ready to embrace your inner mutant and dive into the world of DIY costume creation. With a dash of attitude and a spark of creativity, you'll be ready to rock any cosplay event or convention!
Negasonic Teenage Warhead Costume – Deadpool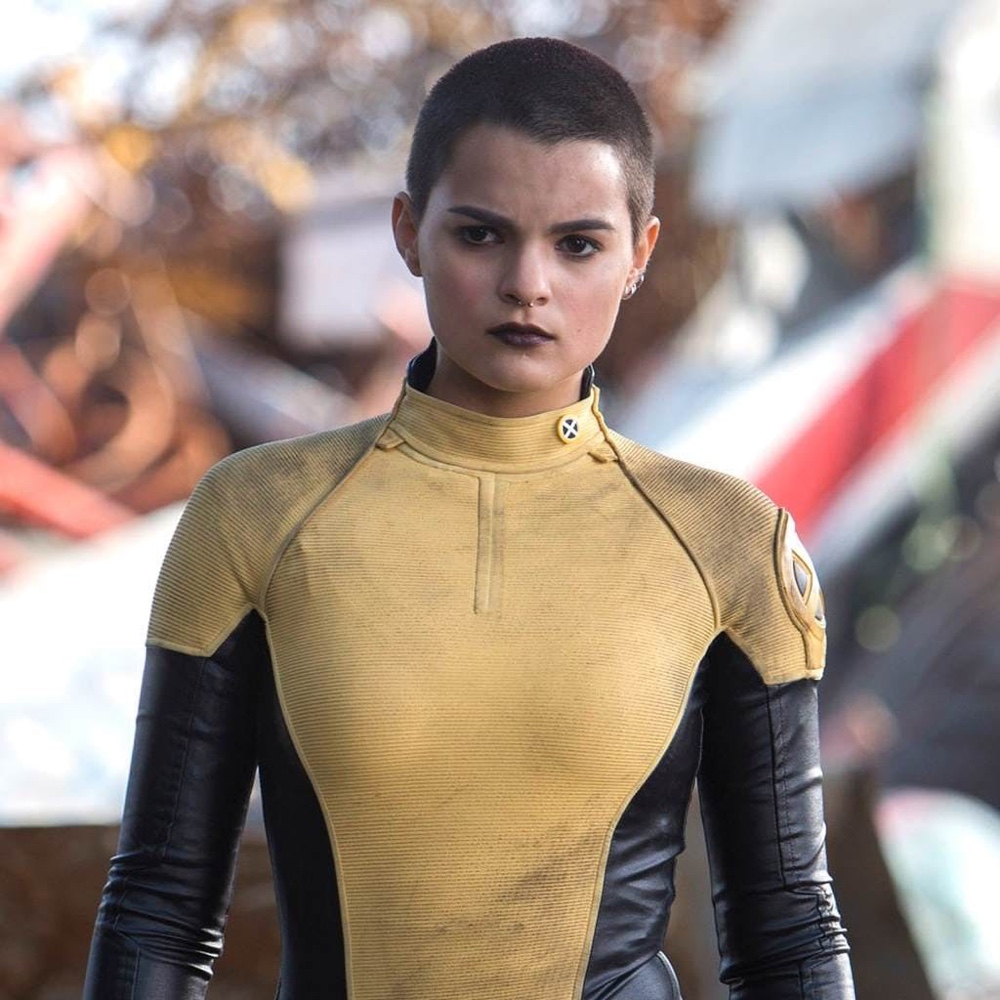 | # | Item | Description |
| --- | --- | --- |
| 1 | Turtleneck, black | Experience Negasonic Teenage Warhead's casual side with her choice of fairly ordinary clothing. This black turtleneck is easily accessible and could be mistaken for something any teenager might wear. |
| 2 | Leggings, leather | Add a touch of uniqueness with these leather leggings featuring an intriguing moto-style pattern along the sides. They stand out from ordinary leggings. |
| 3 | Hoodie, olive green | Layer this olive green zip-up hoodie over the black turtleneck, leaving it unzipped to achieve a stylish layered effect. |
| 4 | Coat, long, leather | Evoke a dramatic goth look with this long leather coat, reminiscent of the Matrix fashion. |
| 5 | Belt, canvas, yellow | Add a pop of color to the ensemble with a bright yellow canvas belt. It stands out as the jacket and coat are left open. |
| 6 | Gloves, finger-less, black | Complete the look with finger-less black gloves, the perfect accessory for a goth-inspired teenager. |
| 7 | Logo, patch | Show your allegiance with the yellow logo patch of Negasonic Teenage Warhead, positioned above her chest as a distinctive emblem. |
| 8 | Boots, long, black | Embrace the classic superhero style with these long black boots, a perfect final touch for Negasonic Teenage Warhead's costume. |
Negasonic Teenage Warhead Overview
Prepare to meet Negasonic Teenage Warhead, a mutant with an explosive personality and incredible powers. First introduced in the pages of Marvel Comics in 2001, Negasonic Teenage Warhead possesses the ability to generate and manipulate explosive energy. With her punk-rock style and snarky attitude, she stands out as a powerful and independent character.
In the Deadpool movies, Negasonic Teenage Warhead is portrayed by actress Brianna Hildebrand, who brings the character's rebellious spirit and electrifying powers to life. With her iconic shaved head, black leather jacket, and surly demeanor, she adds a level of fierce intensity to the team of X-Men. Negasonic Teenage Warhead's snappy comebacks and explosive abilities make her an unforgettable presence on screen.
Now that you have a glimpse into the electrifying persona of Negasonic Teenage Warhead, it's time to dive into the process of creating a costume that will channel her power and attitude. From mastering her distinctive hairstyle to recreating her rebellious outfit, we'll guide you through every step of the way. Are you ready to unleash your explosive potential? Let's get started on your electrifying transformation.
Check out more movie costume ideas here.