Calling all aspiring heroes and fans of "My Hero Academia"! Are you ready to step into the shoes of the determined and compassionate Ochaco Uraraka? Look no further as we embark on an exciting journey to create an extraordinary Ochaco Uraraka costume.
Ochaco Uraraka Costume – My Hero Academia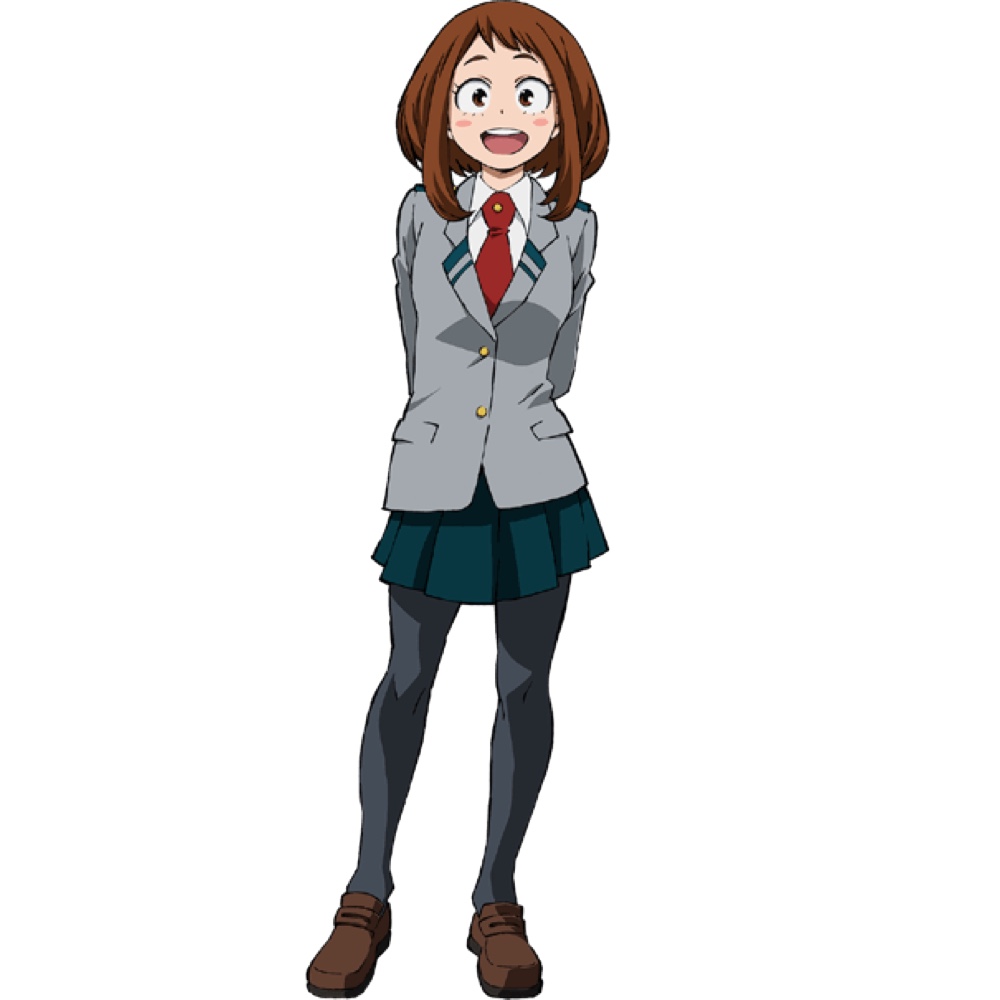 | # | Item | Description |
| --- | --- | --- |
| 1 | Cheerleader Uniform | Begin your transformation into the spirited Ochaco Uraraka by donning a vibrant orange cheerleader uniform. This eye-catching ensemble captures her energetic and enthusiastic personality, making you the ultimate cheerleader in your quest for justice. |
| 2 | Wig | Enhance your Ochaco Uraraka cosplay with a short brown wig, perfectly emulating her luscious locks. This essential accessory adds an extra layer of authenticity to your costume, allowing you to channel Ochaco's cheerful and determined spirit. |
| 3 | Pompoms | Embrace the cheerleading aesthetic by carrying a pair of pompoms. These playful and dynamic accessories not only complete the look but also showcase Ochaco's energetic nature, adding an element of fun and excitement to your cosplay. |
| 4 | Long Socks | Pay attention to the finer details of your Ochaco Uraraka costume by opting for a pair of long white socks with minimal stripes. These socks not only provide a sporty and youthful touch but also mirror Ochaco's distinctive style, ensuring that every aspect of your cosplay is on point. |
| 5 | Sneakers | Finish off your Ochaco Uraraka ensemble with a pair of comfortable and stylish white sneakers. These versatile footwear options not only complement her athletic persona but also provide the practicality needed for any heroic adventures you may embark on. With these sneakers, you'll be ready to spring into action and defy gravity just like Ochaco. |
Ochaco Uraraka Overview
Ochaco Uraraka, a prominent character in the popular anime and manga series "My Hero Academia," is a determined and kind-hearted young heroine with a unique superpower. Her unwavering spirit and endearing personality have won the hearts of fans around the world.
As a student at U.A. High School, Ochaco dreams of becoming a professional hero and using her abilities for the greater good. Her quirk, known as "Zero Gravity," grants her the power to manipulate gravity, enabling her to make objects weightless with a touch.
Ochaco's character is defined by her optimistic outlook, strong work ethic, and deep concern for others. She is known for her genuine friendship and support towards her classmates, always ready to lend a helping hand and provide encouragement.
Throughout the series, Ochaco faces numerous challenges, both in her academic pursuits and in her hero training. She constantly pushes herself to overcome obstacles and develop her abilities, displaying resilience and determination in the face of adversity.
With her practical and strategic thinking, Ochaco's abilities offer a unique advantage in combat situations. By manipulating gravity, she can maneuver swiftly and create opportunities to outmaneuver opponents. Her compassionate nature is also a driving force, as she aims to use her powers to alleviate the financial burdens of her loved ones and provide a better life for them.
In this guide, we will delve into the captivating world of Ochaco Uraraka, exploring her endearing qualities, her role within the "My Hero Academia" universe, and providing insights on how to bring her character to life through a remarkable Ochaco Uraraka cosplay. Get ready to showcase your own heroic spirit and immerse yourself in the world of this beloved character as we embark on an exciting journey into the realm of Ochaco Uraraka.
Check out more TV show costume ideas here.