"If you don't like what's being said, change the conversation." These words encapsulate the spirit of Peggy Olson, a character who broke barriers and defied expectations in the world of advertising during the 1960s. In this guide, we'll show you how to create the perfect Peggy Olson costume, so you can step into the shoes of this trailblazing character from the iconic TV series "Mad Men."
From her evolving fashion sense to her determination and wit, Peggy Olson has left an indelible mark on fans of the show. Join us as we delve into the world of this complex character and learn how to bring her to life through your costume.
Peggy Olson Costume – Mad Men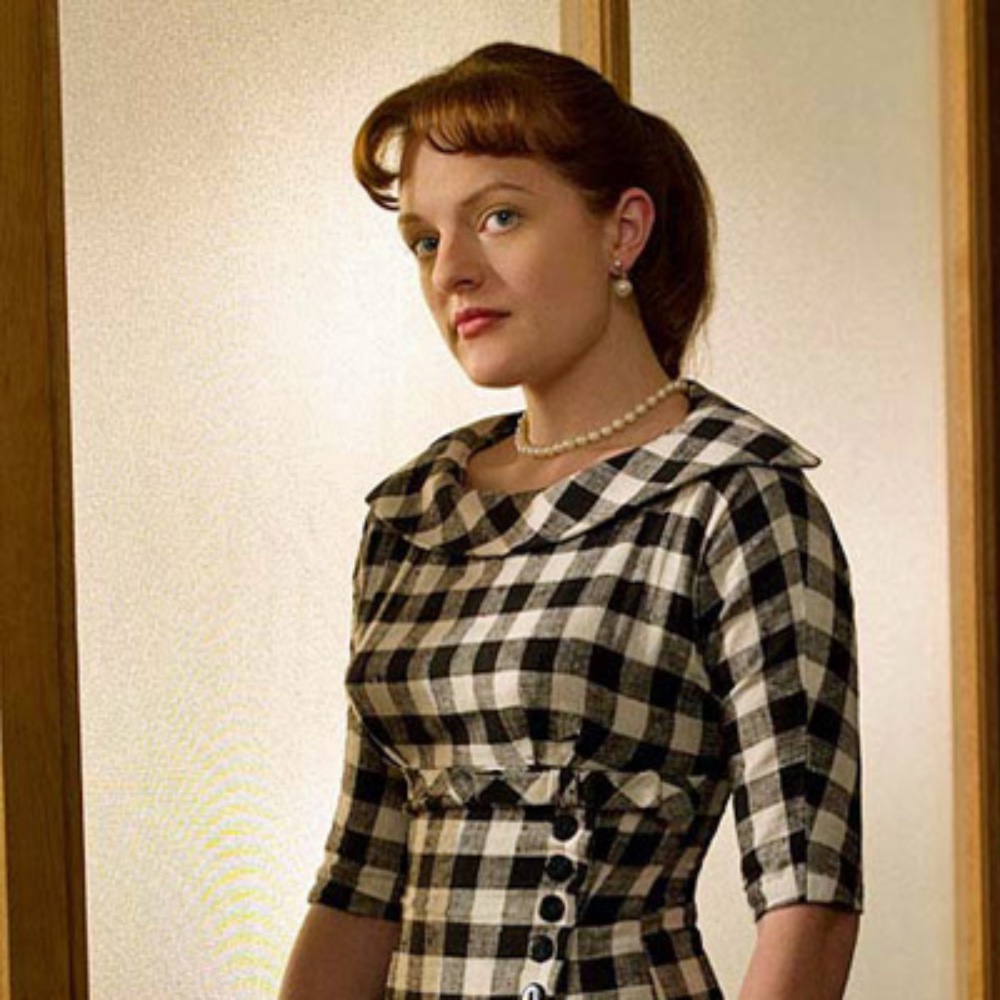 | | |
| --- | --- |
| Tecrio Women Vintage 1950s Style Black and White Checked Dress | Peggy Olson's fashion choices evolve throughout the series, reflecting the changing styles of the 1960s. This black and white checked dress captures the early '60s aesthetic and Peggy's conservative secretary attire, which was typical for women in that era. |
| XOXO Silver Dial Gold-Tone Bracelet Watch | Peggy often wears classic accessories, and a gold-tone bracelet watch adds a touch of elegance to her ensemble. It represents the timeless style of the era and Peggy's attention to detail. |
| Simulated White Pearl Necklace, Bracelet & Stud Earring Set | Classic pearl jewelry was a staple of 1960s fashion. Peggy occasionally wears pearls to complement her more formal office attire, symbolizing her ambition and desire to fit into the corporate world. |
| Calvin Klein Diema Pumps in Black Kidskin | Peggy's choice of footwear in the office typically includes closed-toe pumps, reflecting the formal dress code of the time. These black pumps complete the classic secretary look. |
| Wilson Jones Padfolio | A padfolio symbolizes Peggy's role as a secretary and her organizational skills in managing the demands of her job. It's a functional prop that adds authenticity to the costume. |
| Emi-Jay Hair Ties in Classic | The "Emi-Jay Hair Ties in Classic" are needed for a Peggy Olson costume because they are a subtle but important accessory that helps to recreate the look of Peggy's hairstyle. Peggy often wears her hair pulled back in a classic, modest bun or ponytail, which was a common hairstyle for women in the 1960s, especially in a professional office setting. |
Peggy Olson Overview
Peggy Olson, portrayed by actress Elisabeth Moss in the TV series "Mad Men," is a character known for her resilience, ambition, and transformation from a secretary to a copywriter in the male-dominated world of advertising. Here's a glimpse into the world of Peggy Olson:
1. The Aspiring Copywriter: Peggy begins her journey at Sterling Cooper as a secretary but quickly sets her sights on becoming a copywriter. Her determination and talent propel her through the ranks of the advertising agency.
2. Evolving Fashion: Peggy's fashion choices evolve throughout the series, reflecting the changing styles of the 1960s. She transitions from conservative secretary attire to more modern and stylish outfits as her confidence grows.
3. Ambitious and Resilient: Peggy is unapologetically ambitious and faces numerous challenges as she rises in the advertising world. Her resilience and ability to navigate a male-dominated industry make her a compelling character.
4. Wit and Intelligence: Peggy's wit and intelligence shine through in her work and interactions with colleagues. Her sharp insights and clever copywriting skills are integral to her character.
5. A Symbol of Change: Peggy's journey represents the changing roles and expectations of women in the workplace during the 1960s. She becomes a symbol of progress and empowerment in the series.
As you embark on the journey of creating a Peggy Olson costume, keep in mind her evolving fashion choices, her determination, and her pivotal role in the world of advertising during the 1960s. Now, let's delve into the details and transform you into the embodiment of Peggy Olson's resilient and trailblazing character!
See more Mad Men costumes here.