Far fans of this cult TV show are you ready to step into the eerie and thrilling world of the "Red Light, Green Light" game from the hit series "Squid Game"? Do you want to embody the unsettling Robotic Girl who oversees this deadly competition? If so, you've come to the right place. In this guide, we'll take you through the steps to create an authentic Robotic Girl costume, allowing you to channel the chilling and iconic character from this unforgettable series.
Red Light, Green Light Robotic Girl Costume – Squid Game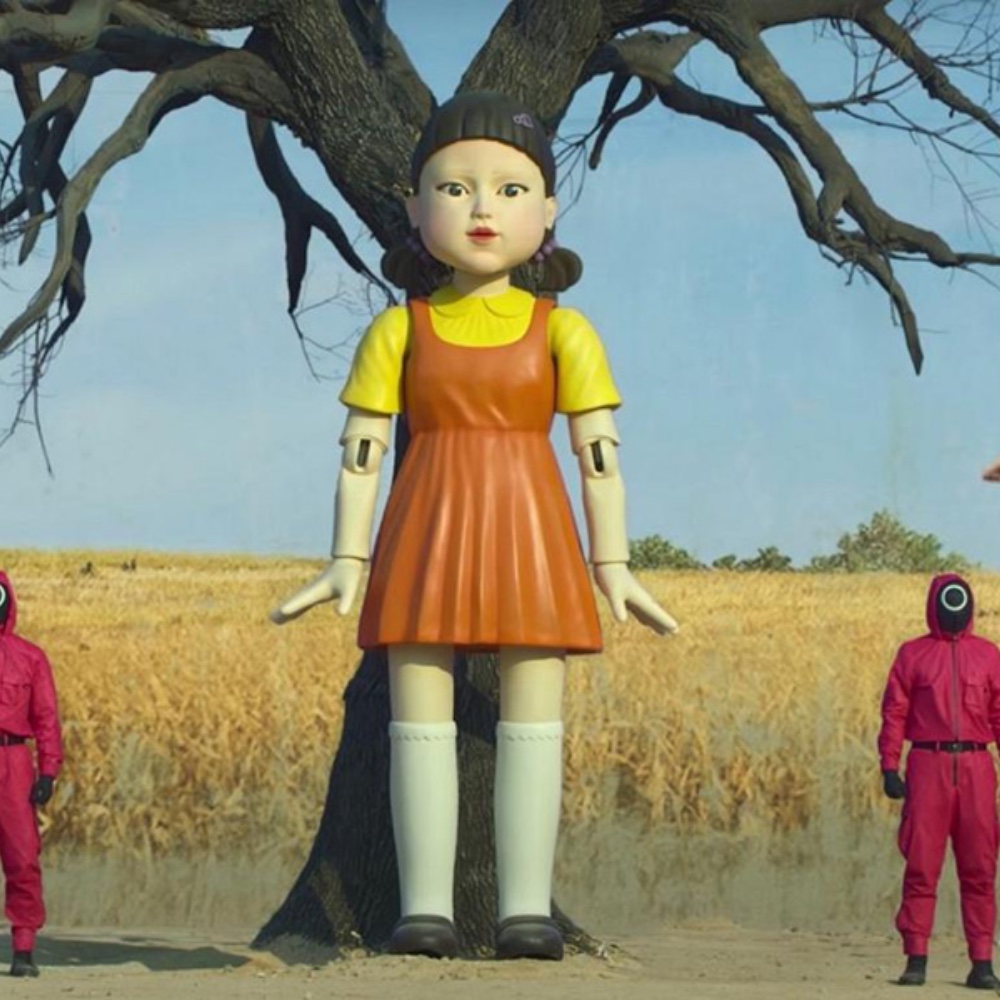 | | |
| --- | --- |
| Orange Sleeveless Midi Summer Dress | The orange dress is a fundamental element of the Red Light, Green Light Robotic Girl's appearance. It serves as the base for the costume, and its bright color is instantly recognizable. This dress helps you embody the character's appearance accurately. |
| Yellow Blouse with Peter Pan Collar | Underneath the orange dress, the character wears a yellow blouse with a Peter Pan collar. This blouse adds a layer to the costume and replicates a key part of the character's look. |
| White Knee Socks | The Red Light, Green Light Robotic Girl is known for her knee-high white socks. These socks are an essential accessory that contributes to the character's iconic appearance and should not be omitted. |
| Black Mary Jane Flat Shoes | The character wears black Mary Jane flat shoes, which are both practical and integral to her look. These shoes complement the costume and complete the overall appearance. |
| Purple Bubble Ball Hair Ties | The Red Light, Green Light Robotic Girl's distinctive hairstyle features purple bubble ball hair ties. These hair ties are a unique and defining feature of the character's look and should be used to replicate her hairstyle accurately. |
| Purple Barrette Hair Clips | Additionally, the character wears purple barrette hair clips, which add a touch of detail to her hairstyle. Including these hair clips helps capture the character's hairstyle with precision. |
Red Light, Green Light Robotic Girl Overview
The Robotic Girl, often referred to as "Red Light, Green Light," is one of the most iconic and memorable characters in the South Korean series "Squid Game." She is an eerie and life-sized robot doll with a porcelain-like face and a pastel-colored dress. Her primary role is to oversee the deadly children's game that gives the series its name.
The Robotic Girl's character is defined by her mechanical movements and monotone commands. She serves as the merciless judge of the game, using the commands "Red light" and "Green light" to determine the fate of the contestants. Her abrupt transitions from stillness to movement and her lifeless facial expression create a chilling and unsettling atmosphere.
Check out more Squid Game costume ideas here.