Step into the world of Succession and channel the wit and charm of Roman Roy with this comprehensive guide on creating the perfect Roman Roy costume. Played by the talented Kieran Culkin, Roman Roy is the youngest son of media mogul Logan Roy on the HBO show Succession. While he exudes his father's bravado and charisma, Roman's carefree and immature nature often leaves him at odds with the responsibilities of taking over Waystar Royco. From his unruly hair to his signature five o'clock shadow, we'll show you how to embody the essence of this complex character. Whether you're attending a themed party or simply want to pay homage to this captivating figure, our step-by-step instructions will help you capture Roman Roy's unique style and personality with ease. Get ready to make a grand entrance at your next event and leave a lasting impression as Roman Roy.
Roman Roy Costume – Succession Fashion and Style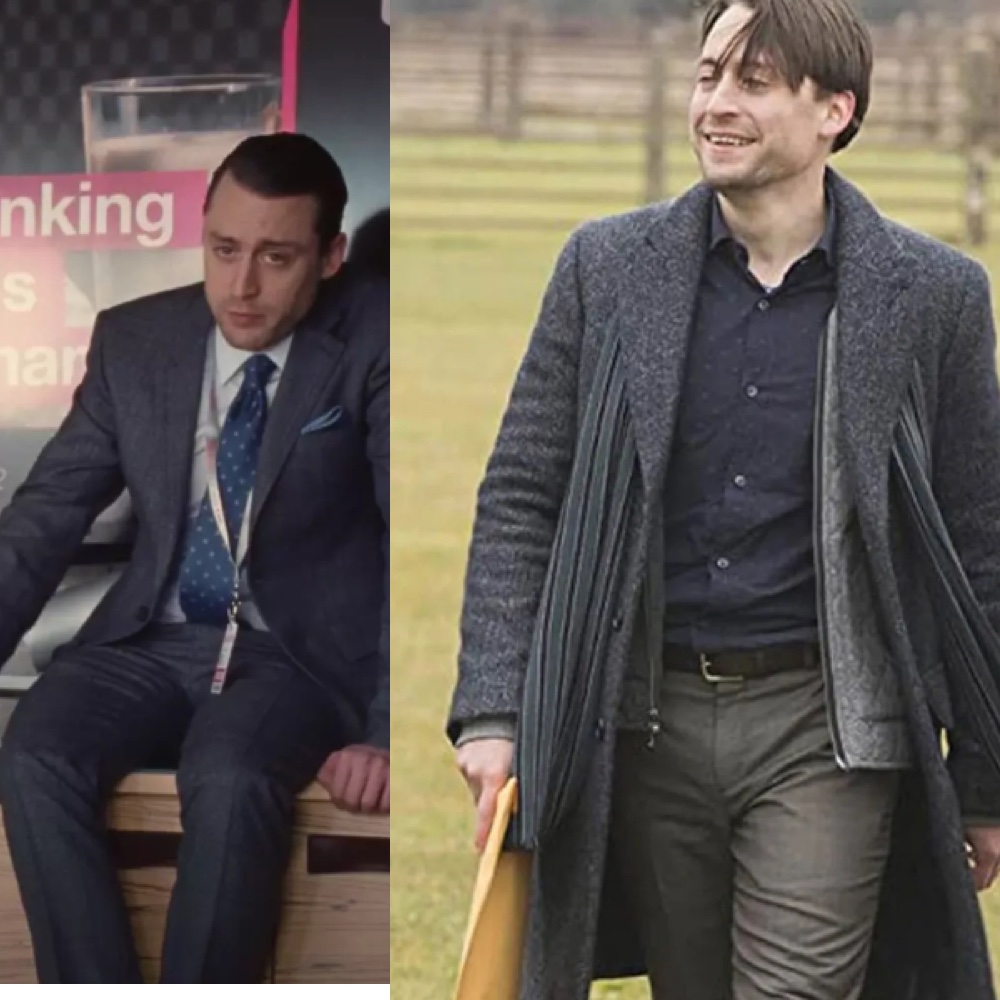 | | |
| --- | --- |
| Grey Peacoat | The grey peacoat adds a layer of refinement and elegance to the ensemble, reflecting Roman's polished and suave demeanor. |
| Green Striped Scarf | The green striped scarf is a subtle yet stylish accessory that complements the overall look, showcasing Roman's impeccable taste in fashion. |
| Blue on Blue Dot Dress Shirt | Roman's blue on blue dot dress shirt exudes modern sophistication and adds a touch of playfulness to his classic attire. |
| Grey Dress Pants | The grey dress pants provide a sleek and tailored foundation to the costume, echoing Roman's preference for well-fitted and polished clothing. |
| Light Blue Pocket Square | The light blue pocket square is a charming detail that elevates the outfit, reflecting Roman's attention to the finer points of style. |
| Blue Dot Tie | The blue dot tie is a standout accessory that ties the look together, showcasing Roman's penchant for eye-catching and fashionable pieces. |
| Dark Blue Suit | The dark blue suit forms the centerpiece of the costume, symbolizing Roman's authority and status within the Roy family empire. |
Tips for Your Roman Roy Costume, Fashion and Style
To embody the charismatic and distinctive Roman Roy, you'll need to pay attention to his fashion choices and overall style. Here are some essential tips to nail your Roman Roy costume:
Classic Suiting: Roman is often seen wearing sharp and tailored suits that exude elegance and sophistication. Opt for well-fitted, classic suits in neutral tones like navy, charcoal gray, or black. Consider incorporating pinstripes or subtle patterns to match Roman's debonair flair.
Crisp Dress Shirts: Underneath his suits, Roman favors crisp and immaculate dress shirts. Stick to neutral colors like white, light blue, or soft pastels to maintain a polished and refined appearance.
Signature Five O'clock Shadow: Roman's five o'clock shadow adds to his rugged charm. If you can't naturally achieve this look, consider using makeup or a light beard stubble to replicate his distinct facial feature.
Unkempt Hair: Roman's slightly unruly and unkempt hair contributes to his laid-back and carefree persona. Style your hair to achieve a tousled and effortless look that complements his character.
Designer Accessories: Complete your Roman Roy ensemble with high-end designer accessories. Look for sophisticated ties, pocket squares, and cufflinks to add a touch of luxury to your costume.
Confidence and Charisma: More than just clothing, embodying Roman Roy's fashion and style requires exuding his confidence and charisma. Stand tall, speak with wit and charm, and embrace his nonchalant attitude.
Roman's Signature Smirk: To truly capture Roman's essence, practice his signature smirk. It's a subtle yet impactful expression that conveys his charming and mischievous nature.
By following these tips and paying attention to the details, you'll transform into the charismatic and magnetic Roman Roy, making your costume a standout hit at any event or gathering. Embrace the essence of Succession's beloved character and step into Roman's shoes with confidence and style.
Roman Roy Overview
Roman Roy, portrayed by the talented Kieran Culkin, is one of the central characters in the acclaimed HBO series "Succession." As the youngest son of media mogul Logan Roy, Roman is a complex and intriguing figure with a magnetic personality. He possesses the same charm and bravado as his father, making him a force to be reckoned with in the corporate world of Waystar Royco.
Despite his charisma, Roman's immaturity and carefree nature often hinder him from fully embracing the responsibilities of the family business. He constantly struggles to prove himself to his father and his older brother, Kendall, as a worthy successor to the empire. Roman's unruly and unkempt hair, along with his signature five o'clock shadow, add to his distinctive appearance, reflecting his laid-back and nonchalant attitude.
Throughout the series, Roman's character evolves, revealing deeper layers and vulnerabilities beneath his brash exterior. His witty and often sarcastic remarks bring humor to the show, making him a fan-favorite among viewers.
With this overview, you'll understand the nuances of Roman Roy's character, setting the stage for an exciting journey to create your own Roman Roy costume and embrace the essence of this captivating and intriguing figure.
Check out more TV show costume ideas here.