Welcome to our guide on creating a Logan Roy costume, inspired by the formidable patriarch at the center of HBO's Succession. As the CEO and founder of Waystar Royco, Logan Roy commands authority and influence in the cutthroat world of business. His dynamic personality and complex relationships with his children, Kendall, Roman, and Siobhan, make him a captivating character to emulate.
Logan's style reflects his status as a wealthy and powerful businessman, yet he also embraces a touch of comfort and coziness with his love for sweaters, occasionally paired with a sharp blazer. Hailing from humble beginnings in Scotland, his wardrobe now exudes sophistication and success, making him an intriguing character to recreate for costume events and themed parties.
In this comprehensive guide, we will walk you through the key elements needed to assemble an authentic Logan Roy costume. From his signature cozy sweaters and tailored blazers to the refined accessories that complete his look, you'll have everything you need to channel the essence of this iconic character. Whether you're attending a costume party or simply paying homage to one of TV's most formidable figures, our step-by-step instructions will help you embody the essence of Logan Roy with flair and style. Let's get started on your transformation into this powerful and commanding business mogul!
Logan Roy Costume – Succession Fashion and Style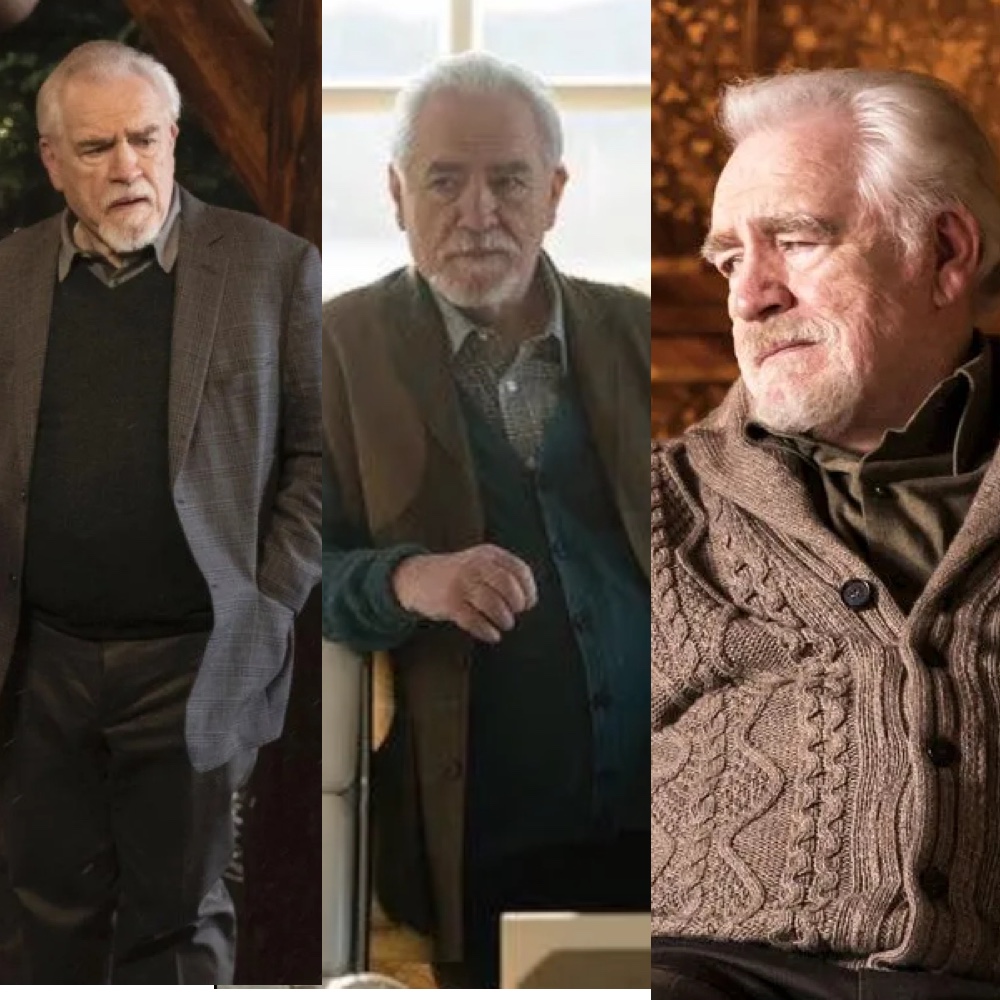 | | |
| --- | --- |
| Charcoal V-Neck Sweater | The charcoal V-neck sweater adds a touch of sophistication and warmth to the costume, reflecting Logan Roy's refined and composed demeanor. |
| Grey Dress Pants | Grey dress pants are a staple in Logan's wardrobe, representing his business acumen and professional style. |
| Grey Plaid Blazer | The grey plaid blazer complements the dress pants, exuding a classic yet contemporary look that matches Logan's refined taste. |
| Brown Cowl Neck Cardigan | The brown cowl neck cardigan adds a layer of comfort and elegance, showcasing Logan's ability to effortlessly blend style and practicality. |
| Brown Trousers | Brown trousers provide a versatile option for a different ensemble, reflecting Logan's ability to adapt to various settings with ease. |
| Olive Green Dress Shirt | The olive green dress shirt introduces a pop of color to the costume, representing Logan's bold and powerful personality. |
| Teal Cardigan | The teal cardigan adds a touch of individuality and flair to the outfit, reflecting Logan's ability to embrace unique and stylish pieces. |
| Shooting Vest | The shooting vest adds a rugged yet polished touch, symbolizing Logan's multi-faceted personality and his love for outdoor pursuits. |
| Beige Checker Dress Shirt | The beige checker dress shirt offers a contemporary twist to the ensemble, showcasing Logan's modern approach to fashion. |
Tips for Your Logan Roy Costume, Fashion and Style
The Power Suit: To channel Logan Roy's commanding presence, opt for a tailored navy blue or charcoal gray suit. Look for high-quality materials and a perfect fit to exude confidence and authority. Pair the suit with a crisp white dress shirt and a matching tie for a polished and professional look.
Luxury Accessories: Logan Roy's status as a wealthy businessman is reflected in his choice of accessories. Add a touch of luxury to your costume with high-end accessories like a designer watch, cufflinks, and a leather briefcase. These details will elevate your ensemble and demonstrate your attention to style.
Cozy Sweaters: For a more casual look inspired by Logan's signature style, consider layering cozy sweaters over your dress shirt and tie. Look for sophisticated sweaters in rich colors like maroon or deep navy, and pair them with a blazer for a refined yet relaxed appearance.
Classic Footwear: Complete your Logan Roy ensemble with a pair of classic brown leather shoes. Opt for sleek oxfords or loafers that add a touch of sophistication to your outfit. Well-maintained and polished shoes will enhance the overall polished look of your costume.
Confident Posture: More than just clothes, embodying Logan Roy's character requires confident body language. Stand tall and maintain a firm posture, exuding an air of authority and control. Embrace his commanding presence to truly bring the character to life.
Signature Hairstyle: Logan Roy's silver hair is an essential part of his distinctive appearance. If possible, consider styling your hair to match his iconic look. Otherwise, a gray wig can serve as a suitable alternative to capture his distinguished appearance.
Gravitas and Presence: Beyond the wardrobe, embrace Logan Roy's authoritative personality. Portray his assertiveness and composure, mirroring the confidence he exudes on the screen. A well-played character demeanor will complete the transformation and make your costume truly memorable.
By incorporating these tips into your Logan Roy costume, you'll embody the essence of this powerful and complex character. Whether you're attending a costume party or a fan event, this homage to the Succession patriarch will surely turn heads and impress with your attention to detail and style.
Logan Roy Overview
Logan Roy, portrayed by the talented Brian Cox, is the central figure in HBO's hit series Succession. As the CEO and founder of Waystar Royco, a global media conglomerate, Logan wields immense power and influence over his family and business empire. A self-made billionaire, he rose from humble beginnings in Scotland to become a titan of industry in the United States.
Logan's character is complex and multi-layered, embodying a mix of charisma, ruthlessness, and vulnerability. He is a formidable patriarch who rules his family with an iron fist, while also navigating the challenges of succession planning and ensuring the continuity of his empire.
His wardrobe reflects his status as a wealthy and powerful businessman, characterized by tailored suits, designer accessories, and a keen eye for luxury. Despite his high-profile lifestyle, Logan also embraces a sense of comfort and understated elegance, often favoring cozy sweaters and classic blazers.
Throughout the series, Logan's relationships with his children, Kendall, Roman, and Siobhan, are a driving force of the narrative, showcasing the complexities of familial dynamics within the high-stakes world of corporate politics.
A commanding and enigmatic figure, Logan Roy's character leaves an indelible mark on both the screen and the viewers. His strong personality and distinctive style make him an iconic character to emulate and inspire costumes that exude power and authority. Whether admired or feared, Logan Roy remains an integral part of the Succession story, capturing the attention of audiences and elevating Brian Cox's performance to unforgettable heights.
Check out more TV show costume ideas here.