Welcome to our comprehensive guide dedicated to unraveling the enigmatic persona of Sarah Lynn! Step into the world of the hit animated series as we embark on an exciting journey of creating a captivating costume inspired by this complex character. Whether you're a dedicated fan seeking a unique cosplay idea or simply intrigued by Sarah Lynn's multifaceted personality, this guide is your gateway to crafting an unforgettable Sarah Lynn costume. Prepare to dive into the details, unleash your creativity, and capture the essence of this glamorous yet troubled character. Let's begin our exploration!
Sarah Lynn Costume – BoJack Horseman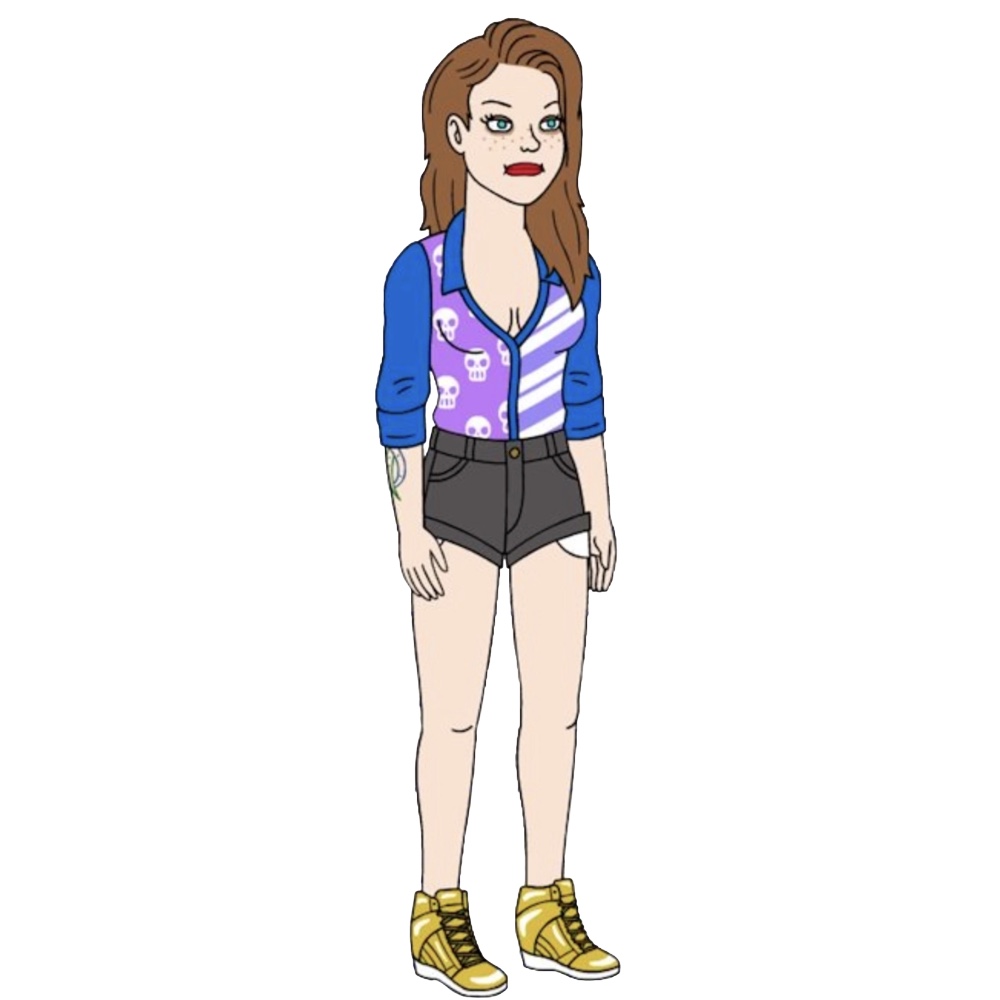 | # | Item | Description |
| --- | --- | --- |
| 1 | Blue, long-sleeve shirt | The highlight of this costume is the half striped, half skull-studded blue and purple, long-sleeve chiffon shirt Sarah wears ever so casually. For this top, you'll first need a casual, blue, button-down shirt. Roll up those sleeves 3/4's of the way and you should be done with the easy part. |
| 2 | Skull and stripes shirt | Sarah's shirt has purple sections fashioned like a vest and decorated with a pattern of white skulls on the right side and diagonal, white stripes on the left. With a little bit of time, you could order some of this fabric that has the exact same pattern of Sarah's shirt and have it sewn onto yours, front and back, only leaving the collar, sleeves, and buttons out. Alternatively, you could use purple fabric with skull stencils, tape, and white paint for fabrics to make the patterns yourself. |
| 3 | Black, cut-off shorts | Once done with the shirt, the rest is pretty straightforward. You'll need black, cut-off shorts with the pockets showing through the leg openings. It would be even better to have white pockets to resemble the character more accurately. Ultimately, any black, cut-off shorts will do, bought or homemade. |
| 4 | Yellow wedge-heel sneakers | Sarah Lynn doesn't go anywhere without her yellow wedge-heel sneakers. Patterns are unlimited, and most of them match Lynn's, so no need to worry about that. What really matters is that you get the color right. |
| 5 | Black laces | To make your outfit richer in detail, you could include these black laces for your wedge-heel sneakers. It may not look like much, but it will surely give your costume a little extra. |
| 6 | Teal, cross-body bag | Though it's not always seen on the show, we know Sarah Lynn has an aquamarine cross-body bag, which you could imitate with any cross-body within the range of aquamarine, turquoise, or teal at your disposal. |
Sarah Lynn Overview
Sarah Lynn, a character of both beauty and tragedy, captivates audiences with her allure and tumultuous journey. As a former child star turned troubled adult, Sarah Lynn embodies the dark side of fame and the consequences it can have on one's life. With her striking looks, captivating voice, and glamorous persona, she remains an unforgettable character in the hearts of fans.
When creating a costume that pays homage to Sarah Lynn, it's essential to capture her distinctive style. Known for her provocative and flashy fashion choices, Sarah Lynn embraces a rebellious and extravagant aesthetic. From vibrant and revealing outfits to bold accessories that demand attention, she exudes an aura of confidence and defiance. Embrace glitter, sequins, and bold colors to infuse your Sarah Lynn costume with her signature glamour.
Beyond her outward appearance, Sarah Lynn's character reflects a complex mix of vulnerability and hidden pain. She longs for validation and seeks solace in the spotlight, making her a tragic figure amidst her seemingly glamorous life. To truly embody Sarah Lynn, delve into her emotional depths and channel her internal struggles with authenticity and empathy.
By capturing the essence of Sarah Lynn, you embark on a creative endeavor that combines beauty, tragedy, and a touch of rebellion. Embrace her flamboyant style, delve into her emotional complexities, and express the duality of her character through your costume. Join us as we unravel the secrets of crafting an extraordinary Sarah Lynn costume, capturing the essence of this glamorous enigma. Let your creativity soar as you step into the world of Sarah Lynn and pay tribute to her captivating presence.
Check out more TV show costume ideas here.