Welcome to our comprehensive guide on creating a stunning Princess Carolyn costume! Whether you're a dedicated fan of the beloved animated series BoJack Horseman or simply looking for a unique and eye-catching costume idea, this guide is here to help you embody the stylish and confident character of Princess Carolyn. Get ready to unleash your inner feline fashionista as we take you through the step-by-step process of assembling this iconic costume. From head to toe, we'll provide you with all the details, tips, and tricks you need to bring this beloved character to life. Let's dive in!
Princess Carolyn Costume – BoJack Horseman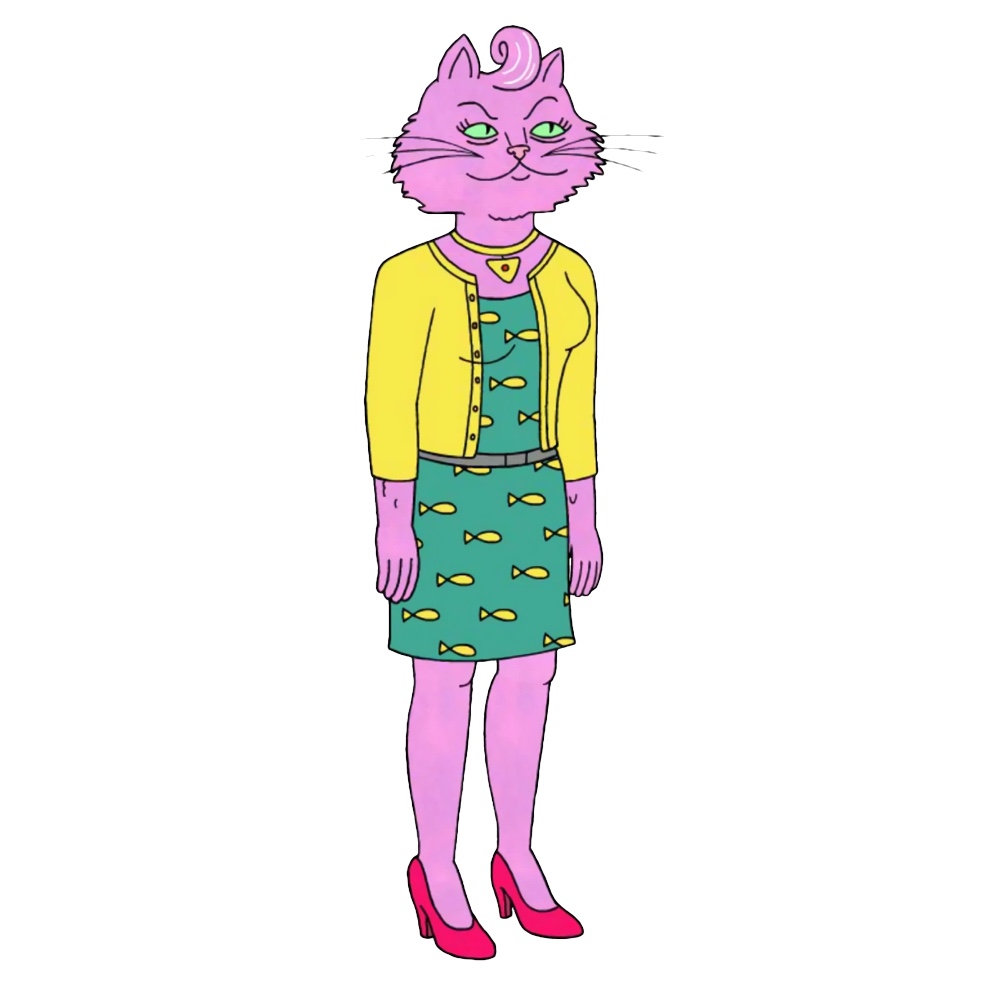 Princess Carolyn Costume
| # | Item | Description |
| --- | --- | --- |
| 1 | Pink Sheer Mesh T-shirt | Embark on your Princess Carolyn transformation by laying the foundation for her iconic pink fur. Start with a pink, sheer mesh long-sleeve t-shirt, a comfortable alternative to layers of body paint or spandex. This essential base layer will provide the perfect canvas for your costume. |
| 2 | Pink Pantyhose | Complete the cohesive look by extending the pink theme to your legs. Wear pink pantyhose that match the tone of your long-sleeve t-shirt and sheer mesh top. This attention to detail will ensure a seamless and visually appealing costume. |
| 3 | Green Dress with Yellow Fish Print (Option A) | Now it's time to focus on the clothes. Begin with a green tube dress featuring a charming print of yellow fishes. You can create this design by cutting out fish shapes from yellow fabric and sewing them onto the green dress. Alternatively, you can opt for embroidery to achieve a similar effect. Let your creativity shine as you bring Princess Carolyn's wardrobe to life. |
| 4 | Green Dress with Yellow Fish Print (Option B) | Alternatively, you can choose a tailored dress made from a captivating green-yellow fabric inspired by Princess Carolyn's iconic dress. This option provides a convenient and stylish way to replicate her distinctive look. |
| 5 | Yellow Cardigan | Slip into a vibrant yellow cardigan, just like the one Princess Carolyn wears as part of her ensemble. This versatile piece adds a pop of color and completes the overall look of your costume. Embrace your inner feline fashionista with this stylish addition. |
| 6 | Fuchsia Stilettos | Elevate your costume with a pair of glossy fuchsia stilettos that are bound to turn heads. Be sure to choose a shade slightly darker than your pantyhose to create a captivating contrast. Step into these elegant heels and exude the confidence of Princess Carolyn herself. |
| 7 | Thin Gray Waist Belt | Don't forget the little details that make a big difference. Secure your outfit with a 1/2″ thick gray leather belt featuring a single-tongue buckle. This subtle accessory adds a touch of sophistication and completes the overall look. |
| 8 | Gold-Plated Choker Necklace | Embrace the lore behind Princess Carolyn's famous necklace by starting with a gold-plated choker necklace. This elegant piece serves as the foundation for hanging a triangle medallion below your neck. Capture the essence of Princess Carolyn's sophisticated style with this key element. |
| 9 | Triangle Medallion and Red Acrylic Gem | Complete your Princess Carolyn transformation with a prominent gold-plated triangle pendant, which hangs from the choker necklace. While you can craft it yourself using school supplies, consider adding a touch of elegance with a high-quality triangle medallion. Enhance its allure by gluing a red faux gem in the center, mimicking the exquisite detail of Carolyn's pendant. |
Princess Carolyn Make-Up
| # | Item | Description |
| --- | --- | --- |
| 1 | Pink Cat Costume Ears | To truly embody Princess Carolyn, you'll need a pair of adorable pink cat costume ears. These furry ears can be worn over your wig like a hairband, completing your transformation into BoJack's lively and ambitious manager. Whether you choose to visit a local costume store or prefer the convenience of online shopping, these ears are an essential accessory for your Princess Carolyn costume. |
| 2 | Pink Wig | Get ready to mimic Princess Carolyn's signature hairstyle with a vibrant pink wig. Style the wig by combing the hair backwards into a little buckle, just like Princess Carolyn herself. This stylish wig will bring your costume to life, allowing you to channel the energy and determination of BoJack's dedicated manager. Unleash your inner Princess Carolyn with this essential accessory. |
| 3 | Pink Face Paint | Add the final touches to your Princess Carolyn costume by applying pink face paint to your visage. Choose a shade of pink that matches the tone of your arms and legs for a seamless look. With a touch of face paint, you'll achieve the perfect transformation into the feline powerhouse that is Princess Carolyn. Prepare to captivate the room with your attention to detail. |
Princess Carolyn Overview
Princess Carolyn is a prominent character in the acclaimed Netflix series BoJack Horseman. As a savvy talent agent, she exudes confidence, resilience, and undeniable charm. With her vibrant personality and impeccable sense of style, Princess Carolyn has become a fan-favorite among viewers.
Known for her pink fur and impeccable fashion choices, Princess Carolyn's signature look combines elegance with a touch of playfulness. She is often seen wearing a variety of pink-themed outfits, complemented by her iconic yellow cardigan and fuchsia stilettos. The attention to detail in her attire, from her meticulously styled hair to her distinct accessories, showcases her sophistication and dedication to her personal image.
By channeling Princess Carolyn's empowering spirit and embracing her distinctive fashion sense, you can create a truly remarkable costume that captures the essence of this beloved character. So, let's embark on this creative journey and discover how to assemble an awe-inspiring Princess Carolyn costume that will make you the center of attention at any event!
Check out more TV show costume ideas here.