"Question: What kind of bear is best?" If you find yourself chuckling at this classic quote and dreaming of becoming the master of pranks and sarcasm from "The Office," you're in for a treat. In this guide, we'll show you how to create the perfect Three Hole Punch Jim Halpert Costume, so you can channel the wit and humor of this iconic character.
From his legendary pranks to his deadpan expressions, Jim Halpert has captured the hearts of fans worldwide. Join us as we delve into the world of this beloved character and learn how to bring him to life through your costume.
Three Hole Punch Jim Halpert Costume – The Office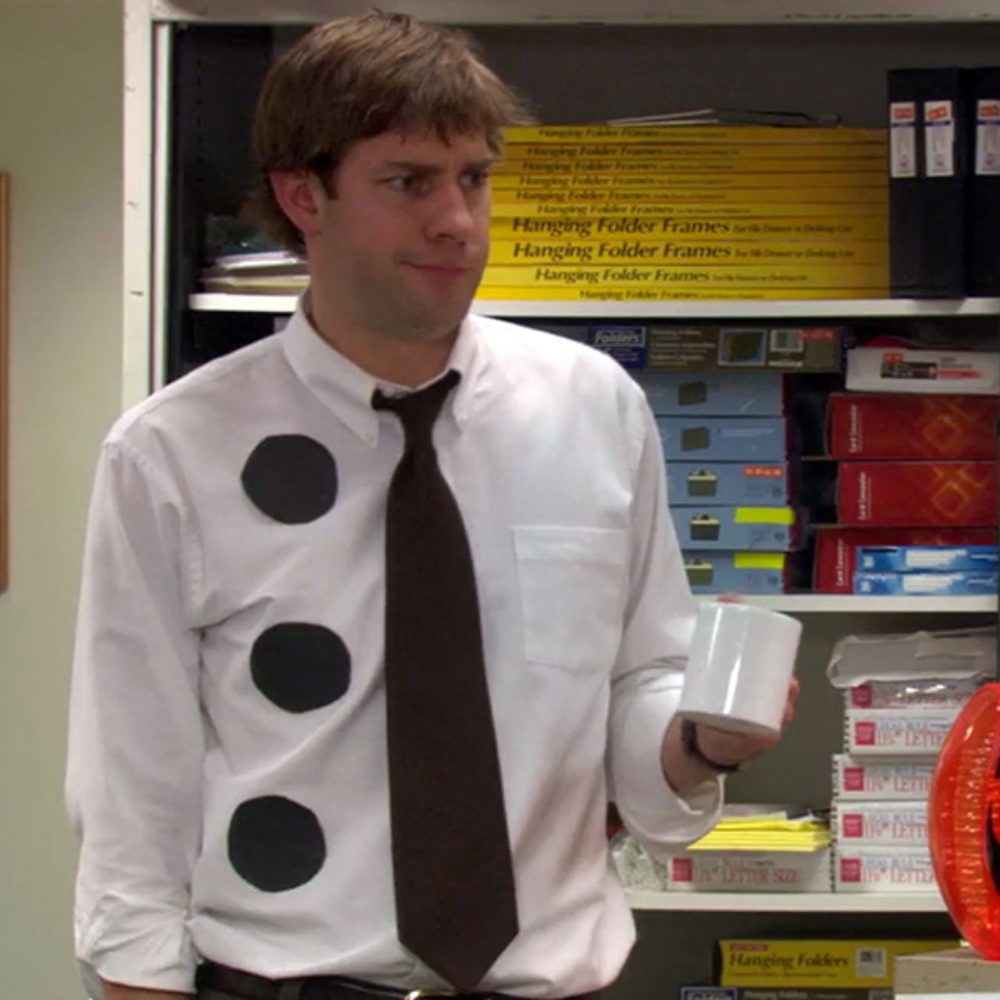 | | |
| --- | --- |
| White Dress Shirt with Front Pocket | Jim's white dress shirt is a fundamental part of his costume. The front pocket is where he placed the three black felt dots, which are a central element of the costume. |
| 3-Inch Felt Dots | These black felt dots are a humorous reference to Jim's supposed "three-hole punch" costume prank. They are attached to the front of the white dress shirt, creating the illusion of being hole-punched. |
| Brown Wide Necktie | Jim typically wore a wide brown necktie as part of his office attire. This tie adds authenticity to the costume and is a recognizable detail for fans of the show. |
| Charcoal Dark Gray Pleated Dress Pants | Jim's dark gray dress pants are a staple of his work attire. They complete the professional look of the costume and contrast nicely with the white shirt and brown tie. |
| Black Dress Belt with Silver Buckle | A black dress belt with a silver buckle is a standard accessory for the outfit. It provides a polished finishing touch and keeps the pants in place. |
| Black Oxford Dress Shoes | Jim's black Oxford dress shoes are a must to replicate his office attire accurately. They contribute to the overall professional appearance of the costume. |
| White Ceramic Coffee Mug | Jim's love for pranks and humor is often exemplified through his iconic white ceramic coffee mug. Holding this prop can help recreate some of Jim's classic scenes from the show. |
| Victorinox Infantry White Dial Brown Leather Strap Watch | Jim's wristwatch adds a touch of authenticity to the costume. Although it might not be immediately noticeable, it's a subtle detail that fans of the character will appreciate. |
Three Hole Punch Jim Halpert Overview
Jim Halpert, portrayed by John Krasinski in the hit TV series "The Office," is a character known for his quick wit, love of pranks, and ability to maintain a sense of humor in the mundane world of Dunder Mifflin. Here's a glimpse into the world of Jim Halpert:
1. The Prankster Extraordinaire: Jim's playful spirit shines through his pranks on his desk-mate and arch-nemesis, Dwight Schrute. His pranks, such as the infamous "three hole-punch Jim," are a testament to his creativity and sense of humor.
2. The Deadpan King: Jim is a master of the deadpan expression. He often breaks the fourth wall by giving knowing looks to the camera, allowing viewers to share in his amusement at the absurdity of office life.
3. Office Romances: Jim's relationship with Pam Beesly (Jenna Fischer) is at the heart of "The Office." Their journey from friends to lovers is one of the show's central storylines, adding depth to Jim's character.
4. The Voice of Reason: In the chaotic world of Dunder Mifflin, Jim often serves as the voice of reason and relatability for viewers. His reactions to the eccentricities of his coworkers mirror the audience's perspective.
5. Pursuit of Dreams: Throughout the series, Jim grapples with his career aspirations and his desire for a more fulfilling life. His journey is one of growth, self-discovery, and the pursuit of happiness.
As you embark on the mission of creating a Three Hole-Punch Jim Halpert costume, remember to capture his witty humor, his penchant for pranks, and his iconic deadpan expressions. Now, let's dive into the details and transform you into the embodiment of Jim Halpert's legendary office shenanigans!
See more costumes from The Office here.