In a galaxy far, far away, one character has captured the hearts of Star Wars fans with her unwavering spirit, fierce determination, and iconic appearance. Ahsoka Tano, the Togruta Jedi Padawan, has become a symbol of courage and resilience in the Star Wars universe. If you're looking to step into the shoes of this beloved character and bring her to life through cosplay, you've come to the right place.
Ahsoka Tano Costume – The Mandalorian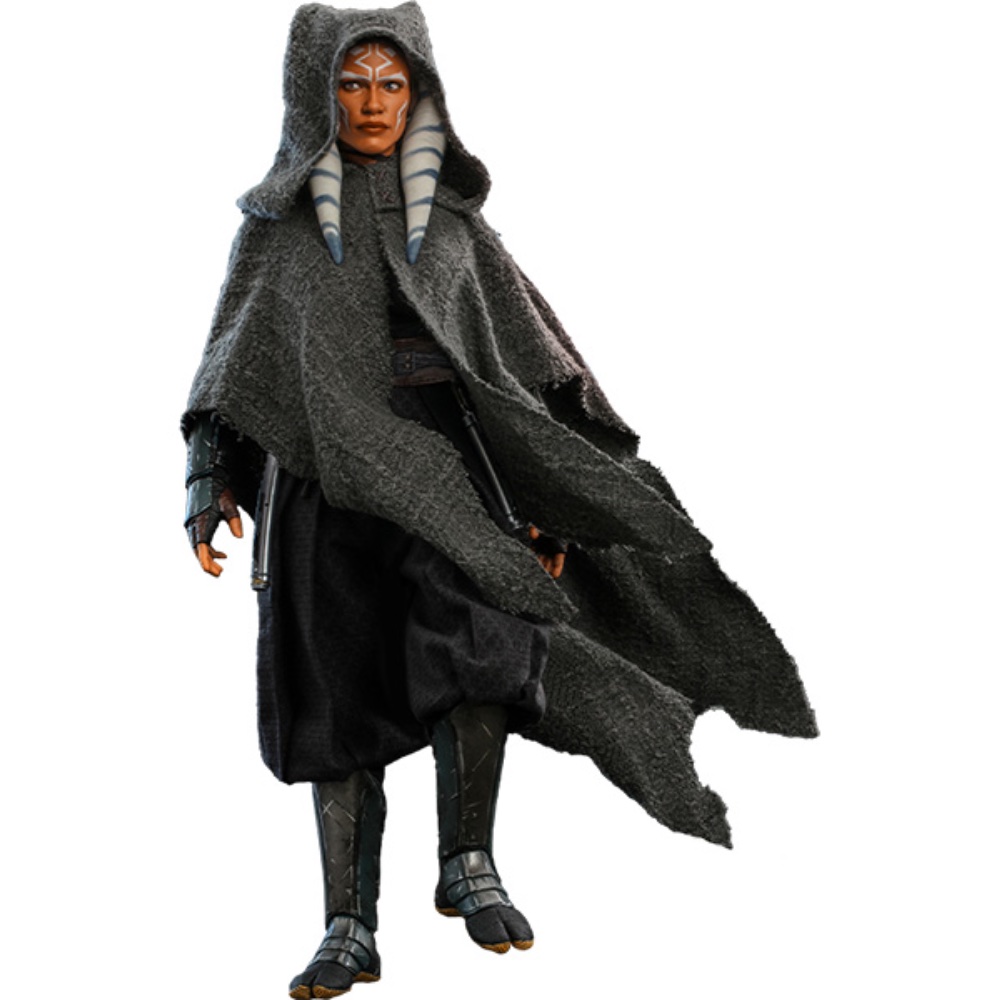 | | |
| --- | --- |
| Ahsoka Tano Headgear | Ahsoka is recognized by her distinct headgear, which includes white and blue montrals (head-tails) and a headpiece. This piece is essential to accurately represent her Togruta species. |
| Ochre Yellow Face Paint | Ahsoka has distinctive yellow facial markings. Using ochre yellow face paint helps recreate these intricate patterns on your skin. |
| White Face Paint | In addition to the yellow markings, Ahsoka also has white markings on her face. White face paint is used to replicate these markings accurately. |
| Charcoal Gray Wool Poncho with Hood | Ahsoka's outfit often includes a gray poncho with a hood, which adds to her Jedi appearance. |
| Black Sleeveless Turtleneck | This forms the base of Ahsoka's outfit. She typically wears a black sleeveless turtleneck as part of her Jedi attire. |
| Black Harem Pants | Ahsoka's pants are unique, and black harem pants closely resemble her distinctive look. |
| Black Knit Arm Warmers | Ahsoka's arm warmers add to her Jedi ensemble. They are a crucial part of her costume. |
| Brown Leather Fingerless Gloves | These gloves not only provide an authentic look but also offer practicality for a costume that involves wielding lightsabers. |
| Black Faux Leather Arm Bracers | Ahsoka's arm bracers are essential to her costume and contribute to her overall appearance. |
| Brown Wide Faux Leather Belt | A wide brown belt is a signature part of Ahsoka's attire, serving both as a practical accessory and a fashion statement. |
| Black Medieval Gaiters Boot Covers | These boot covers mimic the style of Ahsoka's boots, completing the lower half of her costume. |
| Black Ninja Tabi Shoes | Ahsoka's footwear is unique, and ninja tabi shoes are a close match to her boots. |
| Rechargeable Silver Hilt Lightsaber x 2 | Ahsoka is known for her dual lightsabers. Two silver hilt lightsabers are essential props to fully embody her character. |
| Ahsoka Tano Costume with Arm Sleeves, Belt, Gloves, Pants, Top, Waist Wrap, Wristlets | This comprehensive costume set includes various elements required to replicate Ahsoka's appearance, such as the top, arm sleeves, belt, gloves, pants, waist wrap, and wristlets. |
Ahsoka Tano Overview
Ahsoka Tano is a prominent character in the Star Wars universe, known for her pivotal role in the animated series "Star Wars: The Clone Wars" and "Star Wars Rebels," as well as her appearance in other Star Wars media. Here is an overview of Ahsoka Tano:
Background: Ahsoka Tano, often referred to simply as "Ahsoka," is a Togruta, a species recognizable by their head-tails called montrals. She was discovered by Jedi Master Plo Koon on her homeworld, Shili, and was later trained as a Jedi by Anakin Skywalker, who became her mentor.
Jedi Padawan: Ahsoka's journey in the Star Wars galaxy begins when she becomes the Padawan (apprentice) of Anakin Skywalker during the Clone Wars, a galaxy-spanning conflict. She quickly distinguishes herself as a skilled and courageous Jedi, with a strong sense of justice and an unwavering commitment to doing what is right.
Characteristics: Ahsoka is characterized by her unique appearance, with blue and white facial markings, montrals, and distinctive Jedi attire. Her dual lightsabers, featuring white blades, become her trademark weapons.
Personality: Ahsoka is known for her determination and compassion. She often challenges traditional Jedi wisdom and is unafraid to question authority when she believes it is necessary. Her strong sense of empathy and her ability to connect with others make her a memorable and relatable character.
Leaving the Jedi Order: One of the most significant moments in Ahsoka's journey occurs when she is falsely accused of a crime she did not commit. Faced with mistrust and betrayal, she makes the difficult decision to leave the Jedi Order. This departure is a defining moment for her character and sets her on a path of self-discovery.
Later Adventures: Following her departure from the Jedi Order, Ahsoka continues to play a crucial role in the events of the Clone Wars and beyond. She becomes a key figure in the Rebel Alliance, working behind the scenes to fight against the oppressive Galactic Empire.
Legacy: Ahsoka Tano's character has garnered a dedicated fanbase and has become a symbol of resilience, growth, and the potential for redemption within the Star Wars narrative. Her appearances in various Star Wars media, including novels and live-action series, have further expanded her story and cemented her status as a beloved character in the Star Wars galaxy.
Ahsoka Tano's journey is a testament to the complexities of the Jedi Order, the choices individuals make in the face of adversity, and the enduring themes of hope and heroism that define the Star Wars universe.
Check out more The Mandalorian costume ideas here.