Welcome to the ultimate guide on creating an authentic costume inspired by one of the most beloved characters from Game of Thrones, Arya Stark. In this comprehensive guide, we will walk you through the steps necessary to bring Arya's fierce and determined persona to life. Whether you're a dedicated fan looking to cosplay as Arya at conventions or simply want to channel her adventurous spirit for a themed party, this guide will provide you with all the information you need to make your Arya Stark costume a true standout.
Arya Stark Costume – Game of Thrones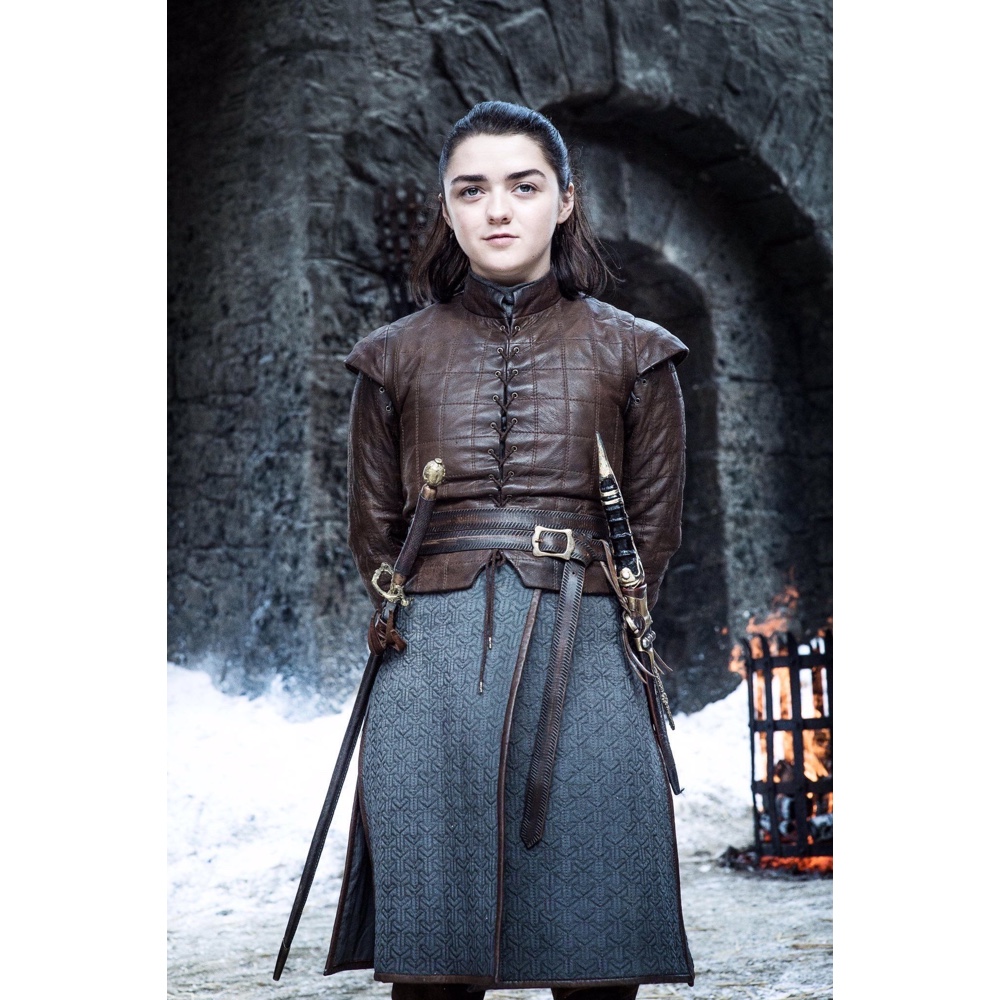 | # | Item | Description |
| --- | --- | --- |
| 1 | Brown Long Sleeves | Start your outfit with this exquisite brown long-sleeve top that exudes both style and comfort. |
| 2 | Vest | Add a touch of sophistication to your ensemble with this elegant brown quilted vest, providing warmth and style. |
| 3 | Belt | Accentuate your waistline and tie your look together with this stunning matching belt. |
| 4 | Blue Skirt | Elevate your style by pairing the brown top with this captivating blue skirt, offering a delightful contrast. |
| 5 | Brown Boots | Complete your ensemble with these fashionable brown boots, perfectly complementing the top and skirt. |
| 6 | Toy Sword | Add a touch of adventure and playfulness to your outfit with this exquisite toy sword, completing your look. |
Arya Stark Overview
Arya Stark, portrayed by the talented Maisie Williams, is a fan-favorite character from the epic fantasy series Game of Thrones. Known for her relentless spirit and indomitable will, Arya captivated audiences with her journey from a headstrong young girl to a skilled assassin seeking justice and retribution. Throughout the series, Arya evolves into a master of disguise, an expert swordswoman, and a survivor in a world plagued by political intrigue and treachery.
Arya's costume reflects her journey and transformation. From her humble beginnings in the Stark family attire to her later ensembles as a Faceless Man and a warrior, each outfit carries symbolic meaning and tells a story of her resilience and determination. Crafting an Arya Stark costume allows you to step into the shoes of this iconic character, embodying her strength, resilience, and unwavering spirit.
Join us as we delve into the intricate details of Arya Stark's costumes, explore the essential elements that define her unique style, and guide you through the process of recreating her iconic look. Whether you're a seasoned cosplayer or a DIY enthusiast, this guide will equip you with the knowledge and inspiration to bring Arya Stark to life and pay homage to one of the most unforgettable characters in the Game of Thrones universe.
See more Game of Thrones costumes here.