Welcome to our comprehensive guide on crafting an authentic Borat costume! Whether you're a fan of Sacha Baron Cohen's iconic character or preparing for a themed party, we're here to help you capture the essence of Borat Sagdiyev, the eccentric and hilarious Kazakhstani journalist. In this guide, we'll walk you through the step-by-step process of creating a remarkable Borat costume that mirrors his distinctive style, comedic flair, and memorable personality. Get ready to embrace the quirks and humor of Borat as we delve into the world of this unforgettable character!
Borat Costume – Borat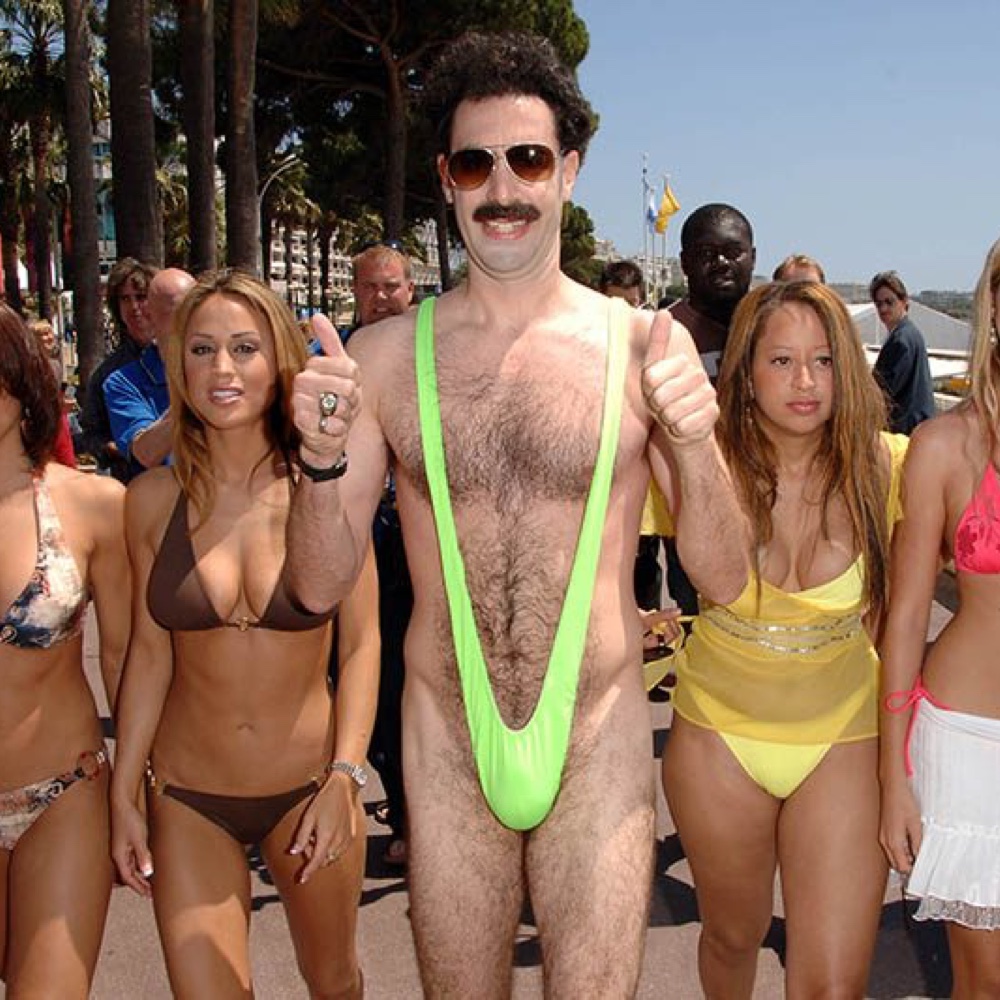 | # | Item | Description |
| --- | --- | --- |
| 1 | Dark Gray Dress Shirt | Elevate your style with a sophisticated touch by donning this exquisite dark gray dress shirt, a perfect foundation for your ensemble. |
| 2 | Gray Business Suit | Embrace the essence of elegance and professionalism with this impeccably tailored gray business suit, tailored to embody Borat's distinct two-piece attire. |
| 3 | Beige Necktie | Infuse your ensemble with Borat's unconventional fashion sense by accessorizing with this striking beige necktie, an expression of your unique style. |
| 4 | Black Oxfords | Exude timeless elegance and sophistication with these classic black Oxfords, a dignified choice befitting a professional like Borat. |
| 5 | Curly Wig & Mustache Set | Transform into the iconic Borat with ease by adorning yourself with this curly wig and mustache set, capturing his distinctive hair and facial features. |
| 6 | Mini American Flag | Show your unwavering enthusiasm and patriotic spirit by proudly waving a mini-American flag, echoing Borat's infectious zeal. |
| 7 | Brown Leather Travel Bag | Embrace the wanderlust of Borat, the intrepid journalist, by carrying this exquisite brown leather travel bag, a symbol of adventure and exploration. |
| 8 | Neon Green Mankini | Channel the audacious spirit of Borat with his iconic neon green mankini, a bold choice that leaves a lasting impression. |
| 9 | Hairy Body Suit | For a family-friendly twist on the costume, don this hairy body suit to replicate Borat's famously hairy physique while maintaining a playful atmosphere. |
Borat Overview
Borat Sagdiyev, created and portrayed by Sacha Baron Cohen, is a fictional character known for his outrageous behavior and distinctive cultural misunderstandings. Hailing from Kazakhstan, Borat is a bumbling journalist who embarks on a journey across the United States, engaging unsuspecting individuals in absurd conversations and situations. Borat's signature style includes a gray suit, a mismatched shirt and tie, and a bushy mustache, all of which contribute to his instantly recognizable appearance. With his distinctive accent and uninhibited personality, Borat delivers unforgettable comedic moments while satirizing cultural stereotypes. As you embark on creating your Borat costume, it's essential to capture the essence of this iconic character, embracing his unapologetic nature, exaggerated mannerisms, and comedic timing. So, let's dive into the details and discover how you can bring Borat to life in your own hilarious cosplay rendition.
Check out more movie costume ideas here.