Welcome to a world of fire and blood, where the Targaryen legacy burns brighter than ever. If you're a fan of George R.R. Martin's epic fantasy series, "A Song of Ice and Fire," and the hit TV adaptation, "Game of Thrones," you're in for an exciting journey. In this comprehensive guide, we'll explore the art of crafting a Daemon Targaryen costume that will transport you to the turbulent times of Westeros. Daemon Targaryen, a legendary character from the "Tales of Dunk and Egg" novellas, is a dragon rider, warrior, and a central figure in the Targaryen dynasty's tumultuous history. Join us as we dive into the intricate details of bringing this enigmatic character to life, and let your imagination take flight on the back of a dragon!
Daemon Targaryen Costume – Game of Thrones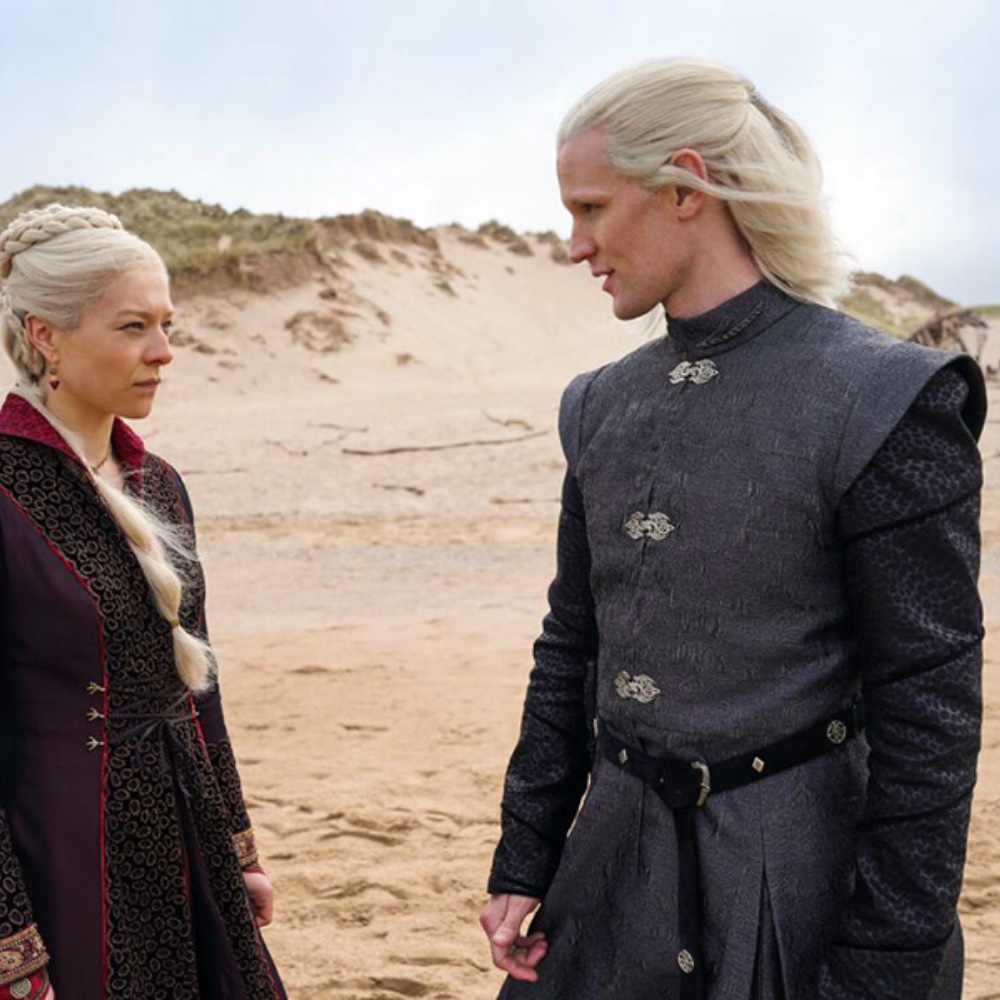 | | |
| --- | --- |
| Long Straight Platinum Blonde Wig | Daemon Targaryen is known for his striking Targaryen features, including his silver hair. The long platinum blonde wig replicates this iconic trait, making your costume instantly recognizable. |
| Daemon Targaryen Black Robe Tunic Costume with Belt | The black robe tunic serves as the foundation of Daemon's attire. It represents his noble status and Targaryen lineage. The attached belt adds detail to the costume, creating a regal and authentic look. |
| Daemon Targaryen Black Prince Costume with Belt | This costume variation captures Daemon's princely demeanor and his role within the Targaryen family. It provides a different ensemble option for portraying the character. |
| Daemon Targaryen Black Warrior Costume with Red Sleeves and Belts | Daemon Targaryen is not only a prince but also a fierce warrior. This costume variant with red sleeves and belts reflects his combat-ready appearance. It's ideal if you want to depict him in battle or a more action-oriented setting. |
| Black Knee-High Men's Boots | These boots complete the overall look, giving you the footwear of a noble Targaryen. They are practical for both a regal appearance and for embodying a warrior persona if desired. |
| Foam Excalibur Sword with Leather Frog | As a warrior and dragonrider, Daemon Targaryen would often be seen with a sword. The foam Excalibur sword is safe and adds a realistic touch to your costume. The leather frog allows you to carry the sword comfortably. |
| Game of Thrones Drogon Shoulder Sitter | Daemon Targaryen's connection with dragons is a defining aspect of his character. The Drogon shoulder sitter is a unique accessory that represents his dragon, Caraxes, and creates a dramatic visual effect, making your costume more impressive. |
| Game of Thrones Deluxe Dragon Eggs in Wooden Crate | Dragon eggs are symbolic of the Targaryen family and their connection to dragons. The deluxe dragon eggs in a wooden crate serve as a fantastic prop, adding authenticity and a touch of mystery to your costume. |
Daemon Targaryen Overview
Daemon Targaryen is a legendary figure in the world of Westeros, known for his charisma, bravery, and the fierce loyalty of his followers. He hails from the storied House Targaryen, a family known for their dragon-riding ancestry. Here's an overview of this captivating character:
Appearance: Daemon is described as having silver hair, characteristic of the Targaryen bloodline, and violet eyes. His features are striking, with a rugged handsomeness that exudes confidence and power. He often wears distinctive Targaryen attire adorned with black and red.
Personality: Daemon Targaryen is known for his audacity and fearlessness. He is a masterful warrior and jouster, renowned for his combat skills and chivalry on the battlefield. Despite his martial prowess, Daemon is not without complexity; he is known to be charming, charismatic, and has a deeply romantic side. His allure extends beyond the battlefield, capturing the hearts of many.
Dragonrider: Perhaps one of Daemon's most iconic features is his dragon, Caraxes. The bond between Daemon and Caraxes is legendary, and their exploits in battle are the stuff of legends. Caraxes is a fearsome black dragon, and together, they are a force to be reckoned with in the skies of Westeros.
Role in History: Daemon Targaryen played a pivotal role in the Targaryen civil war known as the "Dance of the Dragons." His claim to the Iron Throne and his unwavering determination to achieve it set the stage for a brutal conflict that would shape the future of Westeros.
Creating a Daemon Targaryen costume allows you to step into the intricate and captivating world of Westeros, channeling the spirit of a legendary dragonrider. With his distinctive appearance, bold personality, and the power of his dragon, Daemon is a character who commands attention and respect in the lore of "A Song of Ice and Fire." So, let's embark on this costume-making adventure and pay homage to one of the most compelling figures in the Seven Kingdoms!
Check out more Game of Thrones costume ideas here.