Get ready to dive deep into the world of Minecraft, clad in the legendary Diamond Armor, as you transform into the iconic Steve! If you're a fan of this beloved sandbox game and its courageous protagonist, then crafting a Minecraft Diamond Armor Steve costume is your ticket to becoming the ultimate pixelated hero. Steve, the fearless adventurer of the blocky universe, is known for his mining and crafting skills and his iconic Diamond Armor, which provides superior protection in the game. Now, you can pay homage to this iconic character by creating an authentic Diamond Armor Steve costume. Whether you're getting ready for Halloween, a gaming convention, or simply want to embody the spirit of Minecraft, our guide will help you assemble a costume that's both legendary and blocky. Get ready to mine, craft, and explore the real world as Diamond Armor Steve!
Diamond Armor Steve Costume – Minecraft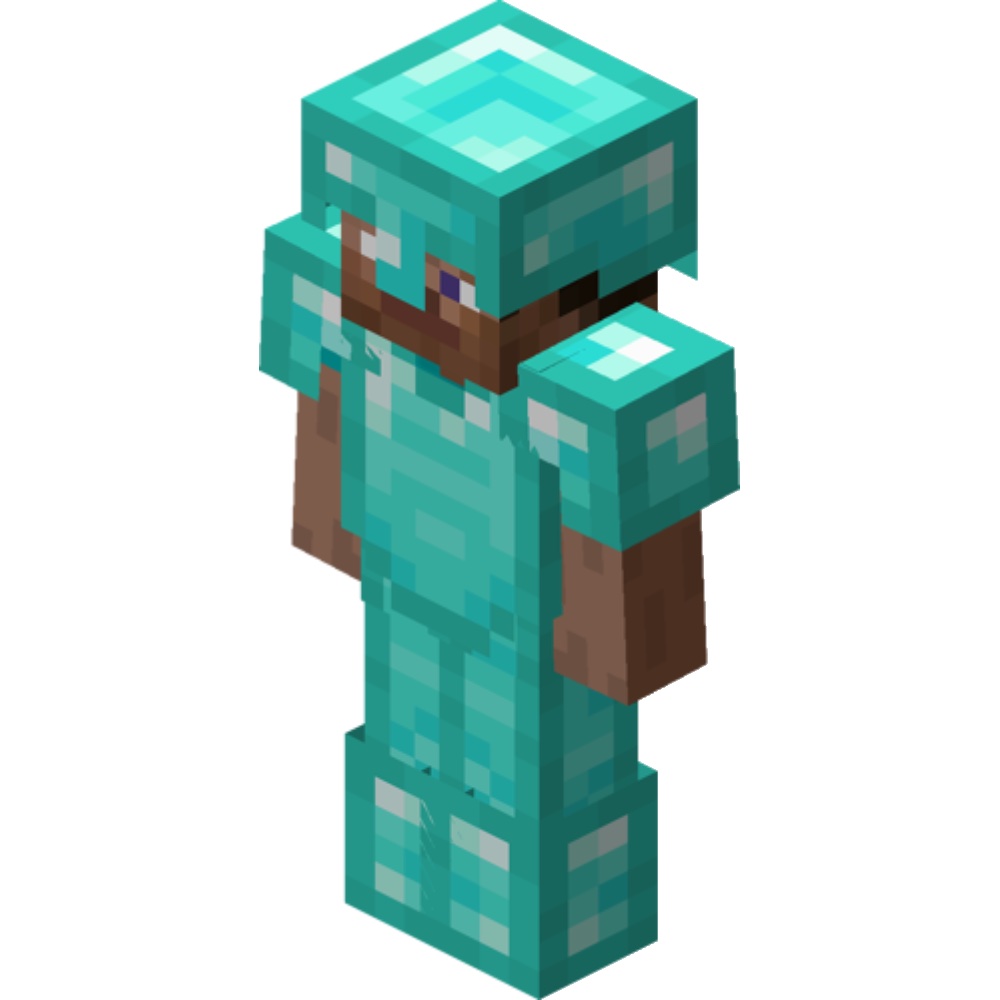 | # | Item | Description |
| --- | --- | --- |
| 1 | Steve Mask | Instantly transform into Steve with this realistic mask. It captures every pixel of the iconic character's look. |
| 2 | Diamond Armor | Skip the hassle of crafting and go for the convenience of this Minecraft diamond armor set. It's a game-changer for your costume. |
| 3 | Teal Pants | Elevate your armor game by pairing it with sleek teal pants. It's the little details that matter. |
| 4 | Teal Sneakers | Complete your diamond-themed outfit with these stylish teal sneakers. Steve would approve. |
| 5 | Diamond Sword | Don't venture into the blocky world without your trusty diamond sword. It's the key to survival. |
| 6 | Diamond Axe | Accessorize with a diamond axe, because a true Minecraft adventurer is always prepared. |
| 7 | Kids Diamond Armor Set | Dress up your little one with this deluxe kids' diamond armor set. They'll be the envy of the pixelated realm. |
Diamond Armor Steve Overview
Steve is the default character and protagonist in the sandbox video game Minecraft, developed by Mojang Studios. He's an adventurer, miner, and builder who explores the vast and diverse landscapes of the Minecraft world. Here's a closer look at the character:
1. Versatile Adventurer: Steve is a versatile character who can engage in various activities in the game, including mining for resources, crafting tools and weapons, building structures, and battling hostile mobs.
2. Iconic Appearance: Steve is recognized by his blocky appearance, with a light-blue shirt, indigo pants, and brown shoes. His pixelated design is synonymous with Minecraft.
3. Mining and Crafting: Steve's primary activities involve mining resources like ores and crafting tools, weapons, armor, and other items to survive and thrive in the game.
4. Diamond Armor: The Diamond Armor set is one of the most coveted and powerful sets of protective gear in Minecraft. It offers excellent defense against attacks from hostile mobs and is a symbol of a well-equipped and seasoned player.
5. Player Avatar: Steve serves as the avatar for the player in the game, allowing players to immerse themselves in the Minecraft universe and embark on endless adventures.
By creating a Diamond Armor Steve costume, you'll embody the spirit of this fearless adventurer and become the ultimate protector of your real-life adventures. With the iconic Diamond Armor set, you'll be ready to face any challenge and mine your way to victory. Let's embark on the journey of crafting your very own Minecraft Diamond Armor Steve costume!
Check out more Minecraft costume ideas here.