Welcome to "Constructing Flash Gordon Costume," an all-inclusive guide designed to help you bring to life the legendary space-faring hero of science fiction. In this comprehensive tutorial, we will delve into the essential components and techniques required to recreate the iconic appearance of Flash Gordon. Whether you're a devoted fan seeking to pay homage, preparing for a cosplay event, or simply unleashing your inner hero, this guide will equip you with the knowledge and skills to embody the spirit of this unforgettable character.
Flash Gordon Costume – Flash Gordon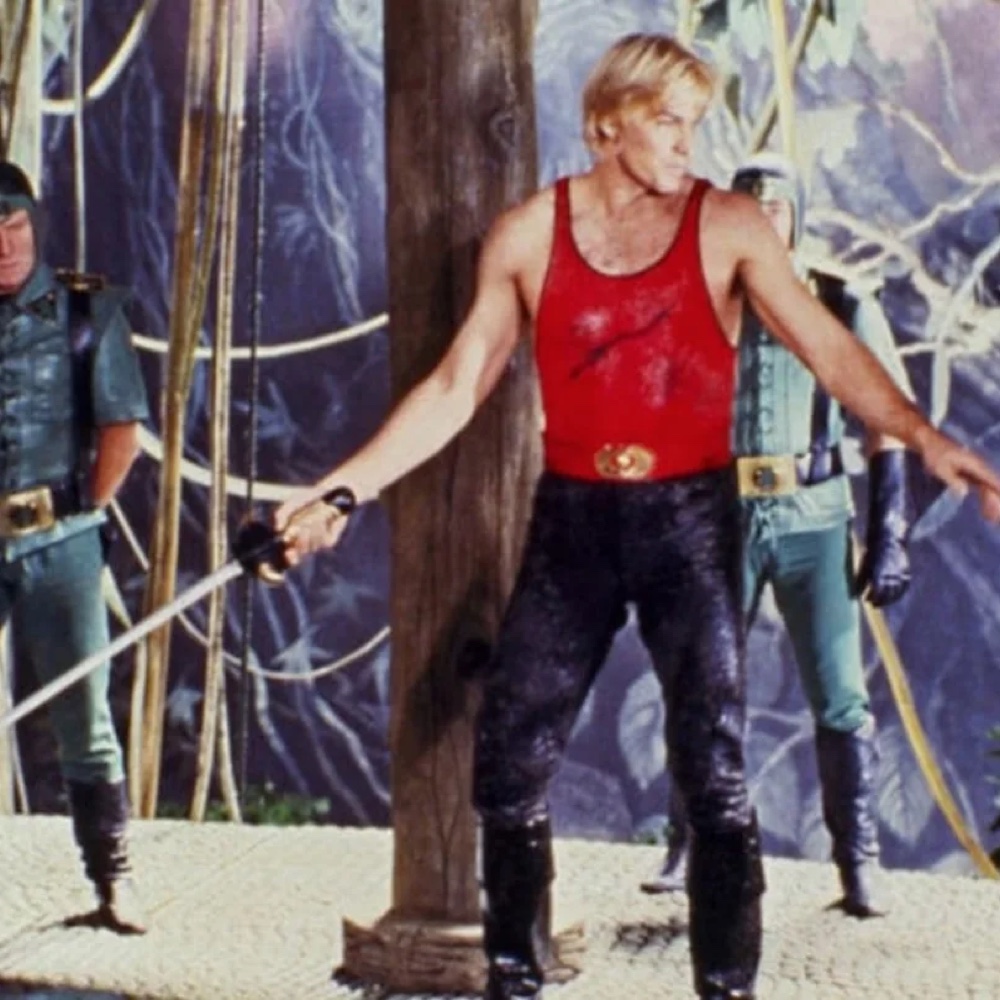 | # | Item | Description |
| --- | --- | --- |
| 1 | Black Tank Top | Begin by donning this sleek, form-fitting black tank top, which serves as the foundation of the ensemble. |
| 2 | Red Tank Top | Layer another vibrant red tank top over the black one, skillfully folded into a trendy cropped style, adding a dash of boldness to the outfit. |
| 3 | White Sticker Paper | Next, acquire white sticker paper and meticulously cut it into the shape of Flash Gordon's iconic chest emblem, paying homage to the hero's symbol. |
| 4 | Black and Red Marker | With the aid of black and red markers, unleash your creativity and embellish the sticker paper with intricate designs, adding depth and detail to the emblem. |
| 5 | Black Pants | Achieve comfort and style with a pair of versatile black pants that effortlessly complement the overall look while providing ease of movement. |
| 6 | Belt | Accentuate the pants by adorning them with a sleek belt featuring a golden buckle, infusing an element of sophistication into the attire. |
| 7 | Boot Cover | Opt for these boot covers as a more budget-friendly alternative to genuine leather boots, effortlessly completing the ensemble with their polished appearance. |
| 8 | Blonde Wig | Elevate the costume to its full glory by crowning yourself with a stunning blonde wig, perfectly capturing Flash Gordon's iconic hairstyle and exuding an air of heroism. |
| 9 | Sword | No Flash Gordon costume would be complete without a toy sword, a symbolic prop that adds an extra touch of authenticity, ensuring your portrayal of the hero is truly convincing. |
Flash Gordon Overview
Flash Gordon, the valiant protagonist of the cosmic adventures, epitomizes bravery, charisma, and unwavering determination. A beacon of hope in the face of imminent danger, Flash is known for his fearlessness, quick thinking, and unmatched athleticism. His character has become a symbol of the classic space opera genre, captivating audiences with his intergalactic exploits.
Flash's signature attire reflects his role as a space-faring hero, combining elements of futuristic design and practical functionality. His costume features a vibrant and eye-catching color palette, symbolizing his boldness and energy. From his form-fitting bodysuit to his distinctive accessories, every detail of Flash's outfit represents his unwavering commitment to defending the universe against nefarious forces.
Check out more movie costume ideas here.