Welcome to our comprehensive guide on creating a Gym Leader Lieutenant Surge costume from the Pokémon world. Lieutenant Surge, also known as "The Lightning American," is a memorable and iconic character who commands the Electric-type Pokémon gym in the bustling city of Vermilion. If you're a fan of Pokémon and want to electrify your next costume event, this guide is here to help you channel the fierce and formidable presence of this formidable Gym Leader. From military-inspired attire to authentic accessories and badges, you'll learn how to transform into Lieutenant Surge and stand out as a true Pokémon enthusiast. So, let's embark on this electrifying journey and bring the spirit of Lieutenant Surge to life!
Gym Leader Lieutenant Surge Costume – Pokemon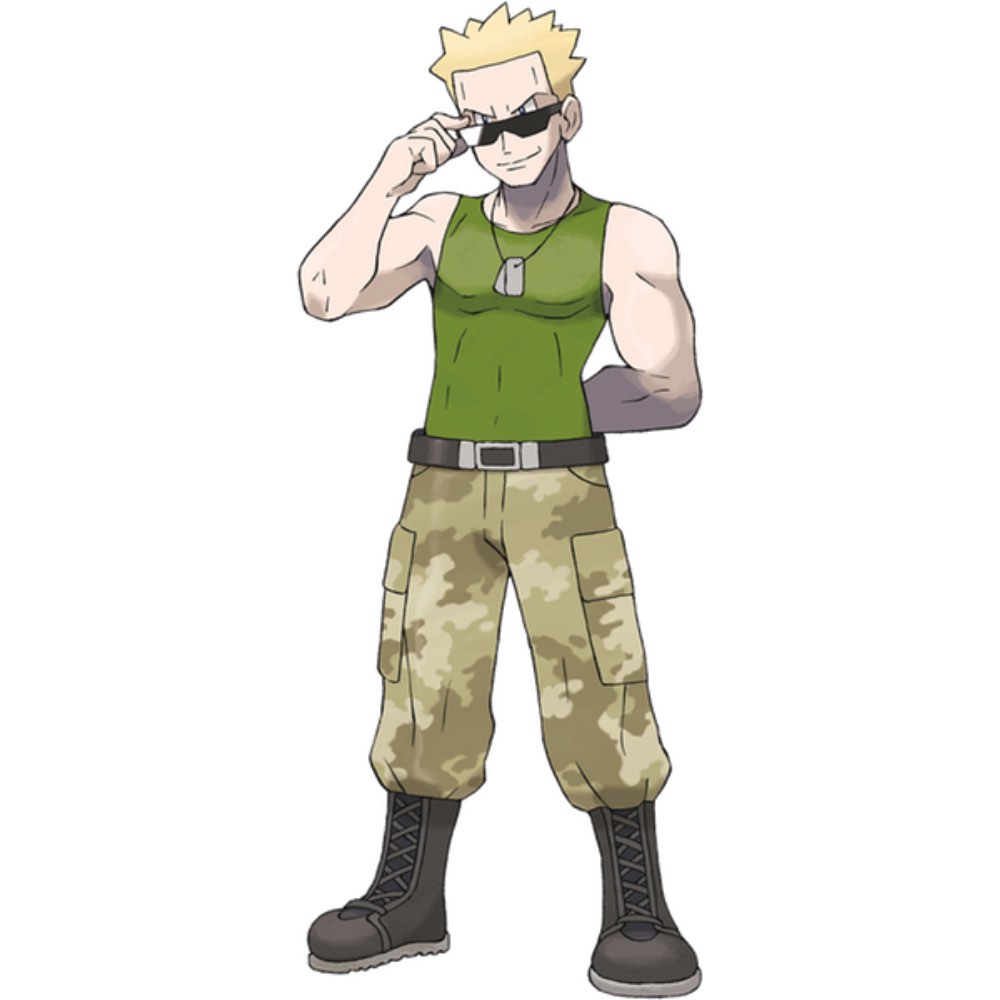 | | |
| --- | --- |
| Sunglasses | Lieutenant Surge is often depicted wearing sunglasses, adding to his tough and military-style persona. Sunglasses are a key part of his distinctive look, and including them in your costume helps you capture his imposing presence. |
| Green Tank Top | A green tank top is part of Lieutenant Surge's iconic attire. It represents his military background and is a key element in replicating his outfit. The tank top is typically worn underneath his camouflage jacket and contributes to the character's overall look. |
| Dog Tags | Lieutenant Surge is often seen wearing dog tags, which further emphasize his military image. Including dog tags as part of your costume is essential for authenticity and helps in portraying his tough and disciplined character. |
| Camouflage Pants | Camouflage pants are another crucial component of Lieutenant Surge's outfit. They contribute to his militaristic appearance and are a central piece of his gym leader attire. Camouflage pants help ensure that your costume accurately resembles his style. |
| Combat Boots | Lieutenant Surge's combat boots are a distinctive feature of his costume. They complete his military look and add to his imposing presence. Wearing combat boots helps you capture the character's full image and attention to detail. |
| Pokéball | Including a Pokéball prop in your costume represents Lieutenant Surge's role as a Pokémon Gym Leader. It emphasizes his connection to Electric-type Pokémon. While not part of his typical attire, having a Pokéball with you can be a fun and recognizable addition to the costume. |
Gym Leader Lieutenant Surge Overview
Lieutenant Surge is a dynamic character within the Pokémon universe and an influential Gym Leader. Here's a brief overview of this striking character:
Physical Appearance: Lieutenant Surge is a tall, muscular man with a military background. He has spiky blond hair, a stern expression, and a distinctive scar over one eye. His attire consists of a green, camouflage-patterned jacket, black gloves, and red and white military boots.
Personality: Surge is known for his strict and no-nonsense attitude. He values discipline and strength in trainers and their Pokémon. His electric-themed gym, filled with puzzles, represents his formidable nature and love for Electric-type Pokémon.
Pokémon Specialty: As the Electric-type Gym Leader, Lieutenant Surge specializes in powerful Electric Pokémon, such as Pikachu, Raichu, and Voltorb. His team showcases both strength and speed, making him a challenging opponent for trainers.
Cultural Impact: Lieutenant Surge appears in various Pokémon games, the animated series, and the trading card game. He is a recognizable character and has played significant roles in Pokémon lore. His tough, military-style persona makes him a memorable character for cosplay and costume enthusiasts.
Creating a Gym Leader Lieutenant Surge costume allows you to embody the strength and determination of this character while showcasing your passion for Pokémon. This guide will help you bring the fierce energy of Lieutenant Surge to life in your costume, ensuring you leave a lasting impression at any Pokémon-themed event.
Check out more Pokémon costume ideas.