Prepare to join the ranks of Team Rocket as we delve into the world of Pokémon cosplay! Welcome to our comprehensive guide on creating a James from Pokemon costume. James, a member of the iconic villainous duo, Team Rocket, is known for his distinctive appearance and memorable personality. With this guide, you'll learn how to craft an authentic James costume that captures every detail of his quirky yet endearing character. Whether you're gearing up for a convention, a themed party, or simply want to pay homage to this mischievous Pokémon trainer, our guide has got you covered. So, let's embark on a thrilling journey and become the one and only James from Pokémon!
James from Pokemon Costume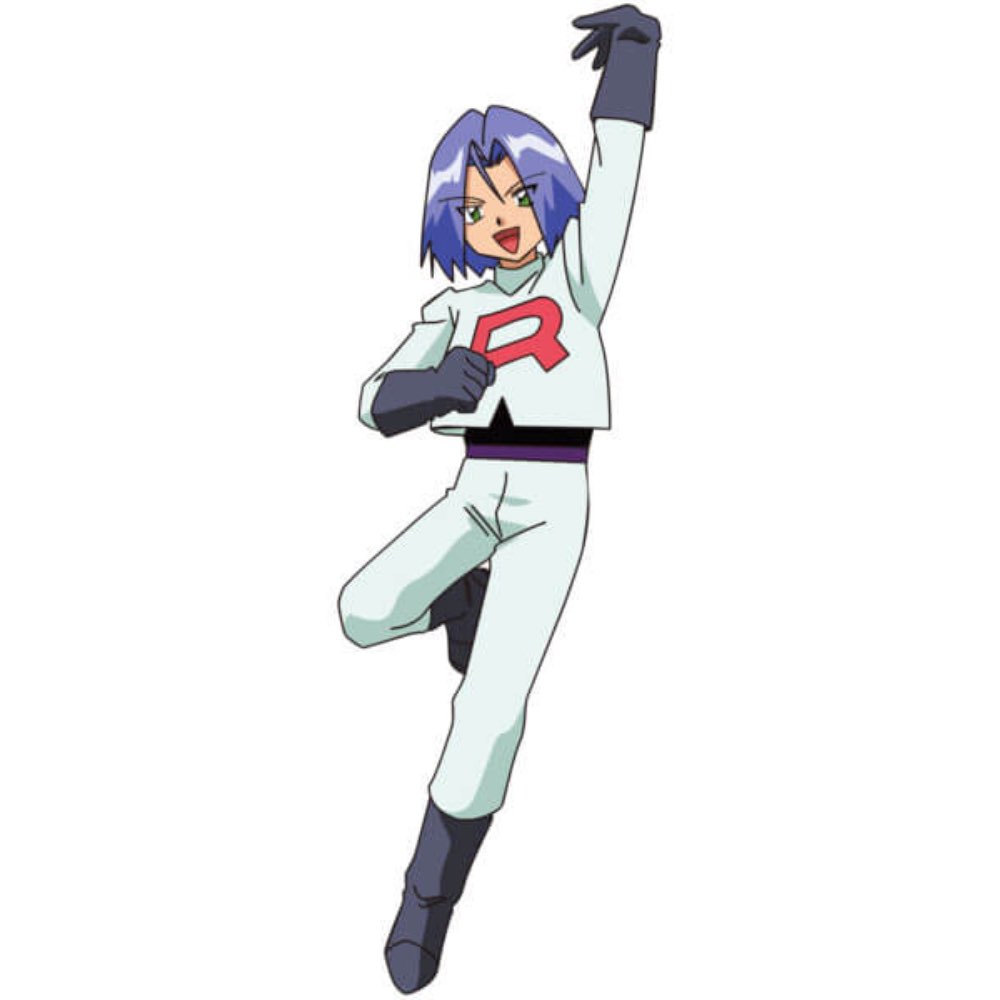 | | |
| --- | --- |
| Long Purple Men's James Wig | James's distinctive hairstyle features long, purple hair. The wig is essential to replicate his iconic look accurately and capture his whimsical appearance. |
| Team Rocket 'R' White Long-Sleeve T-Shirt | The white long-sleeve T-shirt with the Team Rocket 'R' emblem is a crucial component of James's outfit. It clearly signifies his affiliation with Team Rocket and is an instantly recognizable feature of his costume. |
| Black T-Shirt | Underneath the Team Rocket T-shirt, a black T-shirt is typically worn. This layer adds depth to the outfit and provides a comfortable base. |
| White Chef Pants | James often wears white chef pants as part of his costume. These pants are loose-fitting and comfortable, making them a practical choice for cosplay. |
| Black Gauntlet Gloves | The black gauntlet gloves complement James's outfit and add a touch of style. They are also reminiscent of the gloves worn by classic villains. |
| Red Canvas Web Belt with Silver Plate Buckle | The red belt with a silver plate buckle is another signature accessory that completes James's Team Rocket look. It cinches the waist and adds a pop of color to the costume. |
| Black Captain Boots | James's footwear consists of black captain boots. These boots are not only stylish but also comfortable, making them ideal for long periods of wear during cosplay events. |
| Pokemon Ball Toy | To emphasize James's connection to the world of Pokémon, carrying a Pokémon Ball toy is a fun and thematic addition to the costume. It adds a playful element and reinforces his role as a Pokémon Trainer. |
James from Pokemon Overview
James is a beloved character from the Pokémon series, recognized for his whimsical and entertaining role as a member of Team Rocket. Alongside Jessie and Meowth, he forms the mischievous trio that is constantly scheming to capture rare Pokémon, particularly Pikachu, while causing chaos and hilarity in the Pokémon world.
Appearance: James's appearance is characterized by his flamboyant and somewhat eccentric fashion sense. He is often seen wearing a white, short-sleeved shirt with a large red "R" emblazoned on the chest, signifying his allegiance to Team Rocket. His outfit also includes blue pants, black gloves, and a pair of black ankle-length boots. James's signature accessory is his rose-adorned cerulean blue hat, which adds a whimsical touch to his ensemble.
Personality: James is known for his comically tragic backstory, which adds depth to his character. Despite his affiliation with Team Rocket, he possesses a kind and gentle heart, often questioning the morality of their villainous actions. He frequently engages in humorous and absurd schemes to capture rare Pokémon, yet he's endearing and relatable in his own way.
Role in the Series: As a member of Team Rocket, James plays a recurring role in the Pokémon animated series. Alongside Jessie and Meowth, he is constantly devising plans to steal rare Pokémon, particularly Pikachu. Despite their repeated failures, James and his team remain tenacious and dedicated to their goals, making them beloved characters in the Pokémon franchise.
Why Cosplay as James: Cosplaying as James is an opportunity to embrace the whimsy and charm of this iconic character. His flamboyant outfit and unique personality make him a standout choice for cosplay. Whether you're teaming up with friends to cosplay as the entire Team Rocket trio or simply want to embody James's quirky individuality, this guide will help you create an authentic and entertaining costume. So, get ready to join the ranks of Team Rocket and prepare for mischief and mayhem as James from Pokémon!
Check out more Pokémon costume ideas.