Are you ready to unleash your inner chaos and embrace the madness? If you're a fan of the Joker from Suicide Squad, then you're in for a wild ride. In this guide, we'll take you step by step through the process of creating an authentic Joker Suicide Squad costume that captures the essence of this iconic and unpredictable character. From the vibrant green hair to the wickedly wide smile, get ready to dive into the world of the Joker and bring his maniacal energy to life.
Joker Costume Suicide Squad Costume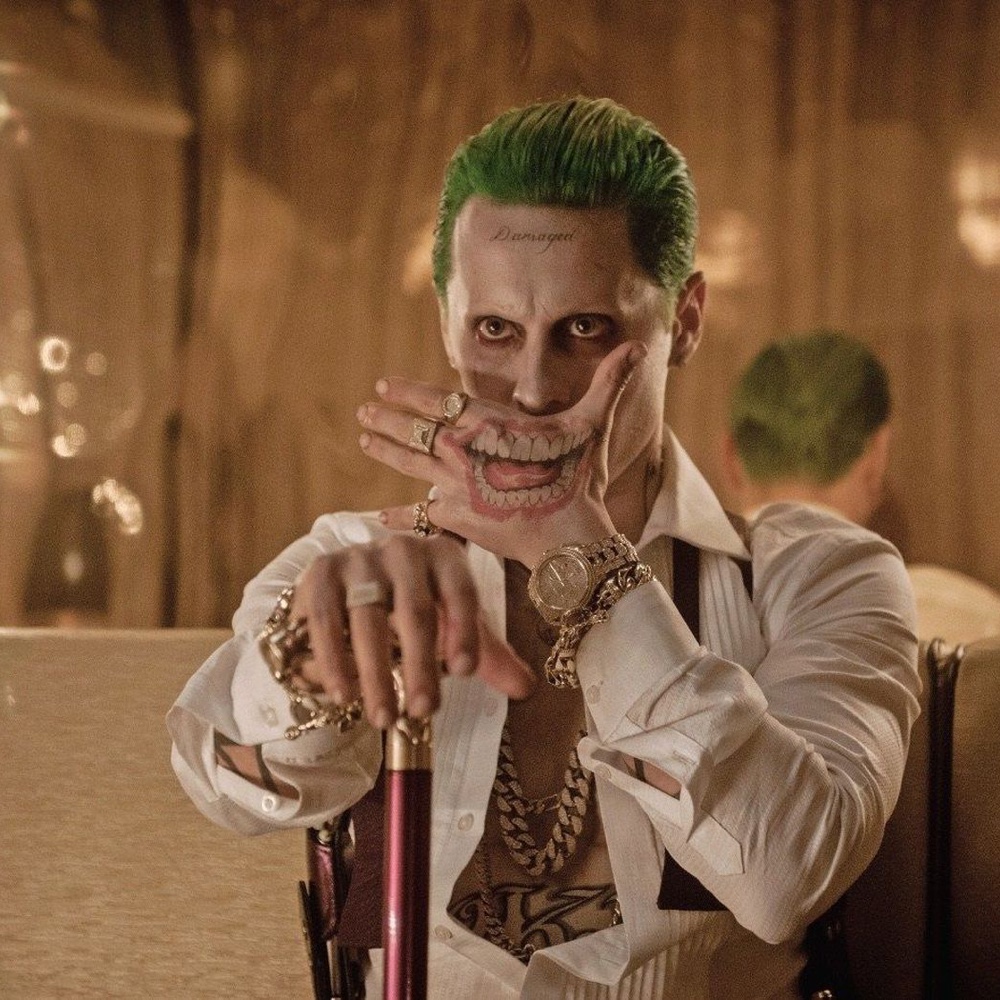 | # | Item | Description |
| --- | --- | --- |
| 1 | Purple Leather Trench Coat | Find a stylish purple leather trench coat to exude the Joker's unique fashion sense. |
| 2 | The Joker's Tattoo T-shirt | If you prefer a less permanent option, try a Joker tattoo-printed T-shirt to showcase your dedication to the character. |
| 3 | Arkham Asylum Pants | Look for dark blue sweatpants with the word "Arkham" to capture the essence of the Joker's asylum roots. Alternatively, any pair of dark pants can work as well. |
| 4 | Fake Tattoo | Enhance your Joker look by applying temporary tattoos on your body and face for a sinister touch. |
| 5 | Mouth Grillz | Add a touch of menace with a set of mouth grillz to accentuate your Joker-inspired smile. |
| 6 | Dark Red Eyeshadow | Create a smoky and intense look around your eyes using dark red eyeshadow to capture the Joker's distinctive appearance. |
| 7 | Cane | Complete your Joker ensemble with a stylish cane, adding an extra element of flair to your costume. |
| 8 | Green Hair Wax | Get the signature green hair of the Joker by applying temporary hair color wax, allowing you to rock his iconic hairstyle. |
| 9 | Black Sneakers | Complete the look with comfortable black sneakers that will allow you to move with the Joker's trademark energy and agility. |
| 10 | Big Neck Chain | Add a touch of audacity with a massive neck chain that accentuates the Joker's extravagant style. |
| 11 | Chain Bracelets | Embrace the Joker's penchant for accessories by wearing multiple chain bracelets that add an extra layer of flair to your costume. |
| 12 | Big Ring | Complete your Joker-inspired look with multiple rings that add a touch of eccentricity to your outfit. |
Joker Overview
The Joker, as portrayed in the Suicide Squad film, is a mesmerizing and enigmatic character that embodies chaos, anarchy, and a twisted sense of humor. Played brilliantly by the talented actor, the Joker stands out with his striking appearance and eccentric fashion choices. His pale white face, adorned with a signature red-lipped smile, is a stark contrast to his vibrant green hair. The Joker's attire is an eclectic mix of flamboyant colors, mismatched patterns, and edgy accessories that reflect his deranged personality. With his unpredictable nature and a penchant for causing mayhem, the Joker is a captivating and complex character that continues to captivate audiences. In this guide, we'll delve into the details of creating a Joker Suicide Squad costume that captures his essence and leaves a lasting impression. So get ready to embrace the madness and create a truly unforgettable Joker cosplay.
Check out more movie costume ideas here.