Welcome to the ultimate guide on creating an impressive costume inspired by the mighty Khal Drogo. Known for his fearless leadership and commanding presence, Khal Drogo is a legendary character from the popular TV series Game of Thrones. In this guide, we will take you through the essential elements and intricate details required to bring this fierce Dothraki warlord to life. From his iconic hairstyle to his intimidating warrior attire, we'll provide step-by-step instructions and valuable tips to help you achieve an authentic Khal Drogo costume look that will leave everyone in awe.
Khal Drogo Costume – Game of Thrones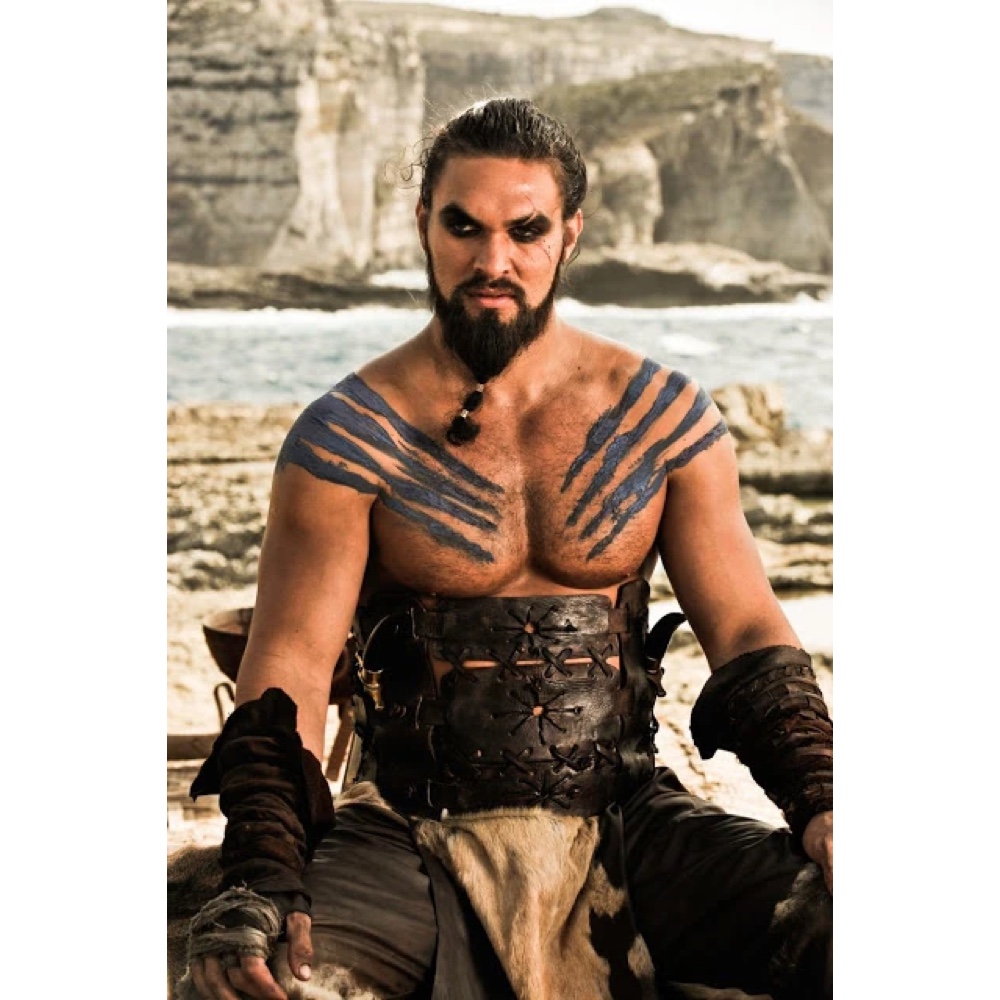 | # | Item | Description |
| --- | --- | --- |
| 1 | Brown Medieval Pants | Elevate your warrior attire with these authentic brown medieval pants. Crafted from high-quality materials, these pants provide both style and comfort for your Khaleesi-inspired look. The loose fit and sturdy fabric ensure ease of movement, making them perfect for both battle and everyday wear. Embrace the fierce spirit of Drogo with these essential pants. |
| 2 | Brown Boots | Complete your warrior ensemble with these sturdy and versatile brown boots. Designed for long journeys and challenging terrains, these boots provide excellent support and durability. The lace-up design and rugged outsole ensure a secure and comfortable fit, while the classic brown color adds an authentic touch to your Drogo-inspired look. Whether you're leading your khalasar or conquering new lands, these boots are a must-have for any Khaleesi Mother of Dragons. |
| 3 | Arm Guards | Channel the fearless spirit of Drogo with these arm guards. Crafted with meticulous detail, these arm guards provide essential protection and a touch of authenticity to your costume. Made from durable materials, they feature adjustable straps for a secure fit and are designed to withstand the rigors of battle. Whether you're preparing for a fierce clash or enhancing your warrior look, these arm guards are a worthy addition to your Drogo-inspired ensemble. |
| 4 | Leather Waist Belt | Add a touch of intimidation to your Drogo costume with this formidable-looking leather waist belt. Crafted with attention to detail, this belt features intricate designs and a sturdy buckle, making it a standout accessory for any warrior. Wear it around your waist to complete your fierce look and command respect as you lead your khalasar. Embrace the essence of Drogo with this essential waist belt. |
| 5 | Long Black Wig | Emulate the iconic hairstyle of Drogo with this long black wig. Made from high-quality synthetic fibers, this wig replicates Drogo's flowing locks with remarkable accuracy. The realistic texture and color ensure an authentic look that will leave a lasting impression. Whether you're attending a costume party or cosplaying as the fierce leader, this wig is the perfect finishing touch to your Drogo-inspired costume. |
| 6 | Long Black Beard | Complete your transformation into Drogo with this long black beard. Crafted with attention to detail, this beard features intricate braiding that replicates the iconic facial hair of the fearsome leader. Made from high-quality synthetic fibers, this beard is comfortable to wear and easily adjustable for a secure fit. Whether you're cosplaying, attending a themed event, or simply embracing your inner warrior, this beard is an essential accessory for channeling the spirit of Drogo. |
| 7 | Weapon – Sickle | Carry the weapon of a true warrior with this sickle prop. Crafted with intricate details, this sickle adds an air of authenticity to your Drogo-inspired costume. Whether you're participating in a cosplay event, reenactment, or themed party, this sickle prop is sure to make a statement. Just be careful not to unleash the fierce spirit of Drogo during your adventures. |
| 8 | Blue Body Paint | Add the final touch to your Drogo-inspired look with this high-quality blue body paint. Designed for ease of use and long-lasting wear, this body paint allows you to recreate Drogo's distinctive shoulder tattoos with precision. The vibrant blue color adds an element of mystique and authenticity to your costume, ensuring a standout appearance at any event. Let your warrior spirit shine through with this essential body paint. |
Khal Drogo Overview
Khal Drogo, portrayed by actor Jason Momoa, is a powerful Dothraki warlord and the husband of Daenerys Targaryen, the Mother of Dragons. Hailing from the nomadic Dothraki culture, Khal Drogo is known for his unmatched combat skills and his ability to lead vast armies across the Great Grass Sea. With his distinct appearance, including his long braided hair, intense gaze, and muscular physique, Khal Drogo embodies the fierce warrior spirit. As you embark on your costume journey, prepare to channel his strength, determination, and unwavering confidence. Let the transformation begin as you embody the spirit of Khal Drogo and become a force to be reckoned with.
See more Game of Thrones costumes here.