Welcome to our comprehensive guide on bringing the iconic character of Khaleesi, Mother of Dragons, to life through an awe-inspiring costume. In this guide, we will walk you through the steps of assembling a remarkable ensemble that captures the essence of Daenerys Targaryen's fierce and regal presence. From her breathtaking gowns to the intricate details of her dragon-inspired accessories, we will help you transform into the embodiment of this legendary character with your own Khaleesi Mother of Dragons costume.
Khaleesi Mother of Dragons Costume – Game of Thrones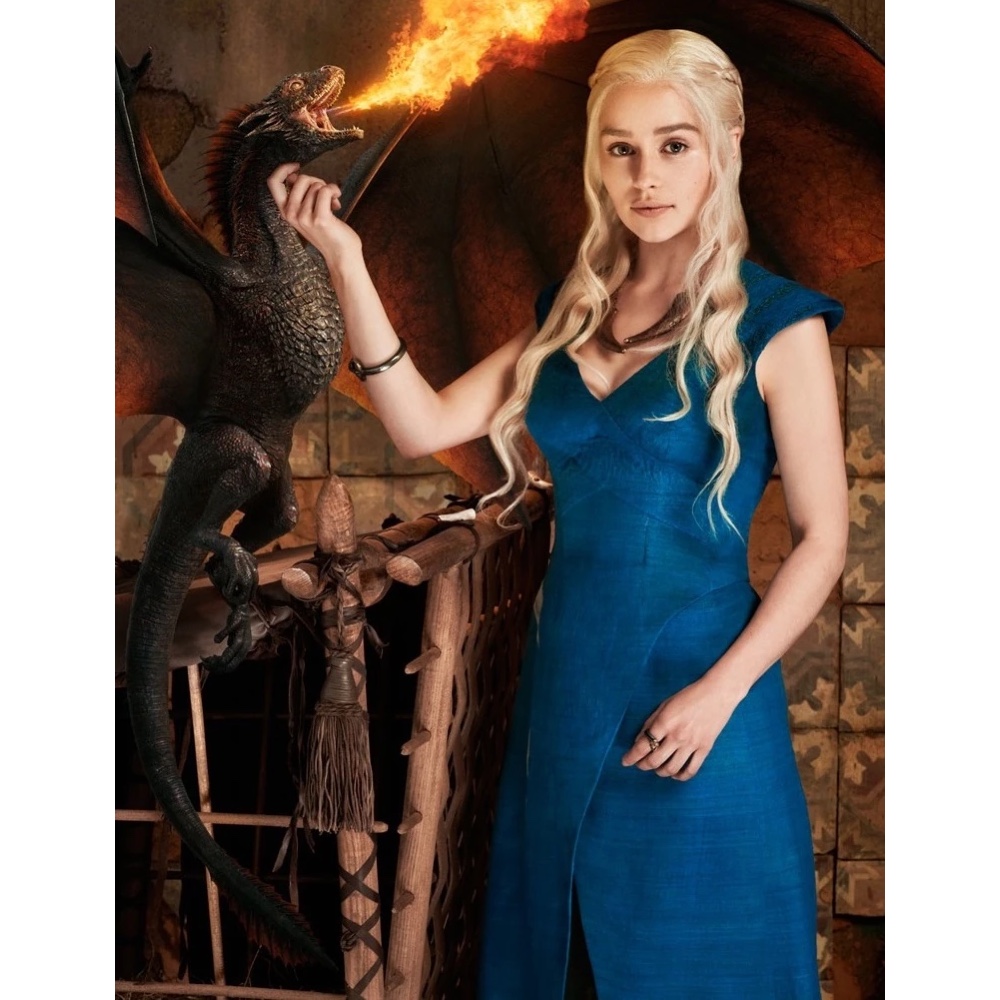 | # | Item | Description |
| --- | --- | --- |
| 1 | Blue Blouse | Elevate your style with this exquisite blue blouse. Designed with a perfect blend of elegance and sophistication, this versatile top is a must-have in every fashion-forward wardrobe. Whether for a professional setting or a casual outing, this blue blouse effortlessly adds a touch of refinement to any ensemble. |
| 2 | Skirt | Complete your ensemble with a stunning skirt that perfectly complements the blue blouse. This skirt features a flattering silhouette and impeccable craftsmanship, ensuring both style and comfort. Whether you're dressing up for a special occasion or going for a chic everyday look, this skirt is a versatile piece that effortlessly enhances your fashion game. |
| 3 | Blue Cloak | Add a touch of elegance and regality to your outfit with this exquisite blue cloak. Crafted with attention to detail, this cloak features a flowing design and luxurious fabric that drapes beautifully. Whether you're attending a formal event or embracing your inner Khaleesi, this blue cloak adds a majestic flair to your overall look. |
| 4 | Grey Pants | For a chic and comfortable bottom layer, opt for these stylish grey pants. Made with high-quality fabric, these leggings provide a perfect fit and excellent flexibility. Whether you're pairing them with a skirt or wearing them on their own, these grey pants offer a versatile option for your wardrobe, ensuring both style and comfort. |
| 5 | Boots | Complete your look with these fashionable boots. Designed for both style and functionality, these boots feature a sleek silhouette and durable construction. Whether you're stepping out for a casual stroll or a night on the town, these boots elevate your fashion game while providing comfort and support. Step out with confidence and make a bold statement with these versatile boots. |
| 6 | Blonde Wig | Achieve the iconic look of the Khaleesi with this stunning blonde wig. Crafted with meticulous attention to detail, this wig beautifully replicates Daenerys Targaryen's signature hairstyle. Made from high-quality synthetic fibers, this wig offers a natural and realistic appearance. Whether for cosplay or simply channeling your inner Mother of Dragons, this wig is the perfect accessory to complete your transformation. |
Khaleesi Mother of Dragons Overview
Khaleesi, also known as Daenerys Targaryen, is a central character in the popular television series "Game of Thrones." She is a powerful and determined leader, known for her unwavering spirit, resilience, and connection to dragons. As the Mother of Dragons, Khaleesi possesses a captivating presence and is adorned in magnificent attire that reflects her royal lineage and growing strength. Her costumes feature a blend of ethereal fabrics, intricate embellishments, and dragon-inspired elements, symbolizing her connection to these mythical creatures. With her iconic platinum blonde hair, fierce gaze, and commanding demeanor, Khaleesi Mother of Dragons has become an enduring symbol of power and grace. In this guide, we will help you recreate her unforgettable look, ensuring that you make a lasting impression at any event or gathering. Prepare to unleash your inner dragon queen and embark on an extraordinary journey as Khaleesi Mother of Dragons.
See more Game of Thrones costumes here.