Welcome to our guide on bringing to life the hauntingly endearing Moaning Myrtle through the art of costume creation. Whether you're a die-hard Harry Potter fan, preparing for a themed party, or simply intrigued by the enigmatic character of Moaning Myrtle, this guide will help you channel her ghostly essence. Join us as we explore Myrtle's ethereal style, her sorrowful nature, and the unique challenges in recreating her haunting appearance. Get ready to immerse yourself in the world of Moaning Myrtle and embark on a journey to craft a Moaning Myrtle costume that captures her eerie allure.
Moaning Myrtle Costume – Harry Potter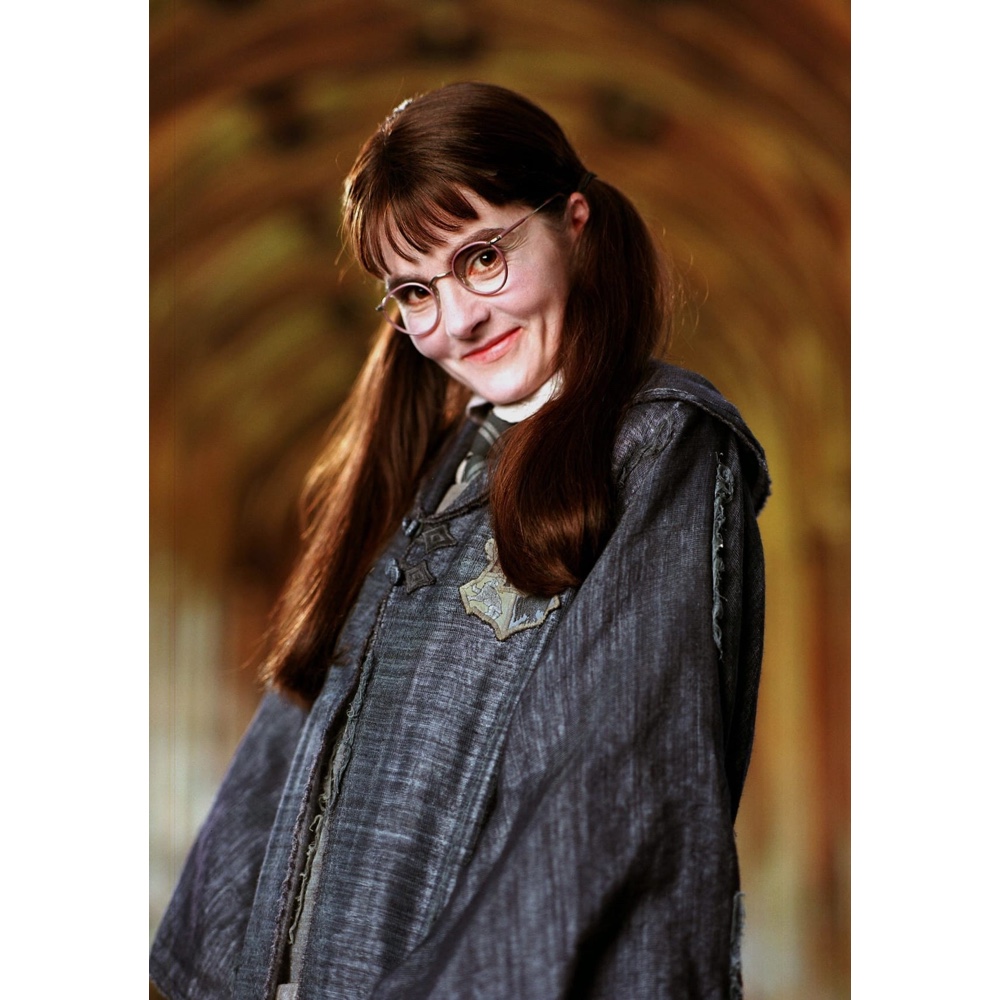 | # | Item | Description |
| --- | --- | --- |
| 1 | Crisp White Blouse | Begin your costume with a pristine white blouse, embodying a sense of timeless elegance. |
| 2 | Sleek Gray Pleated Skirt | Capture the essence of a school uniform by donning a sleek gray pleated skirt, reflecting a sense of sophistication and scholarly charm. |
| 3 | Misty Gray Hooded Cape | Embrace the ethereal allure of Myrtle's robes with a misty gray hooded cape, exuding an aura of mystery and otherworldly beauty. |
| 4 | Ravenclaw House Necktie | Show your unwavering loyalty and house pride by accessorizing with a Ravenclaw necktie, representing your affiliation with the wise and clever. |
| 5 | Pale Gray Face and Body Paint | Emphasize your ghostly qualities with a touch of pale gray face and body paint, evoking an otherworldly presence. |
| 6 | Classic Round Glasses | Channel Myrtle's iconic style by adorning yourself with a pair of classic round glasses, adding a touch of intellectual charm to your appearance. |
| 7 | Playful Pigtail Wig | Create a whimsical hairstyle with a playful pigtail wig, embracing a youthful and mischievous vibe. |
| 8 | Toilet Seat Necklace | Add a quirky and clever accessory to your ensemble by wearing a toilet seat like a necklace, showcasing your unique sense of humor. |
| 9 | Moaning Myrtle Kids Costume Set | Transform your child into the enchanting Moaning Myrtle with this specially designed costume set, allowing them to embrace the character's spirit and charm. |
Moaning Myrtle Overview
Moaning Myrtle, a resident ghost of Hogwarts School of Witchcraft and Wizardry, is a character shrouded in sadness and melancholy. Known for her long, lank hair, watery eyes, and perpetually mournful expression, Myrtle embodies the essence of a tragic ghost. She haunts the second-floor girls' bathroom, wailing and moaning about her untimely demise. Myrtle's transparent, flowing attire and ghostly demeanor reflect her ethereal nature, as she roams the halls of Hogwarts with a mix of sorrow and mischievousness. Though she can be a bit pesky and intrusive at times, Myrtle's character adds a touch of melancholic charm to the Harry Potter universe. By embarking on the journey of creating a Moaning Myrtle costume, you have the opportunity to capture her spectral essence and bring this memorable character to life. So, gather your materials, embrace the otherworldly, and let's delve into the ethereal world of Moaning Myrtle to create a costume that captures her ghostly charm.
Check out more Harry Potter costume ideas here.