Welcome to our guide dedicated to capturing the infectious enthusiasm and boundless energy of Mr. Peanutbutter, one of the most beloved characters from the animated series. Get ready to embark on a creative adventure as we delve into the art of crafting a remarkable Mr. Peanutbutter costume. Whether you're a fan of the show looking to pay tribute or seeking a charismatic costume for a special event, this guide will equip you with the essential steps and insights to bring this iconic character to life. So, let's dive in and unleash the canine charisma of Mr. Peanutbutter!
Mr Peanutbutter Costume – BoJack Horseman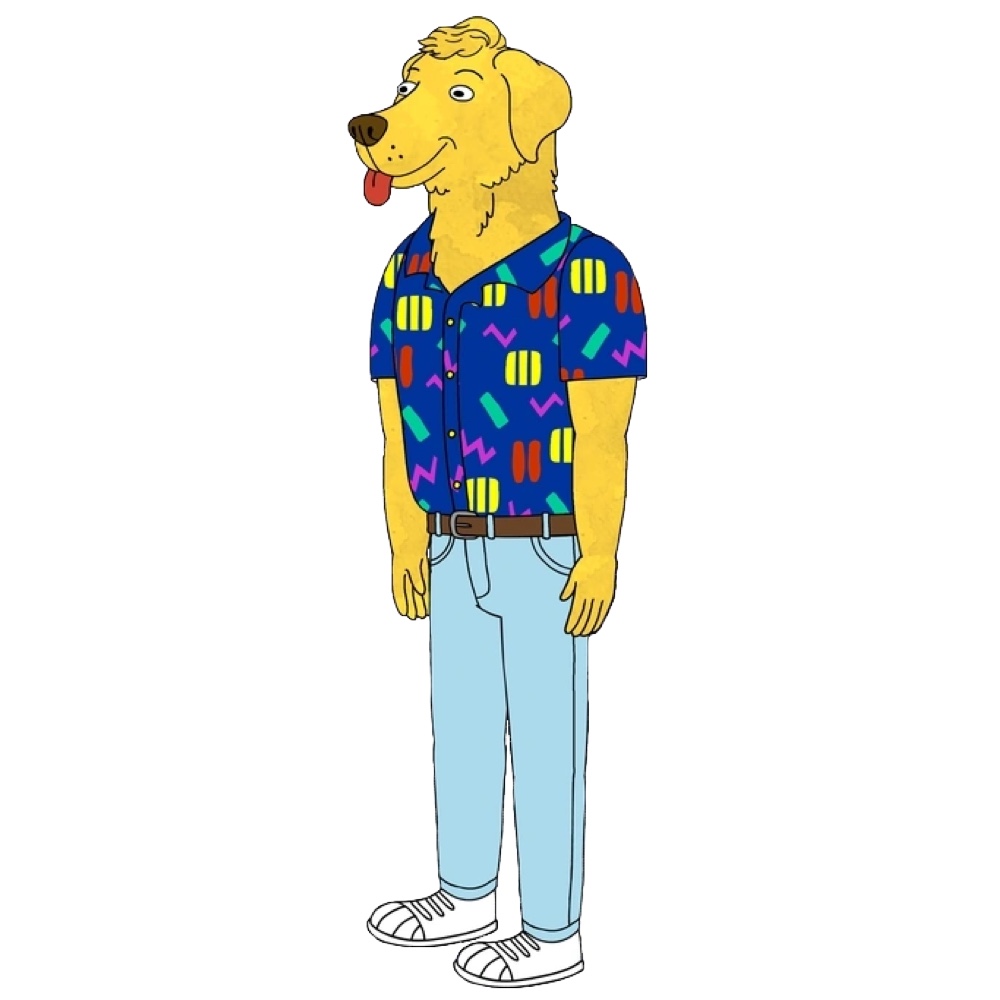 | # | Item | Description |
| --- | --- | --- |
| 1 | Gray, v-neck t-shirt | Mr. Peanutbutter's gray, v-neck t-shirt comes with black hemming around the sleeves and the collar. Finding a t-shirt already made with those specific characteristics may be a bit tricky. Instead, cosplayers tend to sew a black, v-neck t-shirt to the inside of a gray one. Now, if crafts are not your thing, you can always whip out your trusty Sharpie marker and tint the black collar and edges. |
| 2 | Turquoise track pants | Dress up like the most famous golden Labrador on TV with these relaxed, turquoise pants. These pants also include a white stripe on the sides. |
| 3 | Orange sneakers | Mr. Peanutbutter's sneakers may be a bit tricky to put together, but you can simplify things by getting something along the lines of these orange sneakers. Sure, these may be a bit too much for a costume, but keep in mind they're just meant to give you an idea of what to get for your costume. |
| 4 | Golden retriever mask | Like almost every character in the series, Mr. Peanutbutter is also an animal; a Golden Labrador Retriever to be specific. To get the look right, you can resort to prosthetics and body paint, but the easiest way to nail it down is with a latex mask like the one shown above. |
| 5 | Black aviator sunglasses | The Canadian dog who made it big in the City of Flowers and Sunshine by sheer luck, Mr. Peanutbutter, has been surrounded by stars ever since, and he must look the part. That's why he wears the black aviator sunglasses so glamorously on the top of his head. |
| 6 | Green rubber wristband | Almost every time Mr. Peanutbutter shows up, he's wearing what seems to be a green rubber wristband. Blank rubber wristbands are not hard to find, but to make things a little easier for you. |
| 7 | Brown leather wristband | Along with a green, rubber wristband, you'll want to wear a brown, soft leather bracelet with a rustic clasp, just like the one Mr. Peanutbutter wears. |
| 8 | Yellow body paint | Why not go the extra mile and dress like Mr. Peanutbutter down to the fur? All you need is to apply this yellow body paint on your arms and neck. |
Mr Peanutbutter Overview
Mr. Peanutbutter, the lovable Labrador Retriever with an unwavering zest for life, captivates audiences with his infectious positivity and exuberant personality. Known for his enthusiastic tail wagging, playful spirit, and relentless optimism, Mr. Peanutbutter brings a dose of joy to every scene he graces. This canine celebrity, often dressed in casual yet stylish attire, serves as a constant reminder to embrace life's adventures with an unwavering smile.
To create an authentic Mr. Peanutbutter costume, it's crucial to capture the essence of his vibrant and energetic persona. Start by focusing on the wardrobe, as Mr. Peanutbutter is known for his effortless yet trendy fashion choices. Opt for a vibrant, solid-colored polo shirt, paired with comfortable and well-fitted jeans. Consider incorporating accessories like a simple belt, a stylish wristwatch, and a pair of casual sneakers to complete the ensemble.
Next, let's not forget about Mr. Peanutbutter's distinctive canine features. Begin by designing a charming and expressive Labrador Retriever mask, paying close attention to the details of his friendly eyes, perked ears, and wide grin. Use high-quality materials to ensure comfort and maintain the mask's durability throughout your adventures. Additionally, you can consider adding a tail that wags with every step, capturing Mr. Peanutbutter's animated enthusiasm.
But remember, a truly remarkable Mr. Peanutbutter costume extends beyond the physical appearance. It's essential to embody his buoyant and optimistic spirit. Channel Mr. Peanutbutter's infectious energy, his unwavering enthusiasm, and his ability to find joy in the simplest of moments. Let his positivity and genuine warmth shine through your portrayal, bringing smiles to those around you.
As you embark on the journey of crafting a remarkable Mr. Peanutbutter costume, embrace the infectious energy and unwavering optimism that define this beloved character. Through vibrant wardrobe choices, attention to canine features, and a genuine embodiment of his spirit, you'll captivate audiences and honor the charm of Mr. Peanutbutter. So, get ready to wag your tail, flash a smile, and bring the charismatic canine to life. Let's embark on this exciting adventure and unleash the boundless enthusiasm of Mr. Peanutbutter!
Check out more TV show costume ideas here.