Welcome to our compelte guide on making your very own Mrs Lovett costume. In this complete guide, we will walk you through the steps to bring this intriguing and complex character to life. Whether you're planning to attend a costume party, participate in a theatrical production, use this as a halloween fancy dress or simply pay homage to Mrs Lovett's dark and enigmatic persona with a cosplay, this guide will provide you with all the insights and inspiration you need to craft an authentic and memorable costume.
Mrs Lovett Costume – Sweeney Todd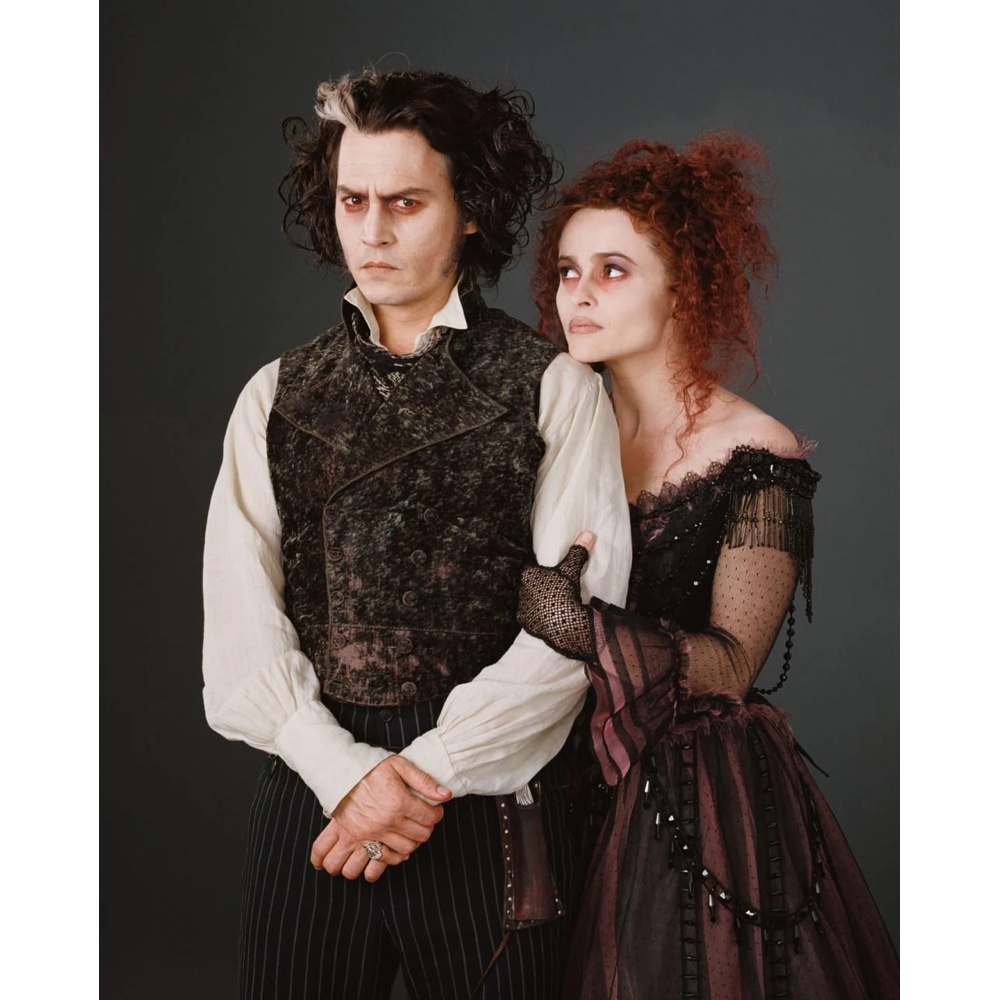 | # | Item | Description |
| --- | --- | --- |
| 1 | Victorian-inspired Corset Top | Elevate your ensemble with a captivating black lace corset top, reminiscent of the elegant Victorian era. |
| 2 | Gothic-inspired Long Skirt | Pair your gothic top with a flowing long skirt, embracing the dark allure of Mrs. Lovett's character. |
| 3 | Elegant Lace Fingerless Gloves | Add a touch of sophistication to your costume with these exquisite black lace fingerless gloves. |
| 4 | Tousled Black Wig | Emulate Mrs. Lovett's disheveled charm by donning a tousled black wig that perfectly captures her untamed spirit. |
| 5 | Realistic Fake Blood | Enhance the sinister vibe of your costume by applying realistic fake blood to create a chilling effect. |
| 6 | Convenient Costume Set | Short on time or prefer a ready-made option? Opt for this comprehensive costume set to effortlessly embody Mrs. Lovett. |
| 7 | Signature Hat | Add an extra touch of authenticity with Mrs. Lovett's iconic hat, perfect for completing the look. |
Mrs Lovett Overview
Mrs. Lovett is a captivating character from the renowned musical "Sweeney Todd: The Demon Barber of Fleet Street." Portrayed as a resourceful and cunning woman, Mrs. Lovett is the eccentric owner of a pie shop located in London. Her character is shrouded in mystery, as she navigates a world of secrets, love, and dark alliances. Known for her distinctive style, Mrs. Lovett's costume reflects her quirky personality and the gritty Victorian era setting of the story. With her tattered garments, mismatched accessories, and a touch of macabre charm, Mrs. Lovett's costume encapsulates her unique blend of humor, darkness, and intrigue. By immersing yourself in this guide, you will unlock the secrets to crafting an authentic Mrs. Lovett costume that captures the essence of this captivating character.
Check out more movie costume ideas here.