Welcome to our comprehensive guide on creating the iconic Tony Montana and Elvira Hancock costume from the classic movie "Scarface." In this guide, we will provide you with all the essential elements and tips to bring these characters to life. Whether you're attending a costume party, cosplaying, or simply looking to pay homage to these unforgettable characters, we've got you covered. Get ready to step into the world of Tony Montana and Elvira Hancock with our step-by-step instructions and suggestions for recreating their distinctive styles.
Tony Montana and Elvira Hancock Costume – Scarface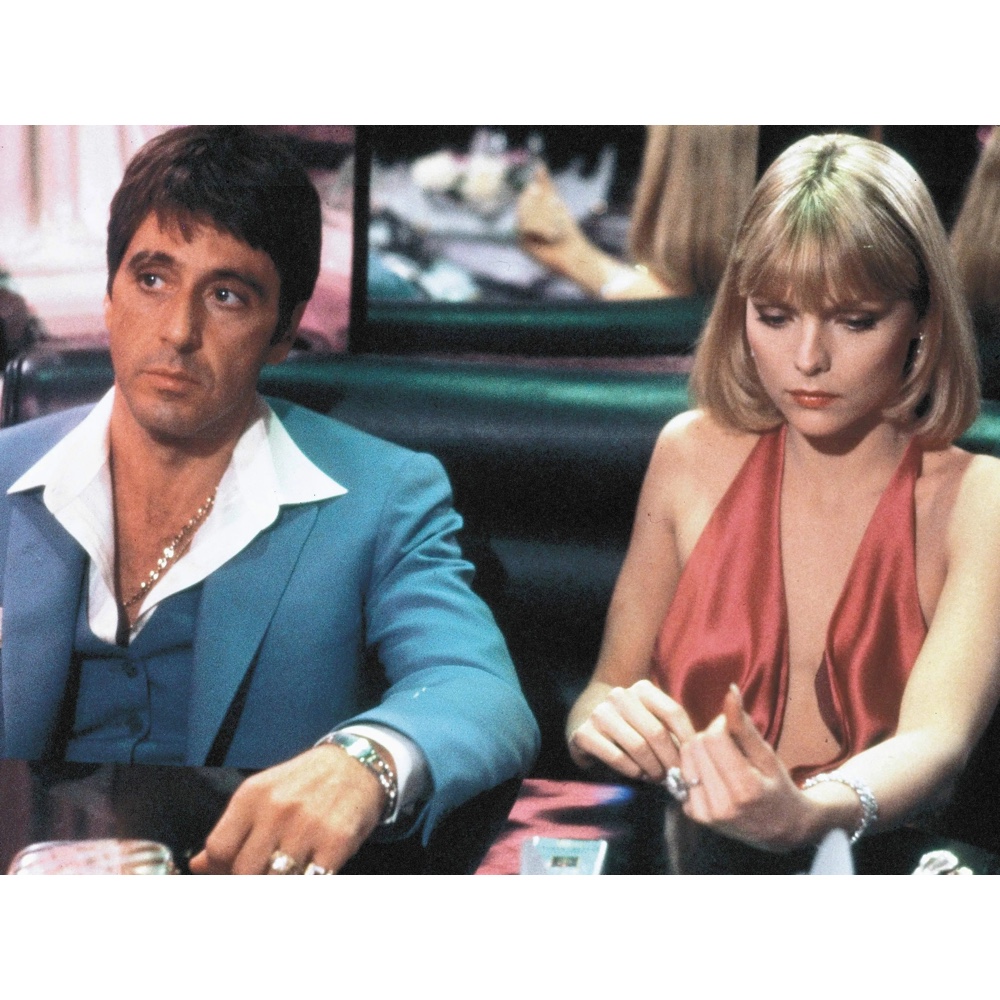 Tony Montana Costume
| # | Item | Description |
| --- | --- | --- |
| 1 | Vibrant Red Collared Shirt | Show off your vibrant style and pay homage to your Cuban heritage with this eye-catching red collared shirt. |
| 2 | Elegant White Suit | Elevate your look with an elegant white suit that exudes sophistication and confidence, making you stand out from the crowd. |
| 3 | Classic Black Dress Shoes | Step into the shoes of a suave gangster with these classic black dress shoes that complete your debonair appearance. |
| 4 | Intimidating Fake Machine Gun | No gangster costume is complete without an intimidating fake machine gun, adding an air of authority and power to your ensemble. |
| 5 | Sleek Gold Chain Necklace | Embrace the lavish style of Tony Montana with a sleek gold chain necklace, a symbol of wealth and luxury. |
| 6 | Gangster-Inspired Wig | Complete your transformation into Tony Montana with a stylish gangster-inspired wig, perfecting the iconic look of the legendary character. |
| 7 | Costume Set | Short on time or DIY skills? Opt for this convenient costume set to effortlessly embody the spirit of Tony Montana. |
Elvira Hancock Costume
| # | Item | Description |
| --- | --- | --- |
| 1 | Elegant Blue Satin Dress | Capture Elvira's enchanting allure with a stunning blue satin dress that accentuates your curves. |
| 2 | Glamorous Gold Heels | Complete your ensemble with a pair of dazzling gold heels that add an extra touch of sophistication to your look. |
| 3 | Chic Blonde Bob Wig | Emulate Elvira's signature hairstyle with a sleek and stylish blonde bob wig, perfectly capturing her glamorous charm. |
| 4 | Exquisite Gold Clutch | Carry your essentials in an exquisite gold clutch that adds a touch of luxury to your overall look. |
| 5 | Fashionable Fake Cigarette | Add a hint of Elvira's rebellious edge by accessorizing with a fake cigarette, creating an air of mystique. |
Tony Montana and Elvira Hancock Overview
Tony Montana and Elvira Hancock are two central characters from the 1983 crime drama film "Scarface," directed by Brian De Palma. Tony Montana, played by Al Pacino, is a Cuban immigrant who rises from poverty to become a powerful and ruthless drug lord in Miami. Known for his bold personality, extravagant fashion choices, and memorable catchphrases, Tony Montana embodies the epitome of a larger-than-life character. On the other hand, Elvira Hancock, portrayed by Michelle Pfeiffer, is Tony's glamorous love interest. She exudes elegance, sophistication, and a hint of vulnerability, capturing the essence of a femme fatale. Together, Tony and Elvira's contrasting styles create an intriguing and visually striking duo. Join us as we delve into the details of their costumes, allowing you to recreate their distinctive looks and channel their captivating personas.
Check out more movie costume ideas here.