Welcome to our comprehensive guide on creating the legendary costume of Ron Swanson, an iconic character from the acclaimed television series. In this guide, we will take you through the step-by-step process of assembling the perfect Ron Swanson costume, allowing you to embody the stoic, rugged, and self-reliant nature of this beloved character. Whether you're a die-hard fan of the show, attending a themed event, or simply want to pay tribute to this unforgettable personality, our guide will equip you with the tools and knowledge to bring Ron Swanson to life.
Ron Swanson Costume – Parks and Recreation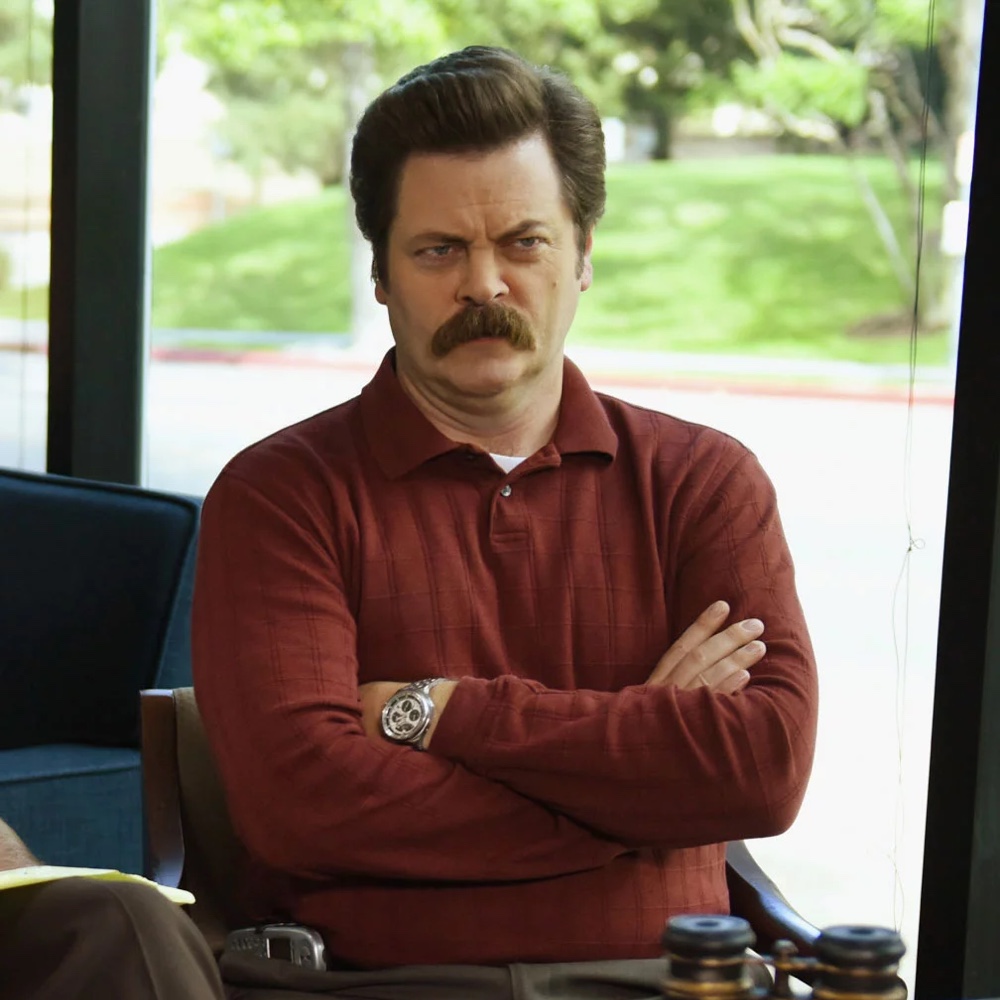 | # | Item | Description |
| --- | --- | --- |
| 1 | Polo shirt | Indulge in the allure of a dark-colored, collared polo shirt. This versatile garment adds a touch of sophistication and effortless style to your wardrobe. Stay fashionable and comfortable with this wardrobe essential. |
| 2 | Slacks | Elevate your look with either beige or black slacks. These stylish pants offer a perfect blend of comfort and elegance, making them suitable for various occasions. Make a fashion statement that exudes confidence and class. |
| 3 | Shoes | Step out in style with classic black oxfords. These timeless shoes provide a perfect combination of comfort and sophistication. Complete your outfit with footwear that enhances your overall appearance. |
| 4 | Watch | Adorn your wrist with a watch featuring a brown leather strap and a white dial. This elegant timepiece combines functionality and style, allowing you to keep track of time while making a fashionable statement. |
| 5 | Belt | Complete your ensemble with a plain black leather belt. This essential accessory adds a touch of sophistication and ensures a polished appearance. Keep your pants secure in style. |
| 6 | Fake Mustache | Embrace the whimsical charm of Ron's own majestic mustache. This fake mustache allows you to channel your inner Ron Swanson, adding a playful and memorable touch to your costume or themed event. Let your facial hair make a statement. |
Ron Swanson Overview
Ron Swanson, portrayed by the talented actor Nick Offerman, is a captivating character known for his no-nonsense attitude, love for woodworking, and unwavering commitment to libertarian ideals. As the epitome of masculinity and rugged individualism, Ron Swanson has garnered a devoted fan following for his memorable quotes, deadpan humor, and unyielding loyalty to his mustache.
When it comes to his attire, Ron Swanson prefers a practical and timeless wardrobe that reflects his no-frills personality. He can often be seen donning flannel shirts, rugged denim, and sturdy boots, all while exuding an air of effortless confidence and self-assuredness. Ron's fashion choices perfectly align with his no-nonsense persona, showcasing his preference for functionality over trends.
Check out more TV show costume ideas here.