Welcome to the ultimate guide for all aspiring Star Wars enthusiasts and costume aficionados! In this comprehensive tutorial, we will delve into the intricate process of a creating Rey costume from scratch. Whether you're preparing for a cosplay event, attending a Star Wars-themed party, or simply embracing your love for this legendary character, this guide will equip you with the knowledge and skills needed to bring Rey's powerful presence to life. So, grab your tools, ignite your creativity, and embark on a thrilling journey to recreate the attire of one of the galaxy's most beloved heroes!
Rey Costume – Star Wars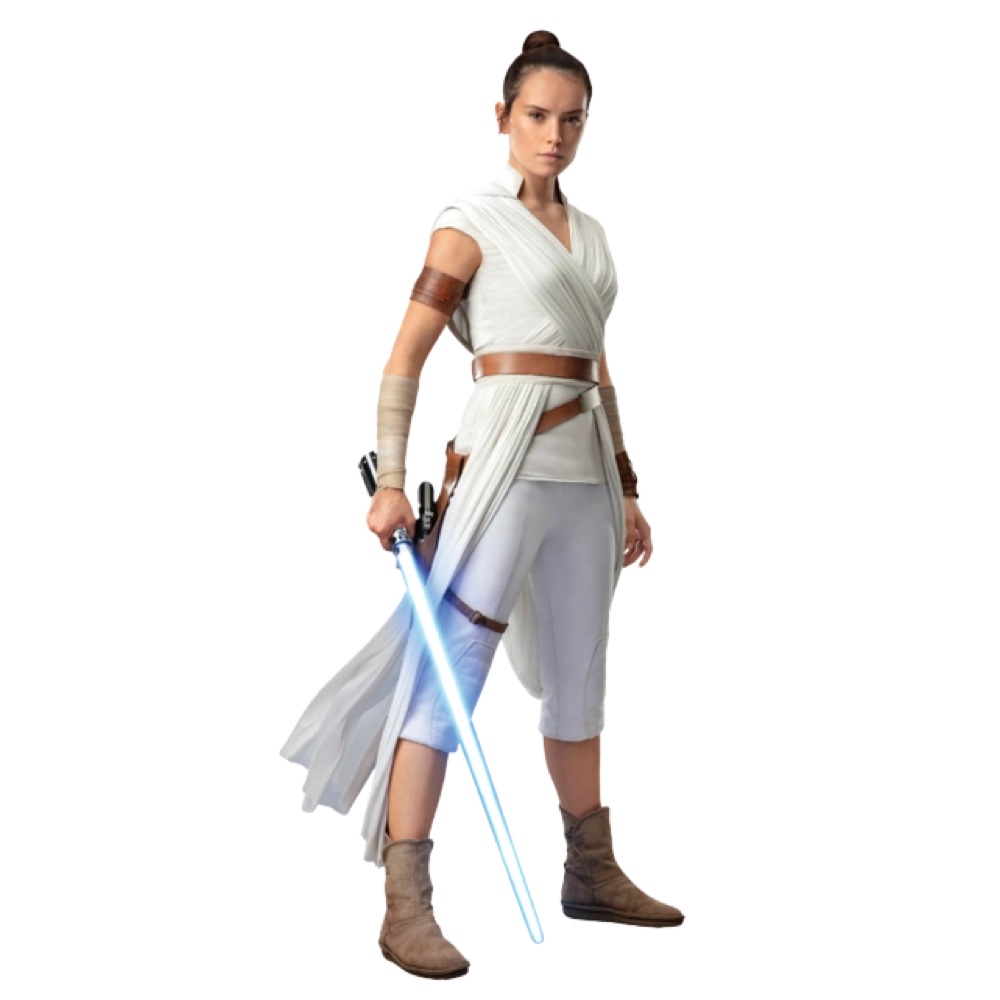 | # | Item | Description |
| --- | --- | --- |
| 1 | Long, light gray, shawl scarf | Indulge in the ethereal charm of Rey's ensemble by acquiring several exquisite long, light gray shawls. These luxurious garments should elegantly cascade down to your shins, perfectly emulating Rey's iconic style. When adorning yourself with these shawls, artfully drape them over your shoulders and gracefully crisscross them across your torso in the shape of an "x". As a touch of authenticity, consider skillfully stitching together the ends on your left side, reminiscent of Rey's attire in The Force Awakens. Take care not to entangle yourself while gallantly traversing the galaxy. |
| 2 | Beige, cap-sleeve, Henley t-shirt | Elevate the genuineness of your portrayal by acquiring a splendid beige, cap-sleeve Henley t-shirt. Alternatively, a conventional beige crew-neckline t-shirt can be fashioned into an authentic piece by delicately creating a small v-cut in the neckline. Remember to artfully trim the sleeves and neatly hem the edges, adding an extra touch of finesse. |
| 3 | Light gray, mid-rise, crop pants | Embrace Rey's casual yet functional aesthetic with a pair of light gray, mid-rise, crop pants. Opt for agave olive-hued, relaxed-fit trousers featuring elasticized bottom cuffs that can be effortlessly adjusted below your knees, encapsulating Rey's practical sense of style. |
| 4 | Brown, ankle-high, winter boots | Immerse yourself in Rey's world by adorning a pair of brown, ankle-high boots. While a cosplay-specific option is available in the provided link, any reliable pair of brown, ankle winter boots will aptly complement your costume and capture the essence of Rey's adventurous spirit. |
| 5 | Arm sleeves (detached) | Add an authentic touch to your ensemble by obtaining cyclist arm sleeves and expertly concealing them with compression bandages. This clever technique will bestow you with Rey-style arm sleeves, epitomizing her resourcefulness and adaptability. |
| 6 | Bandage Wrap Compression Roll | A keen observer will notice that Rey's detached sleeves are skillfully fashioned from bandages artfully wrapped around her arms. Pay homage to this detail by acquiring a bandage wrap compression roll, seamlessly capturing Rey's distinctive appearance. |
| 7 | Leather belt with beige pouch | Emulate Rey's practicality and preparedness by securing a sturdy leather belt adorned with a beige pouch. This versatile accessory not only ensures the secure placement of your shawls but also allows you to carry essential tools for your scavenging adventures, just as Rey does amidst the remnants of abandoned ships and crash sites. |
| 8 | Staff | Stay true to Rey's character by including her signature staff in your costume. Alternatively, you may opt for a blue lightsaber, symbolizing her evolving journey as a Jedi. Whichever choice you make, both options eloquently capture Rey's unwavering spirit and her proficiency in wielding her chosen weapon. |
| 9 | Brown leather gloves | Safeguard your hands during intense salvage missions amidst the desert wastelands by donning brown leather gloves akin to those worn by Rey. The gloves recommended in the provided link offer both protection and style, ensuring a seamless incorporation into your ensemble. |
| 10 | Wide, brown, leather wristband | Pay homage to even the smallest details by adorning a wide, brown, single-strap leather wristband on your left wrist. For convenience and availability, we recommend a wide, brown, leather wristband featuring three straps, delivering a striking resemblance to Rey's distinctive accessory. |
| 11 | Desert scavenger mask | To shield yourself from Jakku's scorching heat, blinding sunlight, and the abrasive sand-filled gusts of wind, consider adorning a mask akin to Rey's. Picture a beige linen shemagh intricately paired with goggles salvaged from a stormtrooper's helmet and reinforced with an eclectic array of fabrics, truly capturing the essence of Rey's survivalist style. |
| 12 | Full costume | Simplify your quest for the perfect ensemble by exploring the provided link to acquire the full costume, effortlessly assembling all the necessary clothing and accessories. This comprehensive option streamlines the process, ensuring a cohesive and authentic portrayal of Rey's captivating character. |
Rey Overview
In the vast and captivating Star Wars universe, few characters have captured the hearts and minds of fans as effortlessly as Rey. Introduced in the sequel trilogy, Rey emerged as a resilient and determined Force-sensitive scavenger from the desert planet of Jakku. With her unwavering spirit and innate abilities, she became a beacon of hope and a symbol of strength in the battle against the dark side.
Rey's appearance is marked by a distinct blend of ruggedness and grace. Her costume, echoing her humble origins and her subsequent evolution as a Jedi, reflects her character's journey. From her iconic desert scavenger outfit to her Jedi training attire, each garment serves as a testament to Rey's growth, resilience, and connection to the Force.
As you embark on the exciting endeavor of recreating Rey's costume, get ready to immerse yourself in the details that define her image. From the texture of her garments to the accessories that complete her look, this guide will walk you through every step, enabling you to embody the spirit of this remarkable Star Wars protagonist. So, let's dive into the fascinating world of costume craftsmanship and unlock the secrets to bringing Rey's character to life!
Check out more Star Wars costume ideas here.