Welcome to our comprehensive guide on creating a Rosa from Pokemon costume, one of the vibrant and skilled Trainers from the Pokémon universe. Rosa, known for her determination, compassion, and love for her Pokémon, has made a lasting impression on fans. Whether you're preparing for a convention, a Pokémon-themed event, or simply wish to embody the spirit of this talented Trainer, our guide will lead you through the steps to bring Rosa to life with precision and authenticity.
Rosa from Pokemon Costume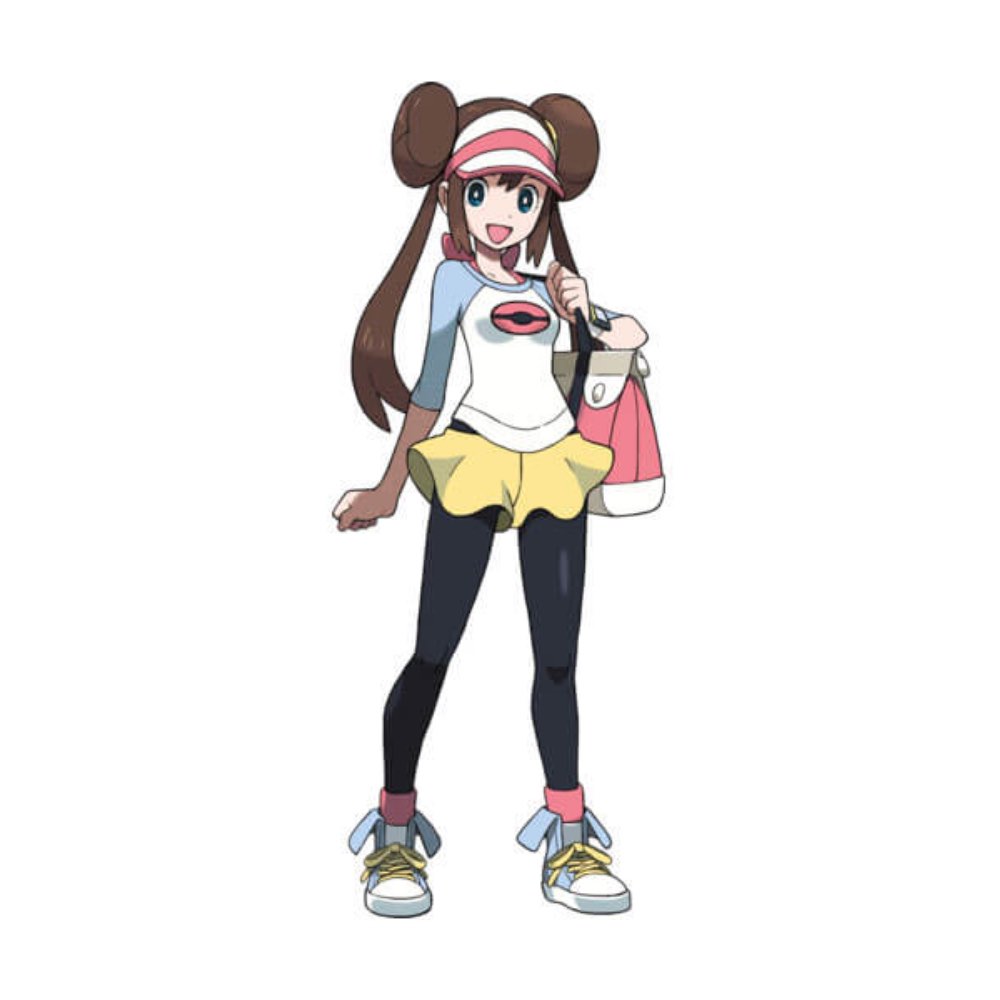 | | |
| --- | --- |
| Large Peak Visor Hat in Pink and White | Rosa is often seen wearing her signature visor hat, which features a pink and white color scheme. This hat is a defining element of her look and instantly makes the character recognizable. |
| Long Straight Anime Wig in Brown | The long brown wig replicates Rosa's hairstyle, ensuring that your costume captures the character's appearance accurately. Her hair is a distinctive feature of her look. |
| Donut Hair Bun in Chestnut Brown | Rosa's hairstyle includes a characteristic bun, and the donut hair bun accessory helps you achieve this specific look with ease, adding an essential detail to your costume. |
| Rosa's Baseball Tee with 3/4 Sleeves | The baseball tee with 3/4 sleeves is a vital part of Rosa's outfit. It is modeled after the character's in-game attire and is essential for achieving her signature style. |
| Black Yoga Pants Leggings | These leggings serve as the base for the costume, providing comfort and flexibility while staying true to Rosa's casual and sporty appearance. |
| Stretchy Flared Skater Skirt | The flared skater skirt adds a touch of femininity to the costume while maintaining the character's color scheme. It complements Rosa's overall style. |
| Halter Top with Tied Bow Neck Straps in Coral Pink | The coral pink halter top with tied bow neck straps replicates Rosa's top in the game. It adds color and detail to the costume. |
| Ankle Socks in Pink | Ankle socks in pink match the character's color palette and complete the overall look of the costume, ensuring it's true to Rosa's style. |
| Hi-Top Sneakers in Blue Sky | Rosa is often depicted wearing blue sneakers in the game. These hi-top sneakers in blue sky match her footwear and contribute to the accuracy of the costume. |
| Shoulder Handbag in Pink and White | The pink and white shoulder handbag is a practical accessory that complements Rosa's outfit and adds an extra touch of authenticity. |
| Pokemon Plush Ball | Including a Pokémon plush ball is a playful nod to Rosa's role as a Pokémon Trainer and adds a recognizable prop to your costume, emphasizing her connection to the Pokémon world. |
Rosa from Pokemon Overview
Name: Rosa
Origin: Pokémon Black 2 and White 2
First Appearance: Pokémon Black 2 and White 2 (2012)
Background: Rosa is a notable character introduced in Pokémon Black 2 and White 2, the sequels to the original Pokémon Black and White games. As a Pokémon Trainer from the Unova region, Rosa embarks on her journey to become the Pokémon Champion. Her character is known for her unwavering determination, kindness towards Pokémon, and her goal to bring out the best in her team.
Appearance: Rosa is typically depicted as a spirited and determined young Trainer. She wears a distinctive outfit consisting of a red and white cap with a Poké Ball emblem, a black and pink jacket, a white tank top, black shorts with pink accents, knee-high socks, and red sneakers. She also carries a red messenger bag and is often seen with her partner Pokémon, Snivy, Tepig, or Oshawott.
Personality: Rosa is characterized by her strong sense of responsibility and compassion for Pokémon. She shares a deep bond with her partner Pokémon and treats them as cherished friends. Rosa is driven to succeed and overcome challenges, often displaying a positive and encouraging attitude.
Role in the Games: In Pokémon Black 2 and White 2, Rosa plays a central role as one of the player characters (the female player character). Trainers can choose to play as Rosa on their journey through the Unova region. Throughout the game, she encounters various challenges, Gym Leaders, and Team Plasma, all while striving to become the Pokémon Champion.
Community Impact: Rosa has become a beloved character among Pokémon fans due to her determined and compassionate personality. She serves as a representation of the strong bond between Trainers and their Pokémon and has left a lasting legacy in the Pokémon series.
Now that you have a deeper understanding of Rosa's character, it's time to embark on the journey of recreating her iconic appearance through your cosplay. In the following sections, we will guide you through the costume and accessories creation process, ensuring that you capture Rosa's essence with precision and authenticity. Let's get started!
Check out more Pokémon costume ideas.