Are you ready to venture into the realm of Eternia and embrace your inner villain? Look no further, for in this guide, we shall delve into the dark and mystical world of Skeletor, the arch-nemesis of He-Man! Skeletor's malevolent presence and unforgettable appearance have made him an iconic character in the realm of pop culture and a favorite among fans of the Masters of the Universe franchise. Get ready to don the sinister garb, wield your dark magic, and become the fearsome Skeletor, seeking to conquer all that stands in your way!
Skeletor Costume – He-Man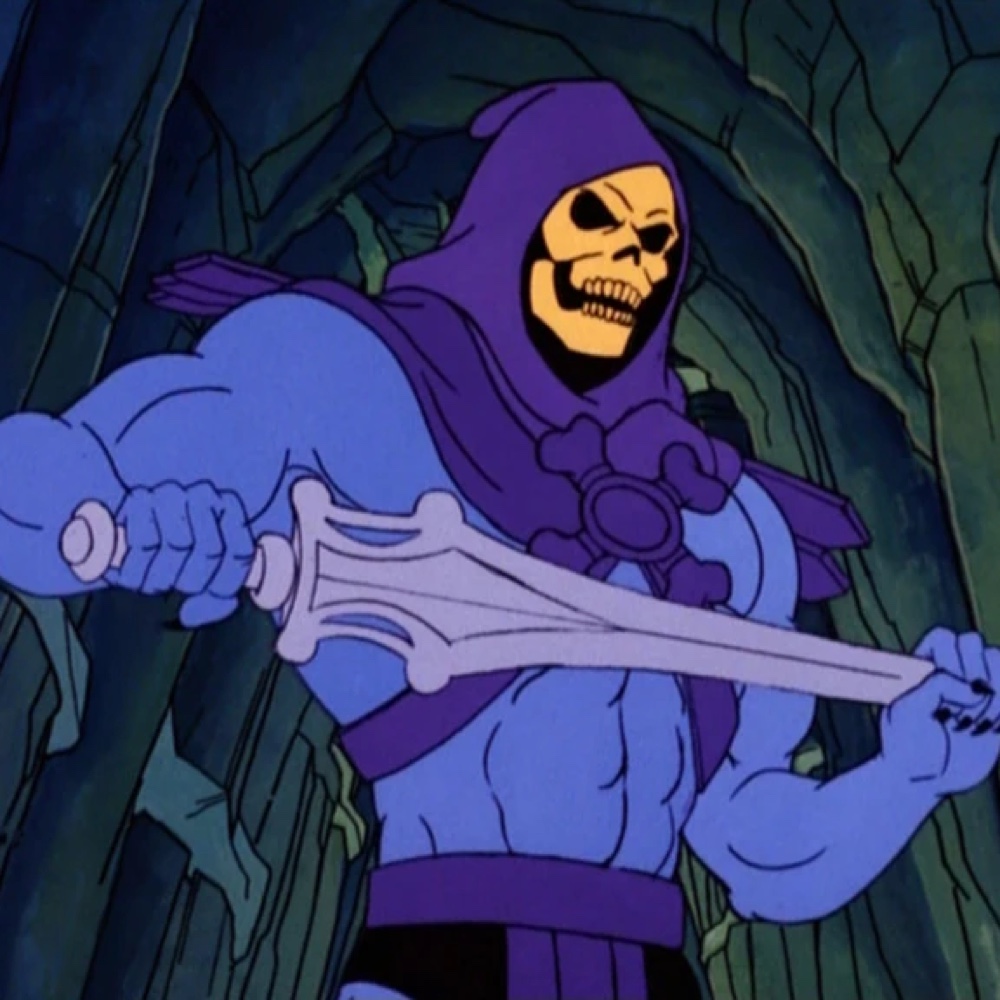 | # | Item | Description |
| --- | --- | --- |
| 1 | Skeletor's Hooded Chest Armor | Unleash the villainous aura of Skeletor with this remarkable hooded chest armor. Embrace the malevolent essence of Eternia's dark lord as you don this finely crafted piece. The intricately designed armor encapsulates Skeletor's sinister charisma, making it an exceptional choice for fans of the iconic antagonist. For those seeking a budget-friendly alternative, consider the Cheaper Version. |
| 2 | Blue Bodysuit | Avoid the hassle of body paint by opting for a comfortable and stylish blue bodysuit. Slip into this sleek apparel to embody Skeletor's iconic blue complexion effortlessly. With this smart choice, you can concentrate on perfecting the villain's menacing expressions rather than worrying about makeup smudges. Embrace the power of Eternia's conqueror as you unleash your mischievous charm. |
| 3 | Purple Boots | Complete your Skeletor ensemble with the sinister charm of purple boots. Embrace the dark lord's malevolent footsteps with these striking footwear choices. Unleash your inner villain as you embody the essence of Skeletor, plotting to conquer Castle Grayskull and rule over Eternia with unmatched flair and style. Step into these boots to command the stage and captivate audiences at any costume event. |
| 4 | Skull Mask | Conceal your face behind the chilling visage of a skull mask to fully embody the malevolent presence of Skeletor. Channel the dark energies of Eternia's conqueror as you hide your identity under this eerie facade. Let your eyes blaze with evil intent as you bring the character to life, seeking to seize the secrets of Castle Grayskull and finally defeat He-Man. With this mask, Skeletor's sinister plot will come to life in exquisite detail. |
| 5 | Ram Skull | Add a touch of dark majesty to your Skeletor staff by adorning it with a remarkable ram skull. Embrace the mystique of Eternia's powerful conqueror with this finely crafted accessory. As you wield your staff with malevolent intent, let the ram skull symbolize your supremacy over the forces of good. Transform your costume into a true masterpiece, capturing the essence of Skeletor's diabolical brilliance with every step you take. |
| 6 | Sword | Complete your Skeletor transformation with the ultimate weapon: a custom-made Skeletor sword. Embrace the power of Eternia's dark lord as you wield this magnificent blade, capturing the essence of Skeletor's mastery of evil magic and strategic prowess. With this exceptional accessory, your Skeletor costume will stand out as a true representation of the iconic antagonist. Rule over your costume event with malevolent grace, leaving a lasting impression on all who witness your villainous splendor. |
| 7 | Purple Paint | Immerse your staff in the regal hues of Skeletor's purple aura with this high-quality paint. Let the paint exude the dark lord's malevolent brilliance as you transform your staff into an awe-inspiring symbol of villainy. Elevate your costume to unparalleled heights with this meticulous attention to detail, ensuring every aspect of your Skeletor ensemble reflects the character's grandeur and mystique. |
| 8 | Warrior Shorts | Enhance your Skeletor costume with warrior shorts that capture the essence of Eternia's dark conqueror. Paint these shorts purple and add a menacing skull belt to complete the look. Let your costume exude an air of ominous grandeur as you prepare to take the spotlight and unleash your malevolent machinations. With this bold addition, you'll stand out as the ultimate embodiment of Skeletor's formidable prowess. |
| 9 | Full Costume Set | Streamline your transformation into Eternia's notorious dark lord with this comprehensive Skeletor costume set. Avoid the hassle of extensive DIY-ing and immerse yourself fully in the malevolent persona of Skeletor. This complete ensemble captures every aspect of the villain's iconic look, making it the perfect choice for those seeking convenience without compromising on authenticity. Rule your costume event with supreme malevolence, leaving all who encounter you in awe of Skeletor's sinister splendor. |
Skeletor Overview
In the mystical and fantastical land of Eternia, Skeletor reigns as the formidable enemy of He-Man, the valiant defender of Castle Grayskull. Created by Mattel in 1981 as part of the Masters of the Universe toy line, Skeletor quickly became one of the most recognizable and notorious villains in the world of action figures and animated television series.
Skeletor's appearance is both striking and ominous, featuring a blue-skinned, skull-faced figure adorned in dark purple and blue robes. His piercing yellow eyes and menacing grin strike fear into the hearts of all who oppose him. As the leader of the Evil Warriors, Skeletor is driven by a lust for power and domination, constantly scheming to overthrow Castle Grayskull and harness its secrets to become the master of Eternia.
With his vast knowledge of dark magic and cunning intellect, Skeletor is a formidable adversary for He-Man and his allies. Throughout the years, Skeletor has become a beloved antihero, captivating audiences with his complex personality and tragic past, making him more than just a typical antagonist.
Embodying Skeletor in your costume allows you to unleash your inner villain and explore the depths of this iconic character's persona. Get ready to step into the shoes of the Lord of Destruction, spreading fear and asserting your authority in the world of Eternia. So, gather your dark energies and prepare to create a Skeletor costume that will leave a lasting impression at any costume party or fan gathering!
Check out more TV show costume ideas here.