Welcome to the sizzling world of culinary adventures and rockstar flair as we embark on a thrilling journey to create the legendary Guy Fieri costume. In this guide, we will immerse ourselves in the vibrant world of flavors and flames, channeling the essence of the renowned chef, restaurateur, and television personality, Guy Fieri. Whether you're a die-hard fan of his high-energy shows or simply seeking a costume that's as bold and spicy as your personality, this guide will be your ultimate recipe for bringing the one and only Guy Fieri to life.
Guy Fieri Costume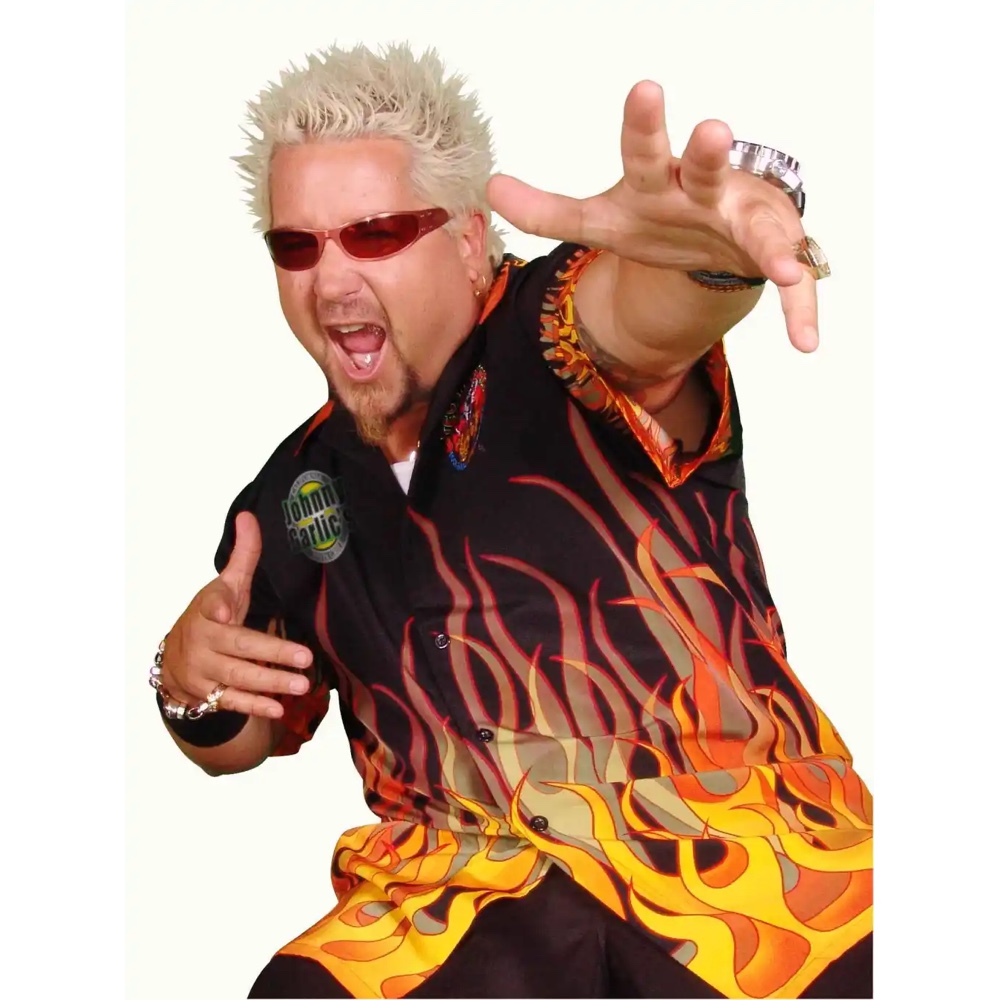 | # | Item | Description |
| --- | --- | --- |
| 1 | Flame Printed Shirt | Elevate your style with this fiery flame-printed tee, a nod to Guy Fieri's legendary fashion sense. The shirt boasts vibrant flames that symbolize the passion and energy Guy brings to the culinary world. Perfect for any costume party, this bold shirt is a must-have for any aspiring "Mayor of Flavortown." |
| 2 | Chino Shorts | Complete your Guy Fieri ensemble by pairing the flame-printed top with stylish chino shorts. These classic-fit shorts exude both comfort and flair, allowing you to rock the look of the culinary rockstar with ease. Embrace the combination of cool and casual as you channel Guy's adventurous spirit and love for all things flavorful. |
| 3 | Blonde Wig and Goatee | No Guy Fieri costume is complete without his signature blonde, spiky hair and goatee. Transform into the culinary sensation with a high-quality, spiked wig that perfectly emulates Guy's iconic hairstyle. Complement it with a matching goatee to capture his charismatic and fearless essence, as you savor the opportunity to unleash your inner foodie. |
| 4 | Sunglasses | No Guy Fieri outfit would be complete without his signature shades. Slide on a pair of sleek and stylish sunglasses to capture the essence of Guy's laid-back and confident persona. These polarized shades not only add a touch of cool to your look but also protect your eyes while you sizzle in the spotlight as the culinary connoisseur. |
| 5 | Studded Leather Bracelet | Add some rockstar flair to your costume with a studded leather bracelet. This edgy accessory exudes Guy Fieri's fearless and bold style, making it a perfect addition to your culinary-inspired ensemble. Let your personality shine as you embrace the spirit of Flavortown, elevating your costume to the next level of culinary greatness. |
| 6 | Metal Watch | Complete your transformation into Guy Fieri with a sleek metal watch that adds a touch of sophistication to your outfit. Embrace the culinary rockstar's punctuality and stylish flair as you explore the world of flavor and adventure. Whether you're hosting a costume party or simply embodying Guy's spirit for fun, this watch will keep you on time and in character throughout your culinary escapades. |
Guy Fieri Overview
Guy Fieri, a living culinary sensation, is an American restaurateur, chef, and TV host who has left an indelible mark on the world of food and entertainment. With his signature spiky bleached hair, exuberant personality, and penchant for bold flavors, Guy Fieri has become a pop culture icon synonymous with culinary adventure and unapologetic enthusiasm.
Born on January 22, 1968, in Columbus, Ohio, Guy's culinary journey began at a young age, and he later honed his skills at the University of Nevada, Las Vegas. His rise to fame began when he won the second season of "The Next Food Network Star" in 2006, catapulting him into the spotlight as the host of "Diners, Drive-Ins, and Dives."
Guy's infectious passion for food, travel, and exploration has taken him on countless cross-country road trips in search of the most delectable and unique dishes. Whether he's diving into a mountain of nachos, savoring a juicy burger, or sampling mouthwatering desserts, Guy's love for flavor and his larger-than-life persona have endeared him to fans worldwide.
His trademark catchphrases, such as "Welcome to Flavortown!" and "That's money," have become part of the lexicon of food enthusiasts and meme culture alike. Guy Fieri's effervescent personality, along with his iconic flame-adorned shirts and exuberant style, have solidified him as a beloved and recognizable figure in the culinary universe.
As we embark on the exciting journey of crafting the Guy Fieri costume, we'll pay homage to his culinary passion, boundless energy, and inimitable style. Prepare to unleash your inner foodie and embrace the spirit of culinary exploration as you bring the vibrant essence of Guy Fieri to life through the art of costume-making. So buckle up, spice things up, and get ready to take your place as the fearless and fabulous Guy Fieri, the culinary rockstar of Flavortown!
Check out more celebrity costume ideas here.