Step into the exhilarating world of Subway Surfers by crafting your very own Spike from subway Surfers costume! Subway Surfers is known for its diverse and dynamic characters, and Spike is undoubtedly one of the standout figures. With his distinctive punk-rock style and fearless attitude, dressing up as Spike is a surefire way to make a statement at any cosplay event or Halloween party. In this guide, we'll take you through the steps to create an impressive Spike costume that captures all the essence of this rebellious character. So, get ready to unleash your inner punk, gather your crafting materials, and let's dive into the vibrant world of Subway Surfers!
Spike from Subway Surfers Costume – Subway Surfers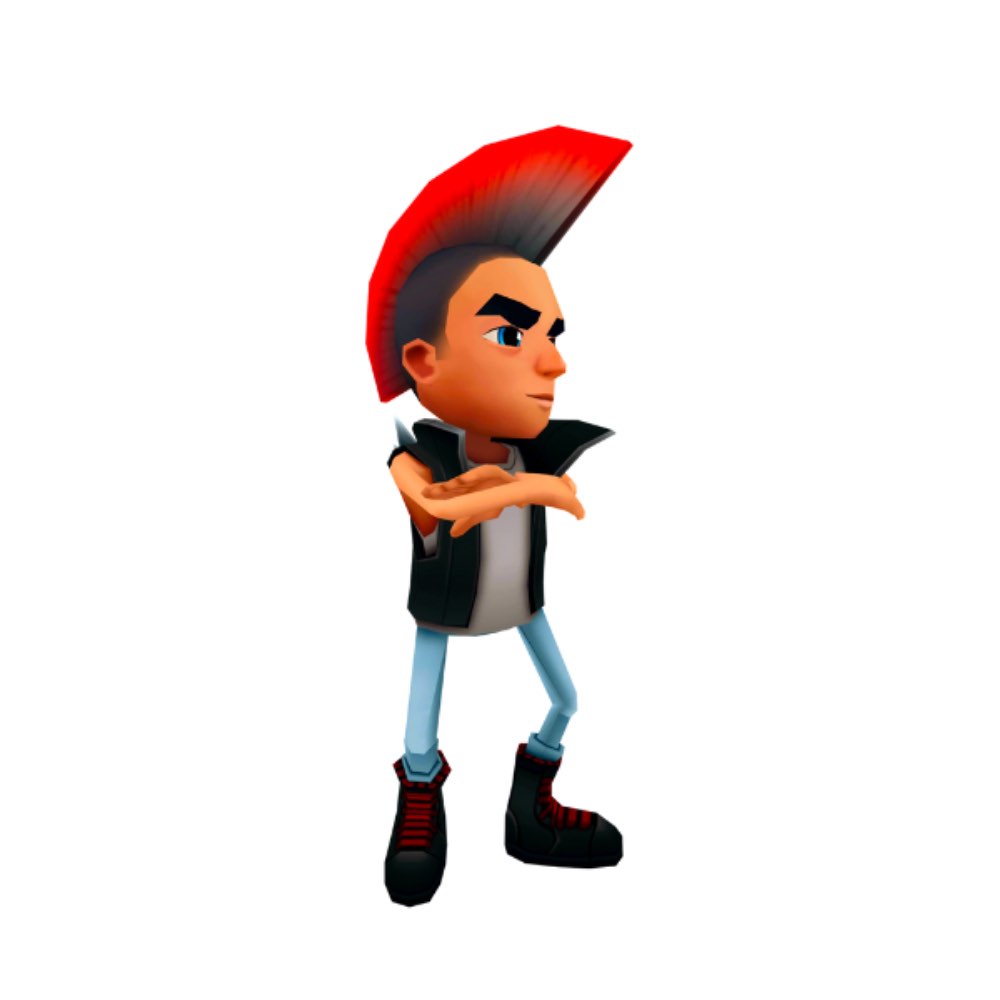 | | |
| --- | --- |
| Red Mohawk Wig | Spike's red mohawk hairstyle is perhaps his most defining feature. The vibrant red mohawk wig is essential for capturing his punk-rock persona and making the costume instantly recognizable. |
| Black Leather Vest | Spike's black leather vest, often adorned with studs and patches, is a central part of his punk-rock aesthetic. It adds a rebellious and edgy vibe to the costume, mirroring his character's style. |
| White Tank Top | A white tank top serves as the base layer for the costume. It provides contrast to the black leather vest and is commonly seen in Spike's outfit, contributing to his overall look. |
| Blue Skinny Jeans | Spike's blue skinny jeans are a stylish choice that complements his punk-rock appearance. They are practical for active subway adventures and emphasize his fashion sense. |
| Black Combat Boots | The black combat boots are an iconic part of Spike's look. They are not only stylish but also suitable for his fearless attitude, making them an essential element of the costume. |
| Red Shoelaces | Red shoelaces, added to the black combat boots, are a small but significant detail. They match the red accents in Spike's costume, adding cohesion to the overall look. |
Spike from Subway Surfers Overview
Spike is a daring and unforgettable character from the popular mobile game Subway Surfers. Known for his punk-rock persona and fearless spirit, here's a brief overview of his character:
1. Punk-Rock Aesthetic: Spike is easily recognizable by his punk-rock attire. He typically dons a leather jacket adorned with studs and patches, ripped jeans, and a mohawk hairstyle. His look is edgy and rebellious, reflecting his punk-rock sensibilities.
2. Iconic Mohawk: Spike's mohawk hairstyle is a signature element of his appearance. It's usually dyed in bold and vibrant colors, adding to his punk-rock charm. This hairstyle is a central feature of his costume.
3. Leather Jacket: His leather jacket, covered in studs and punk-themed patches, is an essential part of Spike's costume. It symbolizes his rebellious nature and adds a tough edge to his look.
4. Ripped Jeans: Spike often wears ripped jeans that are both stylish and practical for his subway adventures. They showcase his punk-inspired fashion sense.
5. Punk Accessories: Spike's costume is not complete without punk accessories, which may include wristbands, chains, and chokers. These accessories add detail to his outfit and emphasize his punk-rock vibe.
6. Skateboard: Spike is frequently seen riding a skateboard through the subway stations, so having a skateboard as a prop can enhance your costume and capture his adventurous spirit.
7. Fearless Attitude: Beyond his clothing, Spike is known for his fearless and adventurous personality. He's always up for a challenge, and his confidence shines through in the game.
As you embark on creating your Spike costume, it's crucial to capture the rebellious and edgy essence of this character's style and personality. With the right costume elements and a fearless attitude, you'll become the embodiment of Spike's punk-rock spirit. Get ready to rock the subway with style and attitude as you bring this iconic character to life!
Check out more Subway Surfer costume ideas.