If you find yourself looking for a fancy dress or halloween costume idea that might get people talking then this could be for you. Welcome to our guide on how to make your very own Taliban costume.
Taliban Costume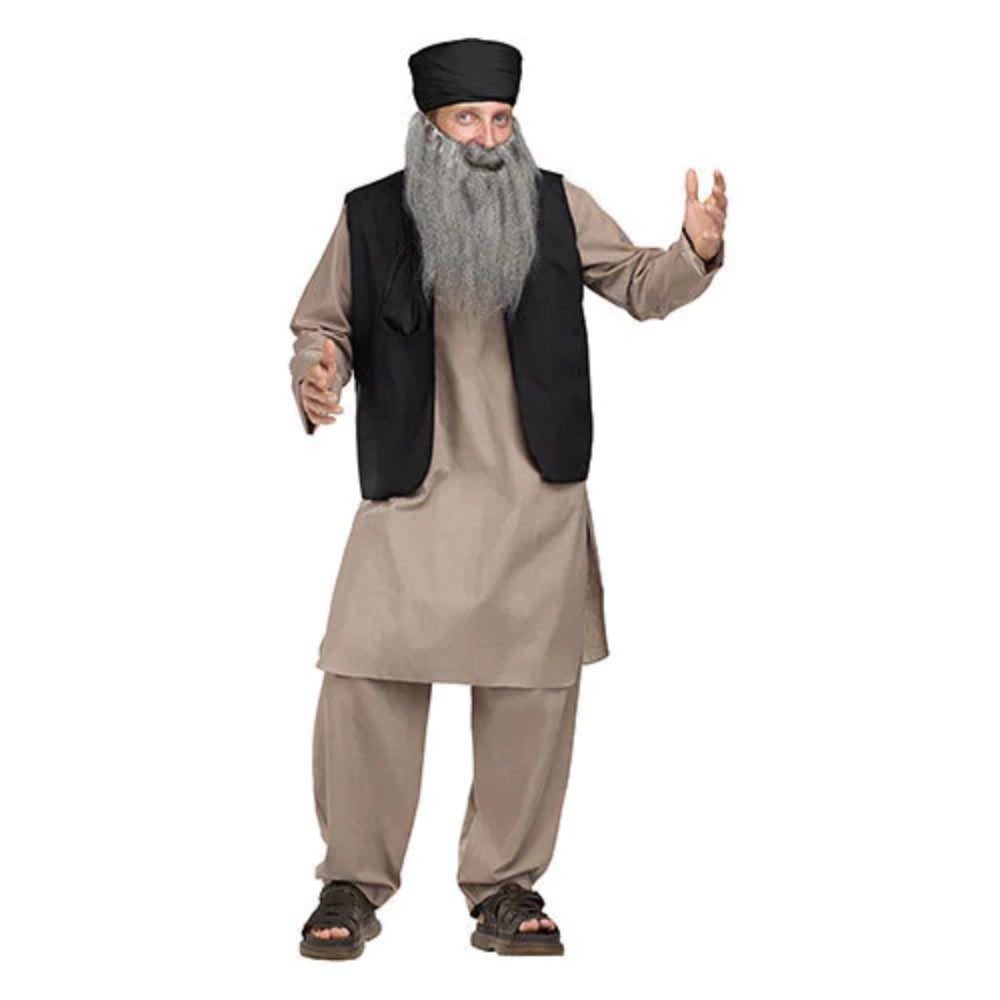 | # | Item | Description |
| --- | --- | --- |
| 1 | White Long Sleeve Kaftan Long Gown | Elevate your Arabian warrior ensemble with this elegant white long-sleeved kaftan gown, fit for a desert prince or princess. |
| 2 | Brown Fisherman Sandal | Navigate the sandy dunes effortlessly in these sturdy brown fisherman sandals, designed for comfort and durability on desert terrain. |
| 3 | Tactical Desert Scarf | Shield your face from the harsh desert elements and prying eyes with this versatile tactical desert scarf, an essential accessory for the desert wanderer's attire. |
| 4 | Arab Headscarf | Regulate your comfort in the ever-changing desert climate by donning this traditional Arab headscarf, a symbol of cultural identity and practicality. |
| 5 | Army Desert Lightweight Jacket | Enhance your desert survival gear with this lightweight army desert jacket, offering protection and style amidst the shifting sands of the dunes. |
| 6 | Armalite Rifle | Add an element of realism to your desert warrior portrayal with this electronic Armalite rifle toy, a convincing prop for your desert-themed adventures. |
Taliban Overview
The Taliban is an Islamist extremist militant group that originated in Afghanistan in the early 1990s. The group gained notoriety for its strict interpretation of Islamic law and its oppressive rule during its previous period of power in Afghanistan from 1996 to 2001.
Key points about the Taliban:
Origins: The Taliban emerged during the Afghan Civil War in the early 1990s. The group was founded by Afghan militants, many of whom had received support and training from foreign entities, including Pakistan.
Ideology: The Taliban follows a strict interpretation of Sunni Islam known as Deobandism. They enforced their interpretation of Islamic law, which included restrictions on women's rights, education, entertainment, and the arts.
Rule in Afghanistan: The Taliban came to power in 1996 and controlled most of Afghanistan until they were ousted by the U.S.-led coalition following the September 11, 2001, terrorist attacks in the United States. During their rule, Afghanistan became a safe haven for terrorists, including Osama bin Laden and al-Qaeda.
Post-2001: After being removed from power, the Taliban regrouped and launched an insurgency against the Afghan government and foreign forces stationed in the country. This led to years of conflict and instability.
Negotiations: In recent years, there have been attempts at peace negotiations between the Afghan government, the Taliban, and international actors. These negotiations aim to find a political solution to the ongoing conflict.
International Designation: The Taliban has been designated as a terrorist organization by various countries and international bodies, including the United Nations. Their actions, including suicide bombings and attacks, have resulted in significant civilian casualties.
It's important to note that discussions involving the Taliban are complex and can be highly controversial due to the group's history of violence and human rights abuses. The situation in Afghanistan has evolved over time, and the group's role in the country's future remains a subject of international concern and diplomatic efforts.
Check out more Miscellaneous costume ideas here.