Welcome to the exciting world of Subway Surfers! If you're a fan of this popular mobile game and have a penchant for creative cosplay, you're in the right place. In this guide, we'll walk you through the steps to craft an awesome Tricky from Subway Surfers costume that'll make you the star of any cosplay event or Halloween party. Tricky is one of the iconic characters from Subway Surfers, known for her daring and adventurous spirit. With her unique style and vibrant personality, you're sure to have a blast bringing her to life. So, grab your crafting supplies, unleash your imagination, and let's embark on this thrilling costume-making journey!
Tricky from Subway Surfers Costume – Subway Surfers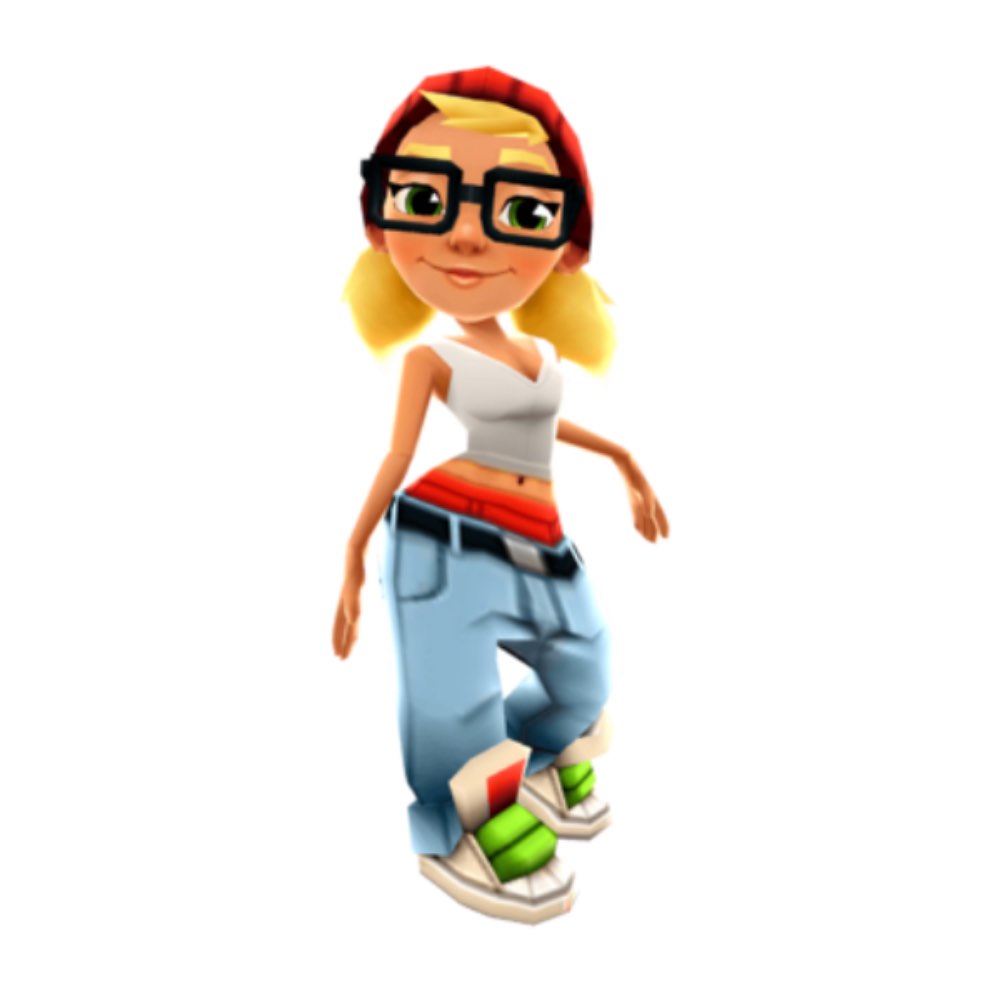 | | |
| --- | --- |
| White V-Neck Tank Top | Tricky is often seen wearing a white tank top as part of her clown outfit. This top serves as the base for her costume and helps capture her playful and colorful style. |
| Red Beanie | Tricky sports a red beanie on her head, which adds a pop of color to her ensemble. It's a crucial accessory that completes her look and makes her instantly recognizable. |
| Baggy Blue Jeans | Tricky's choice of baggy blue jeans adds to her casual and carefree appearance. They are comfortable for both running through subway stations and creating her graffiti art. |
| Orange Shorts | Tricky often wears orange shorts over her jeans, giving her costume a layered and vibrant look. These shorts are a distinctive part of her outfit. |
| Black Geeky Glasses Frames | Tricky's black geeky glasses frames not only add to her unique appearance but also reflect her artistic and creative side. They are an essential accessory that helps capture her character. |
| White Sneakers | To complete her street-savvy look, Tricky wears white sneakers. These sneakers are not only practical for running but also a signature element of her style. |
| Neon Green Shoelaces | he neon green shoelaces on her white sneakers are a small but significant detail that adds an extra touch of color and individuality to her outfit. |
Tricky from Subway Surfers Overview
Tricky, also known as Tricky the Clown, is a beloved character from the popular endless runner game Subway Surfers. She's a dynamic and vivacious young woman who's always ready for adventure. Here's a brief overview of her character:
1. Spirited Adventurer: Tricky is known for her love of excitement and adventure. She thrives in the fast-paced world of Subway Surfers, where she dashes through subway stations, dodging obstacles, and leaving graffiti art in her wake.
2. Iconic Style: Tricky's appearance is iconic. She's often seen wearing a vibrant clown costume, complete with a colorful wig, oversized shoes, and a red nose. Her attire exudes a playful and mischievous charm that sets her apart.
3. Street Art Enthusiast: Tricky is not just a runner; she's an artist too. She uses her graffiti skills to leave her mark on the subway system, and her signature tag can be seen throughout the game.
4. Enthusiastic Spirit: Tricky's enthusiasm is infectious. She brings a sense of fun and joy to the game, making players smile with her cheerful personality.
5. Team Player: Tricky is part of the Subway Surfers crew, which includes other colorful characters like Jake, Fresh, and Yutani. Together, they navigate the bustling subway environment and elude the pursuit of the Inspector and his dog.
As you embark on the journey of creating a Tricky costume, remember to capture her vibrant and adventurous spirit. With the right costume and attitude, you'll embody this lively character and become the life of the party or convention. Get ready to channel your inner Tricky and make a stunning impression at your next cosplay event!
Check out more Subway Surfer costume ideas.