Step into the world of Thomas Shelby, the captivating character from the acclaimed TV series "Peaky Blinders," and unlock the secrets behind his iconic style. In this guide, we'll delve into the wardrobe, accessories, and attitude that define Thomas Shelby's character, helping you recreate his distinctive look with accuracy and flair. Get ready to unleash your inner Peaky Blinder and make a statement that echoes throughout time. Let's embark on this sartorial journey and embrace the power of Thomas Shelby's style. Let us dive in and make your own Thomas Shelby costume.
Thomas Shelby Costume – Peaky Blinders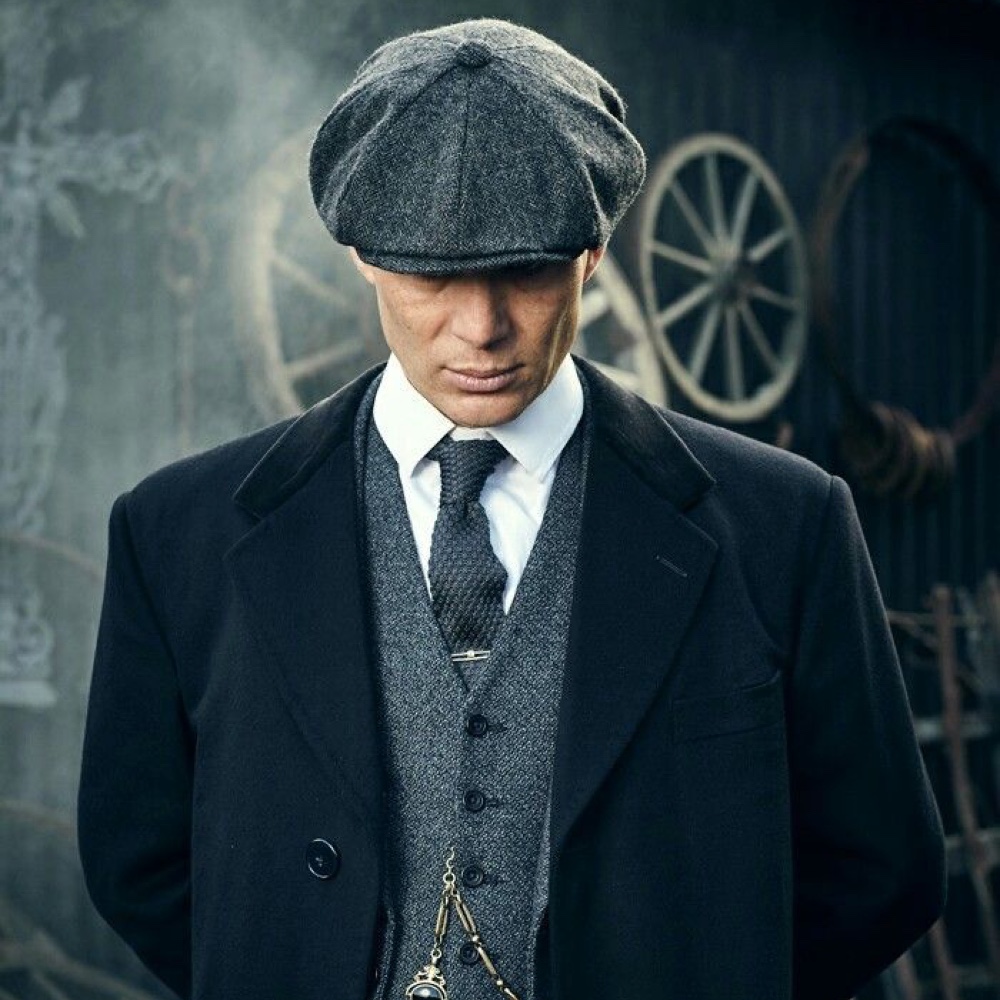 | # | Item | Description |
| --- | --- | --- |
| 1 | White Dress Shirt | Kickstart your Thomas Shelby-inspired outfit with a crisp white dress shirt. This classic piece sets the foundation for a polished and sophisticated look. The pristine white fabric exudes elegance and can be easily paired with various suits and accessories. The shirt's high-quality material ensures comfort throughout the evening. |
| 2 | Grey Three-Piece Suit | Elevate your style with a grey three-piece suit that exudes sophistication and timeless charm. The well-tailored fit and sleek design create a polished and refined look reminiscent of Thomas Shelby's impeccable taste. Whether you're attending a formal event or channeling the Peaky Blinders vibe, this suit is a must-have. |
| 3 | Copper Necktie | Add a touch of sophistication to your ensemble with a copper-colored necktie. The warm tones of this necktie complement various suit colors and lend a subtle yet refined charm to your attire. The silky smooth texture and impeccable craftsmanship make it a standout accessory. |
| 4 | Black Pea Coat | Stay warm and stylish with a black pea coat. This classic outerwear piece adds a touch of sophistication to your ensemble while providing comfort and protection from the elements. The versatile design makes it suitable for various occasions, from formal events to casual outings. |
| 5 | Black Oxford Boots | Add a touch of sophistication to your footwear with black Oxford boots. These timeless shoes combine style and comfort, making them perfect for completing your Thomas Shelby-inspired look. The classic design and high-quality leather ensure durability and elegance. |
| 6 | Grey Baker Boy's Hat | Add a touch of vintage flair to your outfit with a grey baker boy's hat. This iconic headwear captures the essence of the 1920s while adding a stylish and trendy element to your look. The versatile color and classic design make it a perfect accessory for any occasion. |
| 7 | Pocket Watch | Complete your Thomas Shelby costume with a pocket watch. This classic timepiece adds a touch of old-world charm and sophistication to your outfit. Whether you choose to wear it with a vest or keep it in your pocket, the pocket watch is a stylish accessory that is both functional and fashionable. |
Thomas Shelby Overview
Thomas Shelby, portrayed by actor Cillian Murphy in the hit TV series "Peaky Blinders," is a character that has captured the hearts and imaginations of audiences worldwide. Known for his captivating presence, sharp intellect, and unwavering determination, Thomas Shelby embodies the essence of a true leader.
As the ambitious and cunning leader of the Shelby crime family, Thomas Shelby navigates the treacherous streets of 1920s Birmingham, England. His rise to power is not only marked by his strategic thinking and fearless nature but also by his impeccable sense of style. Thomas Shelby's fashion choices have become synonymous with sophistication, blending elements of classic elegance with a touch of rebelliousness.
One of the most distinctive aspects of Thomas Shelby's style is his impeccable tailoring. His three-piece suits, meticulously crafted with precision and attention to detail, reflect his position of power and authority. Often adorned with peaked lapels, waistcoats, and pocket watches, his suits exude an air of timeless refinement.
Thomas Shelby's color palette is also a notable feature of his style. He often opts for dark hues, such as charcoal gray, navy blue, and black, which perfectly complement his brooding persona. These colors not only convey a sense of mystery but also create a striking contrast against his fair complexion.
Accessories play a crucial role in completing Thomas Shelby's signature look. His choice of flat caps, Oxford boots, and pocket watches add a touch of authenticity to his attire. These accessories not only showcase his attention to detail but also reflect the fashion sensibilities of the era.
Beyond his fashion choices, Thomas Shelby's demeanor and mannerisms contribute to his overall allure. With his piercing gaze, composed demeanor, and measured speech, he commands attention and respect wherever he goes. His unwavering confidence and ability to maintain a calm and collected demeanor in the face of adversity make him a formidable force to be reckoned with.
In summary, Thomas Shelby is more than just a character; he is an icon. His impeccable style, characterized by tailored suits, dark colors, and attention to detail, has become synonymous with elegance and power. By embracing his fashion choices and adopting his commanding presence, you can channel the spirit of Thomas Shelby and exude an air of sophistication and confidence in your own life.
Check out more TV show costume ideas here.