Welcome to our comprehensive guide on creating a stunning Mia Thermopolis costume. Whether you're a fan of "The Princess Diaries" book series or the iconic film adaptations, this guide will help you bring Mia's unique style to life. With detailed instructions and creative tips, you'll be able to capture the essence of this relatable and endearing character in your costume. Get ready to step into the shoes of Mia Thermopolis and embark on a magical transformation!
Mia Thermopolis Costume – The Princess Diaries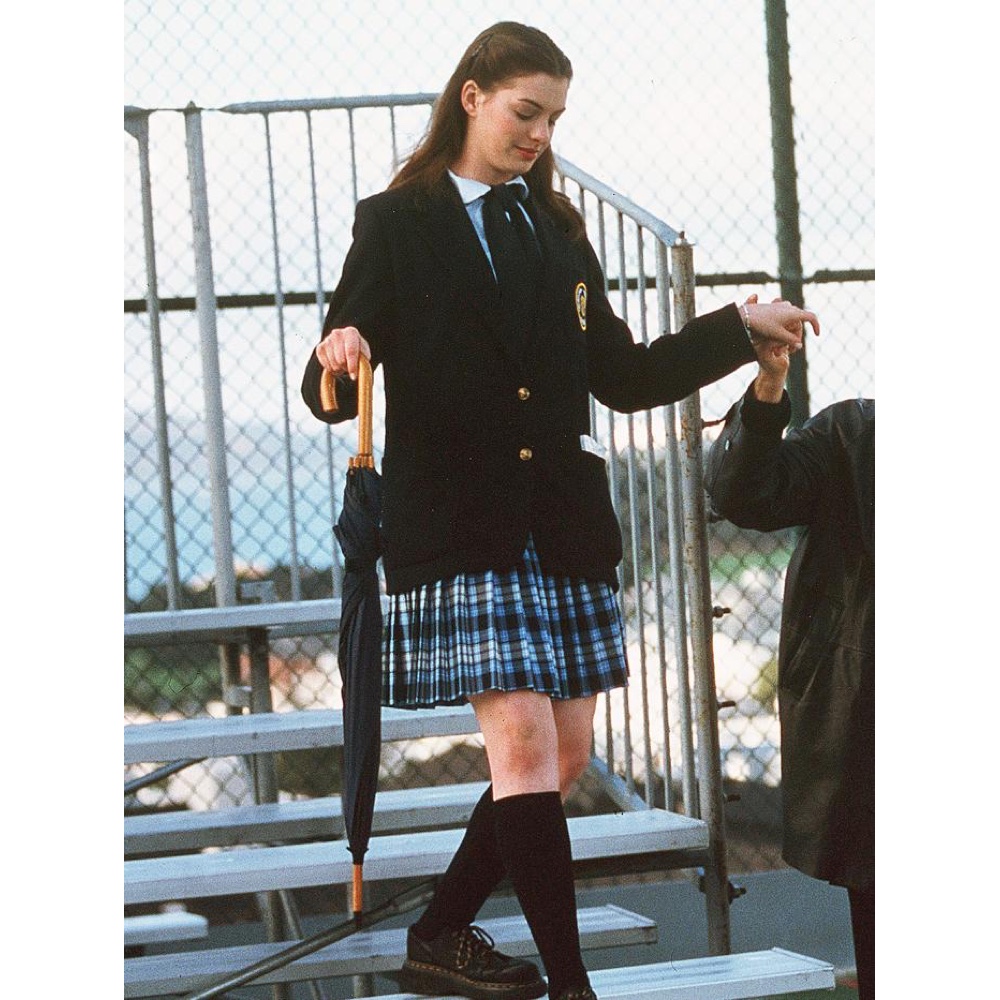 | # | Item | Description |
| --- | --- | --- |
| 1 | Sky Blue Oxford Shirt | Mia's school recommends a sky blue Oxford shirt as part of their uniform. It's a classic and sophisticated choice. |
| 2 | Navy Blue Pleated Skirt | Elevate your school outfit by pairing the Oxford shirt with a stylish navy blue pleated skirt. It adds a touch of elegance and flair. |
| 3 | Classic Black Knee-High Socks | Stay warm and cozy with these classic black knee-high socks, a perfect addition to your school attire. |
| 4 | Elegant Black School Shoes | Maintain a sleek and polished look with these elegant black school shoes. They provide comfort and style. |
| 5 | Sleek Black Necktie | Add the finishing touch to your school uniform with this sleek, slim black necktie. It exudes confidence and sophistication. |
| 6 | Trendy Black-Rimmed Glasses | Complete your look with these trendy black-rimmed glasses, a stylish accessory that enhances your vision. |
| 7 | Chic Brown Hair Wig | Transform into the pre-makeover Mia Thermopolis with this chic brown hair wig. It's the perfect way to embrace her iconic look. |
Mia Thermopolis Overview
Mia Thermopolis is the charming and relatable protagonist of "The Princess Diaries" series created by Meg Cabot. In the story, Mia discovers that she is the heir to the throne of the fictional kingdom of Genovia. Initially, Mia is portrayed as an awkward and socially awkward teenager, often clad in her school uniform. However, as the story progresses, she undergoes a remarkable transformation, both physically and emotionally, embracing her royal heritage with grace and style.
Mia's signature style is a combination of casual and elegant elements, reflecting her journey from an ordinary high school student to a princess. Her fashion choices evolve from simple button-down shirts and plaid skirts to more sophisticated ensembles fit for royalty. Mia is known for her love of comfortable yet fashionable clothing, often incorporating classic pieces with a modern twist. Whether it's her sleek black-rimmed glasses or her chic brown hair wig, each element contributes to Mia's distinctive appearance.
By recreating Mia Thermopolis's costume, you'll have the opportunity to embody her endearing personality and showcase her iconic style. Let's dive into the details and bring this beloved character to life through the art of costume creation.
Check out more movie costume ideas here.