Prepare to delve into the depths of King's Landing, where faith and punishment collide, as we embark on a journey to create a Unella the Shame Nun costume. In this comprehensive guide, we'll explore the captivating world of George R.R. Martin's "A Song of Ice and Fire" and the gripping television series, "Game of Thrones." Unella, the Shame Nun, is a character whose stern and relentless demeanor leaves an indelible mark on the story. Now, you have the opportunity to embody her haunting presence, stern conviction, and unwavering commitment to her faith. Join us as we unveil the secrets to crafting a costume that captures the essence of Unella, a character whose chilling presence reverberates through the halls of the Red Keep and beyond.
Unella the Shame Nun Costume – Game of Thrones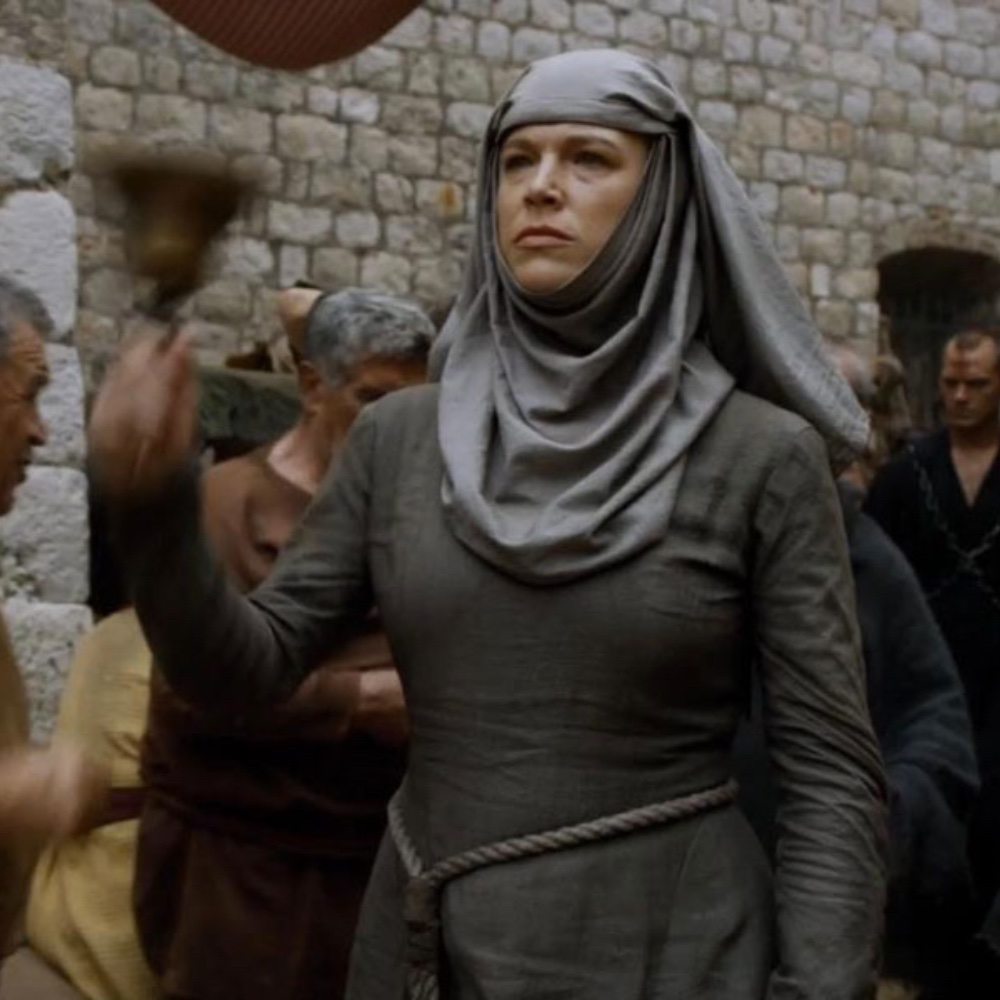 | | |
| --- | --- |
| Gray Head Scarf | Unella is often seen wearing a headscarf as part of her modest and austere attire. This gray headscarf replicates her distinctive look and adds to the overall costume's authenticity. |
| Long Sleeve Maxi Dress with Empire Waistband in Gray | Unella's attire is characterized by a long, plain, and modest dress. This gray maxi dress captures her simple and unadorned style, especially with the empire waistband. |
| Gray Hemp Rope | The hemp rope serves as a prop to recreate scenes where Unella uses it to restrain and punish others. It's a symbolic accessory that adds depth to the costume. |
| Brass Hand Bell | Unella is often seen carrying a bell, which she uses as part of her duties as a Shame Nun. This brass hand bell is a significant accessory that completes the look and adds authenticity to the character. |
Unella the Shame Nun Overview
Unella the Shame Nun is a character known for her unwavering devotion and stern presence in the world of "Game of Thrones." Here's an overview of this formidable character:
Role in the Faith of the Seven: Unella is a member of the Faith of the Seven, a religious group that gains significant power and influence in King's Landing. She is known for her role in the religious trials and punishments inflicted on those deemed sinful.
Demeanor: Unella is characterized by her stern and relentless demeanor. She is often seen wielding a bell and repeating the word "shame" during her punishments. Her presence is haunting, and she embodies the faith's strict adherence to moral purity.
Punishments: Unella is involved in some of the most memorable and harrowing punishments in the series, including Cersei Lannister's walk of atonement. Her methods are harsh and meant to enforce the faith's strict moral code.
Influence: As a representative of the Faith Militant, Unella's actions contribute to the power struggles in King's Landing, challenging the authority of the nobility and monarchy.
Iconic Appearance: Unella is typically seen wearing a brown, hooded robe and carries a bell, both of which are distinctive elements of her character's appearance. Her attire reflects her devotion to the Faith and her role as a Shame Nun.
Check out more Game of Thrones costume ideas here.