"Today is the day I'm going home!" If you've ever been captivated by the transformation of an ordinary man into an unforgettable character from the silver screen, you're in for an adventure. In this guide, we'll show you how to create the perfect William "D-Fens" Foster costume, so you can channel the intensity and complexity of this iconic character from the film "Falling Down."
From his disheveled appearance to his determined resolve, William "D-Fens" Foster has left an indelible mark on movie enthusiasts. Join us as we delve into the world of this complex character and learn how to bring him to life through your costume.
William "D-Fens" Foster Costume – Falling Down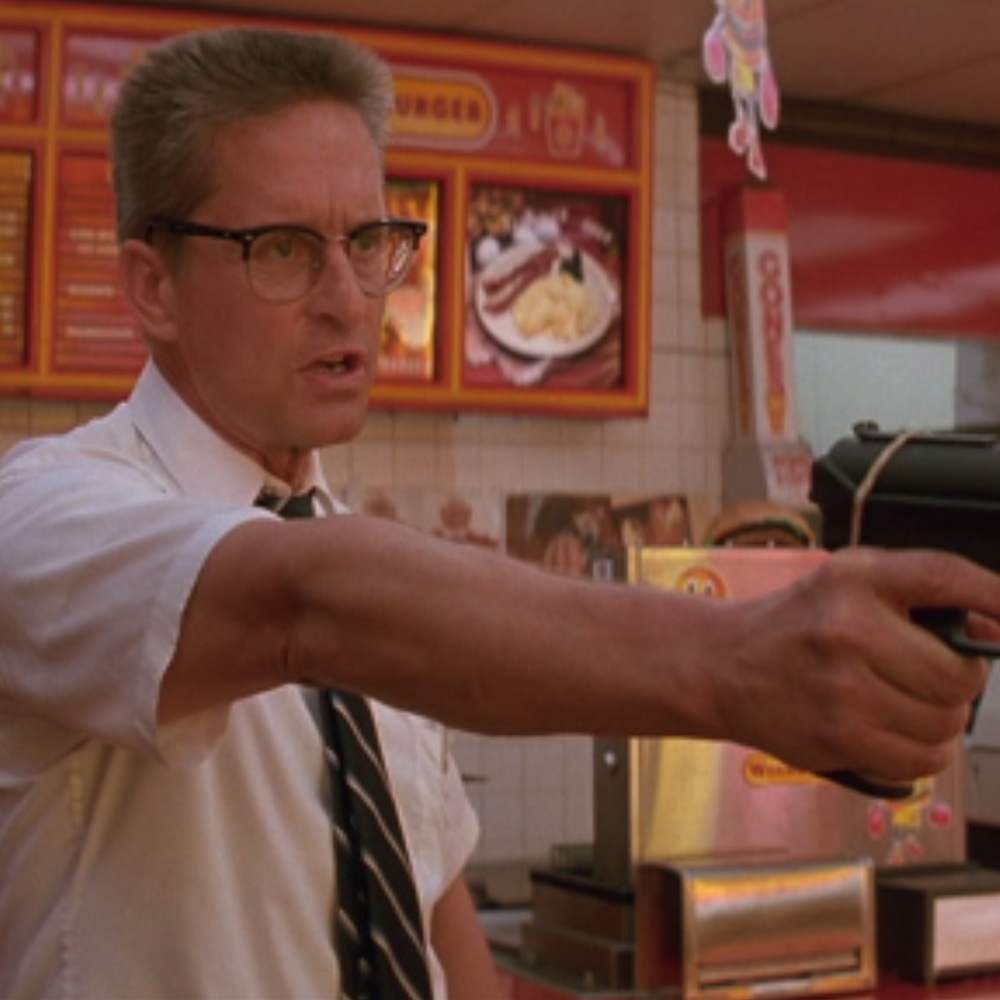 | | |
| --- | --- |
| Oxford White Short Sleeve Shirt | The white short-sleeve dress shirt is a fundamental piece of William Foster's costume. It reflects his initial appearance as an ordinary man before his transformation. |
| Dockers Easy D3 Khakis in Black | Foster's black Dockers khakis complete the everyday look of an ordinary office worker. They are a crucial part of the costume, mirroring his pre-vigilante appearance. |
| Silk Woven Black and White Trad Striped Tie | The black and white striped tie adds a touch of formality to the costume. It represents Foster's business attire and contributes to the overall look of his character. |
| 80's Club Half Frame Wayfarer Eyeglasses | These eyeglasses are reminiscent of the classic '80s style and are essential for accurately portraying Foster's appearance in the film. |
| ECCO Boston Lace-Up Shoes in Black | Black lace-up shoes are a practical choice for the costume, as they reflect Foster's everyday work attire. |
| Leather Expandable Attache Case in Brown | The brown leather attache case serves as a symbol of Foster's former life and is a recognizable prop from the film. |
| Tec 9 Airsoft | The Tec 9 Airsoft gun is an important prop, representing Foster's descent into vigilantism. It is a crucial element for recreating iconic scenes from the movie. |
| Zebra Z-Grip Retractable Ballpoint Pens | Foster's collection of pens inside his briefcase is a memorable detail from the film. Including these pens adds authenticity to the costume and showcases his meticulous nature. |
William "D-Fens" Foster Overview
William "D-Fens" Foster, portrayed by Michael Douglas in the 1993 film "Falling Down," is a character known for his descent into vigilantism amid the pressures of modern urban life. Here's a glimpse into the world of William "D-Fens" Foster:
1. The Ordinary Man: At the outset, William "D-Fens" Foster appears to be an average man pushed to his breaking point. He's a symbol of the frustrations and alienation that can come from societal pressures.
2. Disheveled Appearance: Foster's costume consists of a disheveled white short-sleeve dress shirt, a slim black tie, black dress pants, white sneakers, and a briefcase. These items represent his mundane life before his transformation.
3. The Journey of Vigilantism: Throughout the film, Foster embarks on a journey through the streets of Los Angeles, encountering various individuals and situations. His actions blur the lines between heroism and villainy as he confronts the injustices he perceives in society.
4. Iconic Briefcase: Foster's briefcase is a central element of his costume and character. It contains various items that symbolize his deteriorating mental state and the changing circumstances he encounters on his journey.
5. A Mirror to Society: William "D-Fens" Foster serves as a mirror to the challenges and pressures faced by individuals in the modern world. His character raises questions about societal norms and the breaking point of the human psyche.
As you prepare to create your William "D-Fens" Foster costume, remember to capture the disheveled appearance and intense determination of this complex character. Now, let's dive into the details and transform you into the embodiment of William "D-Fens" Foster's extraordinary journey!
Check out more movie costume ideas here.