Embark on a journey beyond the Wall, where the harsh wilderness and rugged landscapes of the North await, as we dive into the creation of a Ygritte costume. In this comprehensive guide, we'll explore the captivating world of George R.R. Martin's "A Song of Ice and Fire" and the enthralling television series, "Game of Thrones." Ygritte, a character whose fiery spirit, fierce independence, and strong-willed nature define her, embodies the essence of the Free Folk beyond the Wall. Now, you have the opportunity to embody her untamed presence, her distinctive Wildling style, and her unwavering loyalty to her people. Join us as we unveil the secrets to crafting a costume that pays tribute to Ygritte, a character whose presence is as wild and free as the lands she calls home.
Ygritte Costume – Game of Thrones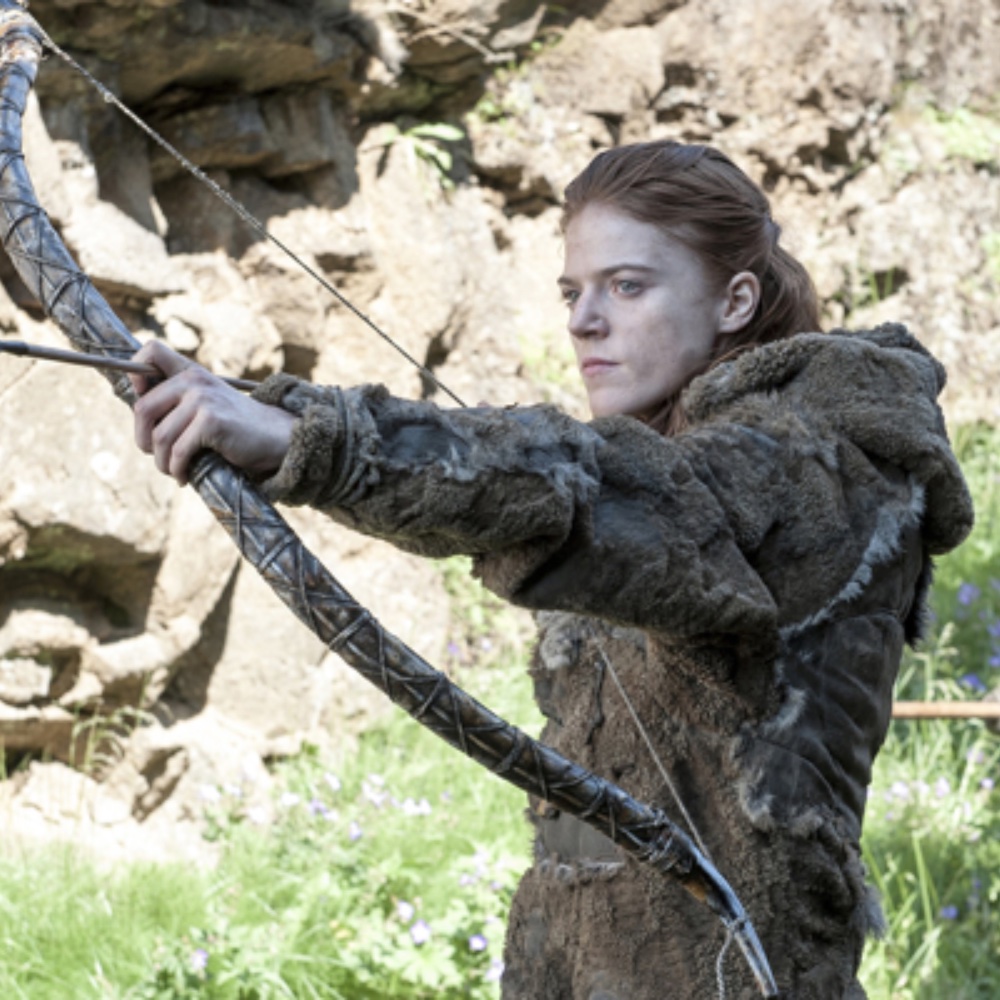 | | |
| --- | --- |
| Deluxe Beginner Archery Package | Ygritte is renowned for her archery skills, and this prop allows you to embody her prowess. It's a symbol of her identity as a Free Folk and her resourcefulness in the wilderness. |
| Untamed Cut Strawberry Blonde Wig | Ygritte's wild and fiery hair is one of her defining features. This wig replicates her distinctive look, capturing her untamed spirit and appearance. |
| Faux Fur Hooded Coat in Beige and Mint | Ygritte's clothing reflects the rugged and practical style of the Free Folk. This hooded coat not only provides warmth but also captures the essence of her attire in the cold North. |
| Cargo Pants in Light Grey | Practicality is key for Ygritte. These cargo pants are suitable for surviving in the harsh wilderness and add authenticity to the costume. |
| Isotoner Fur Lace-Up Slipper Boots in Gunmetal | Ygritte's footwear is practical for navigating rugged terrain. These fur-lined boots are comfortable and align with her Free Folk style. |
Ygritte Overview
Ygritte is a character known for her fierce independence and strong-willed nature in the world of "Game of Thrones" and George R.R. Martin's series. Here's an overview of this captivating character:
Wildling Origins: Ygritte is a Free Folk, or Wildling, from beyond the Wall. Her upbringing in the unforgiving wilderness of the North influences her resourcefulness and self-reliance.
Skilled Archer: Ygritte is a highly skilled archer, known for her accuracy and precision with a bow. Her prowess in archery is a testament to her survival skills and her ability to navigate the harsh environment.
Distinctive Style: Ygritte's attire reflects the rugged and practical nature of the Free Folk. Her clothing is often made of furs and leather, designed to withstand the harsh climate beyond the Wall.
Fiery Spirit: Ygritte's fiery spirit and unwavering loyalty to her people and beliefs set her apart. Her passionate nature is both captivating and endearing.
Complex Relationship: Ygritte's relationship with Jon Snow, a member of the Night's Watch, adds depth to her character. Their love story unfolds against the backdrop of the conflict between the Free Folk and the Night's Watch.
Survival Instinct: Ygritte's ability to survive in the wilderness and her determination to protect her people make her a formidable figure beyond the Wall.
Check out more Game of Thrones costume ideas here.