Welcome to our comprehensive guide on creating an enchanting Marnie Pokemon Sword and Shield costume! Marnie is a beloved character from the Galar region, known for her unique sense of style, unwavering determination, and her strong bond with her Morpeko. Whether you're a passionate Pokémon fan or just looking for a fun and distinctive cosplay idea, this guide will walk you through the steps to bring Marnie's iconic look to life. With attention to detail and a touch of creativity, you'll be ready to step into the Galar region and take on the role of this enigmatic trainer.
Marnie from Pokemon Sword and Shield Costume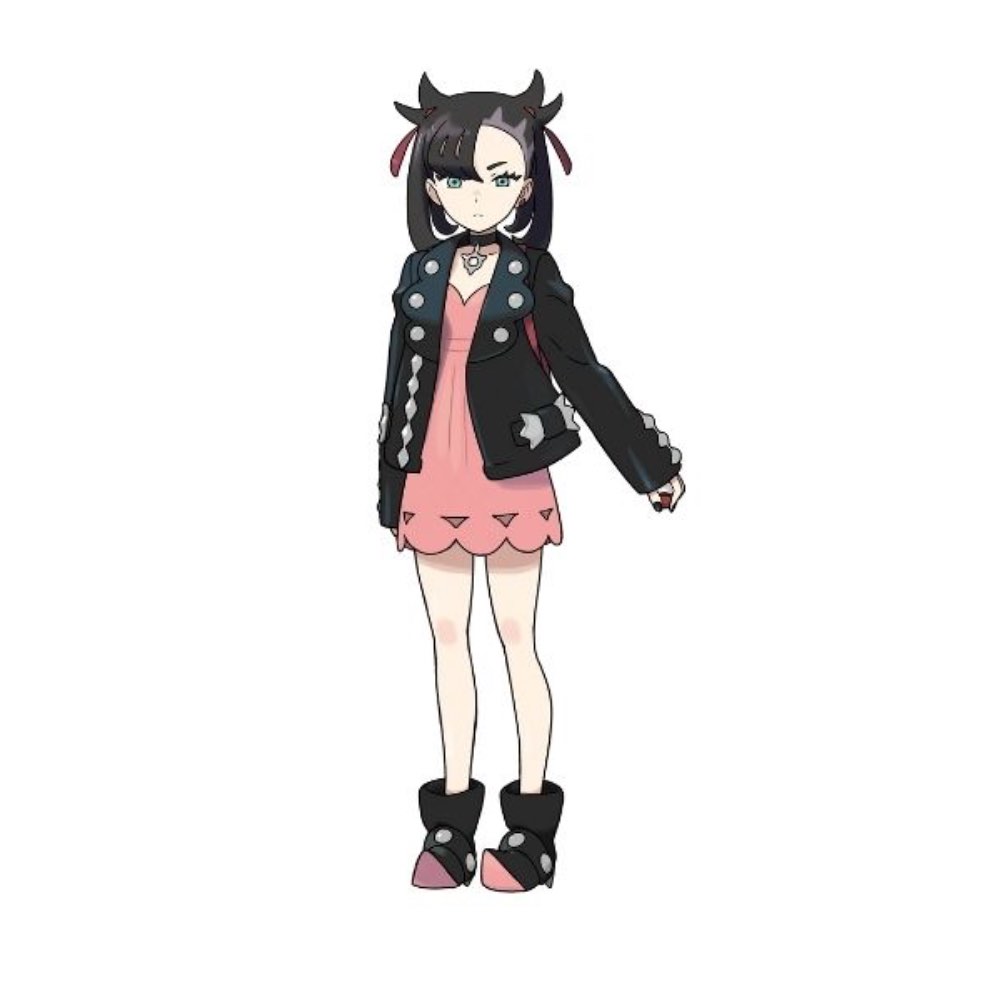 | | |
| --- | --- |
| Medium Length Black Wig | Marnie has long, jet-black hair that is an integral part of her look. A medium-length black wig is essential to replicate her hairstyle accurately. It allows you to achieve Marnie's sleek, straight hair with bangs, ensuring that your cosplay captures the character's iconic appearance. |
| Black Nail Polish | Marnie is known for her edgy and punk-inspired fashion. Black nail polish adds a rebellious touch to your costume, mirroring her dark and stylish aesthetic. It's a small but impactful detail that helps complete the overall look. |
| Black Choker with Pendant | A black choker with a pendant is a key accessory in Marnie's outfit. It complements her punk-rock style and adds a touch of uniqueness to her appearance. The pendant is a subtle yet important detail that ties her look together. |
| Black Faux Leather Asymmetrical Motorcycle Jacket | Marnie's signature outerwear is her black faux leather motorcycle jacket. This jacket embodies her rebellious spirit and tough persona. It's a central piece of her outfit that instantly identifies her character and adds a sense of coolness to your cosplay. |
| Sleeveless Pink Mini Dress | Underneath her jacket, Marnie wears a sleeveless pink mini dress. This dress provides a vibrant contrast to her dark outerwear, highlighting her individuality and style. It's a crucial component of her outfit that adds depth to her character's fashion sense. |
| Goth Spiked Black Ankle Booties | Marnie's footwear completes her bold and edgy look. The goth spiked black ankle booties are not only stylish but also practical for a character who is always on the move. They contribute to the overall punk-rock vibe and provide comfort for cosplayers attending events or conventions. |
Marnie from Pokemon Sword and Shield Overview
Marnie, full name Marnie Minette, is a prominent character in Pokémon Sword and Shield, the eighth-generation Pokémon games set in the Galar region. She serves as one of the main rivals to the player character, adding depth and challenge to the game's storyline. Marnie hails from the town of Spikemuth, a place known for its underground punk rock scene, and she embodies this edgy aesthetic in her appearance and personality.
Here are some key aspects of Marnie's character that you'll want to capture in your costume:
Fashion Forward: Marnie is a fashion-forward character, often seen wearing a black and purple outfit with a punk-rock twist. Her style includes a leather jacket, fingerless gloves, ripped jeans, and combat boots. Her signature accessory is a pair of sunglasses perched on her forehead.
Gym Leader: As the Gym Leader of Spikemuth, Marnie is a strong and skilled trainer, specializing in Dark-type Pokémon battles. To fully embody her character, consider incorporating a Gym Leader badge or other gym-related details into your costume.
Morpeko: Marnie's partner Pokémon is Morpeko, a dual Electric/Dark-type Pokémon known for its ability to switch between its Full Belly Mode and Hangry Mode. Carrying a plush Morpeko or having a prop that represents this lovable Pokémon can be a fantastic addition to your costume.
Confident and Determined: Marnie exudes confidence and determination in her quest to become a Pokémon Champion. Her personality is a mix of toughness and compassion, making her a memorable and relatable character to fans.
As we guide you through the process of creating your Marnie costume, we'll pay close attention to these character traits and details to ensure that your transformation into this Galarian icon is nothing short of amazing. Get ready to embrace the punk-rock vibes and embark on an adventure as Marnie from Pokémon Sword and Shield!
Check out more Pokémon costume ideas.