Step into a world of vintage allure and grace as we dive into the art of creating the Vintage Swimsuit Barbie costume and look inspired by the enchanting 2023 Margot Robbie movie. Embrace the spirit of bygone eras and capture the essence of sophistication that defines the iconic Barbie character.
In this guide, we'll lead you through the process of crafting the Vintage Swimsuit Barbie costume and style, ensuring every detail exudes the charm and elegance of yesteryears. From selecting fabrics that evoke nostalgia to mastering the art of vintage accessories that mirror Margot Robbie's on-screen magnetism, we've got all the steps to transform you into a living embodiment of timeless glamour.
Vintage Swimsuit Barbie Costume – Barbie Movie 2023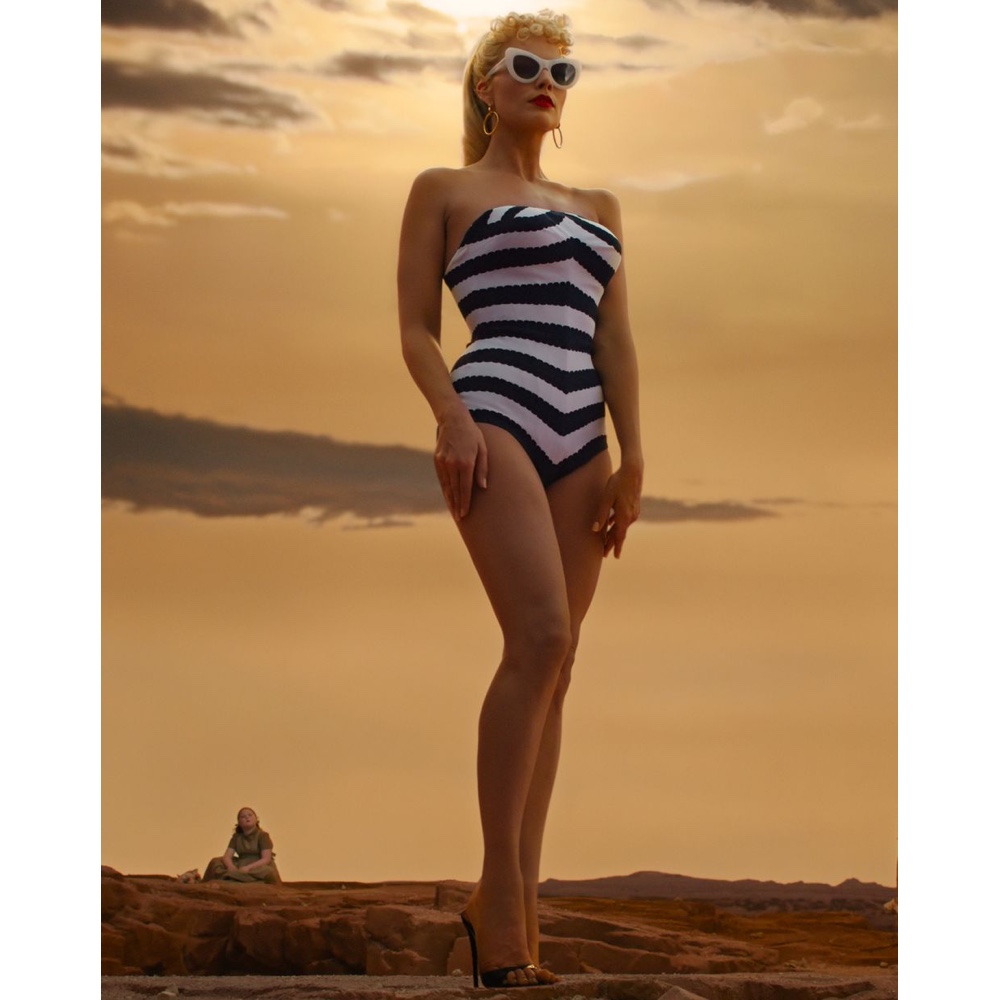 | | |
| --- | --- |
| Vintage Black and White Swimsuit | The Vintage Black and White Swimsuit is the cornerstone of the Vintage Swimsuit Barbie look, effortlessly embodying the timeless elegance of a bygone era. This swimsuit not only evokes a sense of nostalgia but also captures the sophistication and poise that define the character. Its classic design is a tribute to vintage fashion, allowing you to exude an air of grace and charm. |
| Retro Cat Eye Sunglasses | Retro Cat Eye Sunglasses add a touch of mystique and glamour to your Vintage Swimsuit Barbie ensemble. These shades exude the essence of old Hollywood charm, framing your face with an aura of sophistication. Just as Margot Robbie's character captures attention on-screen, these sunglasses ensure you command the spotlight with every glance. |
| High Heels | High Heels elevate your Vintage Swimsuit Barbie look to new heights of elegance and allure. These shoes not only elongate your silhouette but also echo the grace and confidence of the character. Whether strolling by the beach or lounging poolside, high heels infuse your ensemble with a touch of glamour that's synonymous with the vintage era. |
| Red Lipstick | Red Lipstick is the epitome of classic glamour, adding a bold and striking element to your Vintage Swimsuit Barbie transformation. This timeless hue pays homage to the vintage style while making a statement that exudes confidence and sophistication. Just as Margot Robbie's character captures hearts with her on-screen presence, this red lipstick ensures you leave an indelible mark. |
| Hoop Earrings | Hoop Earrings are the perfect accessory to complete your Vintage Swimsuit Barbie look, infusing it with a touch of playful elegance. These earrings frame your face with a hint of whimsy while mirroring the character's magnetic charm. Their classic design harks back to a time of timeless beauty, adding a final flourish to your ensemble that captures the essence of the 2023 Margot Robbie movie. |
Barbie Movie 2023 Overview
Dive headfirst into a world where charm, wonder, and discovery converge as we unravel the enchanting tale of the 2023 movie "Barbie," featuring the captivating Margot Robbie. In this fantastical journey, Barbie and Ken find themselves basking in the splendor of Barbie Land, a kaleidoscopic haven where vibrant colors and perfect lives reign supreme. However, their idyllic existence takes an unexpected turn when an opportunity to venture into the real world beckons, revealing both the delights and challenges of immersing themselves in the realm of humanity.
From the very start, "Barbie" whisks us away to a realm of boundless imagination, where Barbie and Ken are enveloped in a dazzling tapestry of hues and harmony in the paradise known as Barbie Land. Together, they experience a life that seems to embody the epitome of perfection – a world where every moment is a celebration of joy and beauty.
But as fate weaves its intricate threads, Barbie and Ken are presented with a unique chance to step beyond the confines of their fantastical abode and enter the bustling realm of humans. In this new and unfamiliar reality, they must navigate the intricacies of human emotions, aspirations, and relationships. The once-flawless facade of their existence is exchanged for a tapestry woven with both the joys and complexities of the human experience.
As Barbie and Ken embrace their newfound adventure, they find themselves entangled in a series of heartwarming and humorous escapades that bridge the gap between their ethereal origins and the tangible world they now inhabit. Their journey unfolds as a delightful blend of discovery, self-realization, and the forging of genuine connections with those they encounter along the way.
"Barbie," brought to life by the magnetic performance of Margot Robbie, weaves a narrative tapestry that celebrates the allure of imagination and the uncharted territories of the human heart. With each step, Barbie and Ken offer us a glimpse into the magic of embracing change, the enchantment of leaving the familiar behind, and the extraordinary power of transformation.
Join us in experiencing a kaleidoscope of emotions, as we embark on an extraordinary odyssey that traverses the realms of fantasy and reality. Through the lens of "Barbie," we are reminded that every hue of life, whether painted in vibrant colors or muted tones, contributes to the symphony that makes us truly human. Are you ready to be captivated by the magic of "Barbie"? The journey awaits, and it's nothing short of extraordinary.
Check out more Barbie costume ideas here.