Welcome to the comprehensive guide on creating a stunning costume inspired by the enigmatic Jedi Knight, Aayla Secura. This guide will provide you with step-by-step instructions and suggestions to help you bring this iconic Star Wars character to life. Whether you're a dedicated cosplayer or simply a fan looking to immerse yourself in the Star Wars universe, this guide will assist you in crafting an authentic Aayla Secura costume that captures her unique blend of grace and power. So, let's embark on this exciting journey and unlock the secrets of Aayla Secura's captivating appearance.
Aayla Secura Costume – Star Wars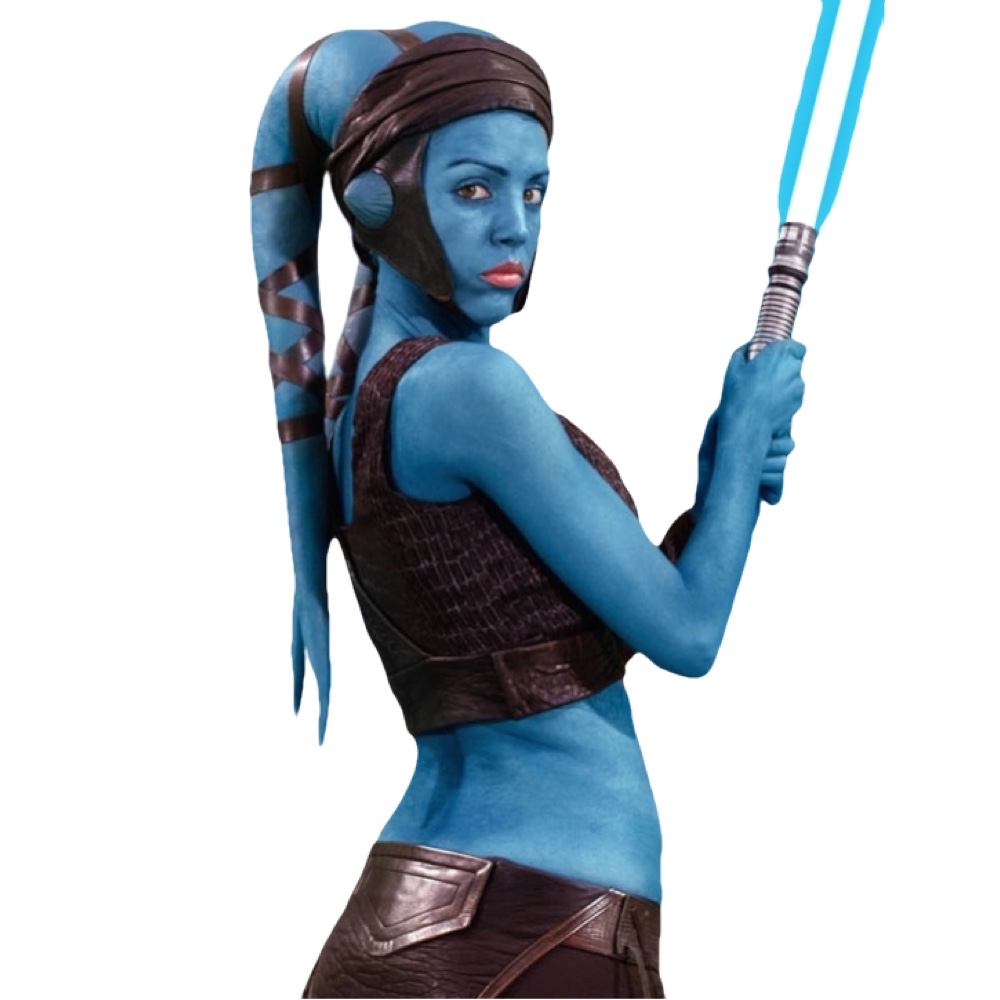 | # | Item | Description |
| --- | --- | --- |
| 1 | Blue Body Paint | To achieve Aayla Secura's distinctive appearance, begin by adorning yourself with blue body paint. Look for high-quality, skin-friendly paint that ensures a comfortable and vibrant transformation. |
| 2 | Twi'lek Head Tails | Capture the essence of the Twi'lek species with Aayla's iconic head tails. Acquire pre-made head tails or embark on a creative journey to craft your own. Online tutorials offer helpful guidance for crafting these unique appendages. |
| 3 | Leather Head Wrap Set | Add an additional layer of authenticity with a leather head wrap. Fashion your own headwrap using brown leather or explore ready-made options. The head wrap serves as a distinguishing feature of Aayla's ensemble. |
| 4 | Brown Leather Boots | No action-oriented attire is complete without suitable footwear. Seek knee-high, low-to-medium heeled brown leather boots to complement Aayla Secura's dynamic presence. |
| 5 | Tight Brown Pants | Showcasing both style and flexibility, Aayla opts for form-fitting brown pants. Opt for stretchy alternatives that allow for easy movement, and remember that any suitable pair will effortlessly contribute to the overall look. |
| 6 | Brown Crop Top | Elevate your ensemble with a brown leather crop top or vest. While the original design features a one-sleeved vest, variations of brown leather crop tops can effectively capture the essence of Aayla's outfit. |
| 7 | Leather Warmer Single-Sleeve Jacket | Embrace Aayla's unique fashion sense by combining a single-sleeve leather warmer jacket with a brown leather vest or top. This fusion creates an authentic look while accommodating personal style preferences. |
| 8 | Brown Leather Belt and Apron | No true superhero outfit is complete without an essential accessory. Include a brown leather belt and apron to add the final touch of detail and complete your transformation into Aayla Secura. |
| 9 | Blue Lightsaber | As a Jedi, Aayla Secura's primary weapon is her trusty lightsaber. Ensure your costume stays true to her character by obtaining a blue lightsaber that beautifully complements her skin color and adds an aura of mystique. |
Aayla Secura Overview
Aayla Secura, a Twi'lek Jedi Knight, stands as a symbol of unwavering strength and indomitable spirit within the Star Wars saga. With her distinct blue-skinned appearance and signature head-tails, known as lekku, Aayla Secura exudes elegance and determination in equal measure. As a skilled lightsaber duelist and a compassionate warrior, she has garnered a loyal following of fans who admire her unwavering commitment to justice and her unwavering resolve in the face of adversity. Embodying the true essence of the Jedi Order, Aayla Secura's character resonates with her captivating presence and unwavering dedication to the light side of the Force. In this guide, we will delve into the details of her costume, allowing you to recreate her iconic look and step into the shoes of this remarkable Jedi Knight.
Check out more Star Wars costume ideas here.