Welcome to the ultimate guide for creating a stunning Akasha costume! If you're captivated by the powerful and mesmerizing vampire queen from Anne Rice's "Queen of the Damned," then this guide is perfect for you. In this comprehensive tutorial, we will unveil the secrets behind Akasha's ethereal beauty and fierce presence. Whether you're preparing for a cosplay event, Halloween party, or simply want to embody the allure of this iconic character, we've got you covered. So, gather your materials, embrace your dark side, and let's embark on a journey to recreate Akasha's breathtaking look!
Akasha Costume – Queen of the Damned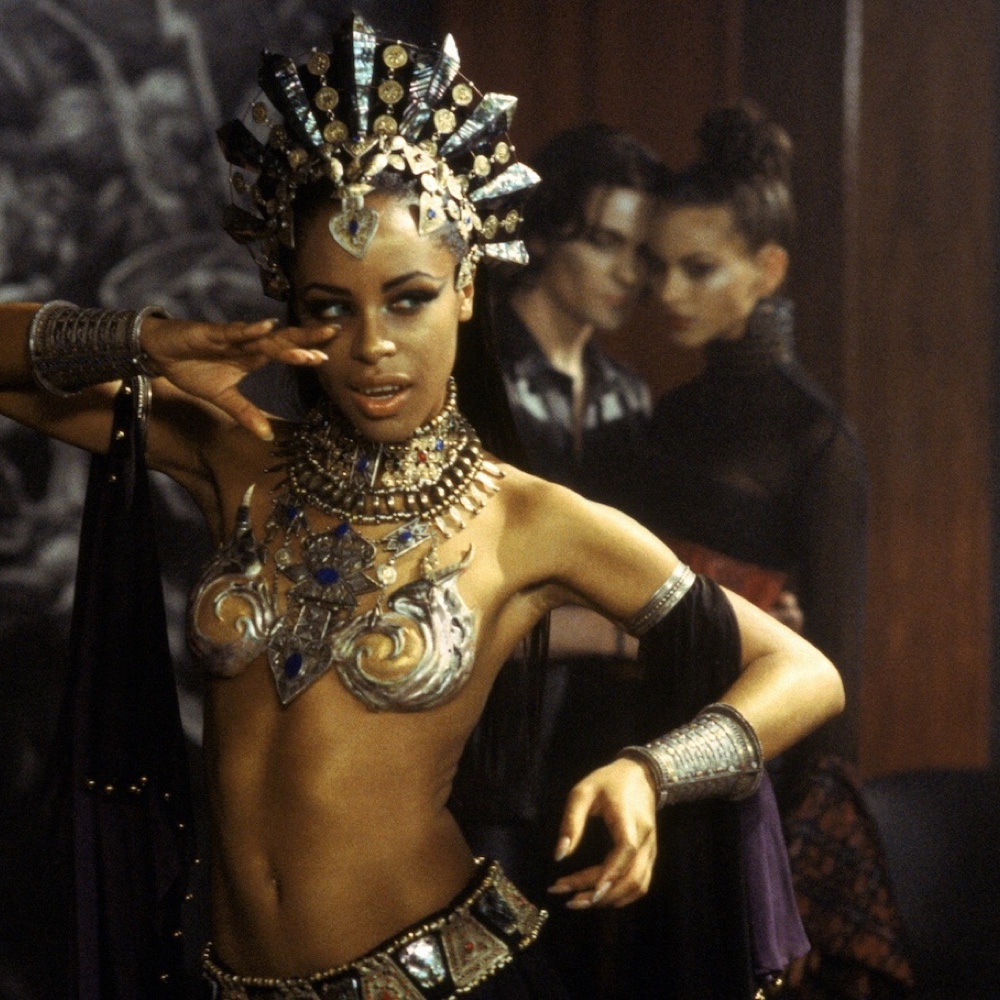 | # | Item | Description |
| --- | --- | --- |
| 1 | Sheer Nude Jumpsuit Top | Add a touch of elegance to your outfit with a sheer nude jumpsuit top that complements your style. |
| 2 | Metal Bra | If a metal bra is beyond your budget, opt for a captivating sequin bra in a stunning copper color. |
| 3 | Long Black Maxi Skirt | Match your top with a long black maxi skirt to create a chic and stylish ensemble. |
| 4 | Neck Piece | Elevate your look with a stunning gold neck piece that adds a touch of glamour to your costume. |
| 5 | Gold Hip Scarf | Accentuate your hip area by fastening a beautiful gold scarf around it, adding an element of allure to your attire. |
| 6 | Exotic Crown | Complete your regal look with an exotic crown that exudes power and elegance, reminiscent of Akasha's style. |
| 7 | Upper Armbands | Add a touch of sophistication to your arms with sleek and stylish silver upper armbands. |
| 8 | Silver Gauntlets | Enhance your costume with a pair of silver gauntlets that will make you look fierce and powerful. |
| 9 | Black Scarf | Attach two black scarves to your armbands and gauntlets using safety pins for an edgy and mysterious touch. |
| 10 | Fake Nails | Wear long nail extensions with strong adhesive glue to create impressive vampire claws that complete your transformation. |
| 11 | Vampire Fangs | Show off your vampiric nature with realistic vampire fangs that add a menacing touch to your costume. |
| 12 | Long Straight Wig | Recreate Akasha's iconic long hairstyle with a sleek and shiny long straight wig in a captivating black color. |
| 13 | Hair Pin | Add an extra touch of darkness with skull-shaped hair pins that complement your vampire queen look. |
| 14 | Earrings | Complete your ensemble with dangling earrings that add a touch of elegance and allure to your vampire queen attire. |
Akasha Overview
Akasha, the Queen of the Damned, is a timeless and enigmatic character from the supernatural realm. Known for her supernatural beauty and unparalleled power, Akasha is an immortal vampire who exudes an aura of seduction and danger. Her regal presence is accentuated by her elaborate and seductive attire, characterized by flowing fabrics, intricate jewelry, and a hint of ancient mystique. With her mesmerizing eyes and long cascading hair, Akasha commands attention wherever she goes. In this guide, we will explore the key elements that define Akasha's iconic style, from her captivating wardrobe to her distinct makeup and accessories. Get ready to embrace your inner vampire queen as we delve into the world of Akasha and unlock the secrets to bringing this legendary character to life. Let's unleash the darkness and create a spellbinding Akasha costume that will leave a lasting impression!
Check out more movie costume ideas here.