If you're a fan of cult-classic horror films and you're looking for a Halloween costume that's equal parts iconic and badass, look no further than Ash Williams. As the hero of the "Evil Dead" franchise, Ash is known for his chainsaw-wielding, boomstick-toting, demon-fighting antics. Whether you're a die-hard fan of the films or just appreciate a good ol' groovy costume, this guide will walk you through the steps of creating your very own Ash Williams costume. So, strap on your chainsaw, grab your boomstick, and let's get started on becoming the legendary Deadite slayer himself.
Ash Williams Costume – Evil Dead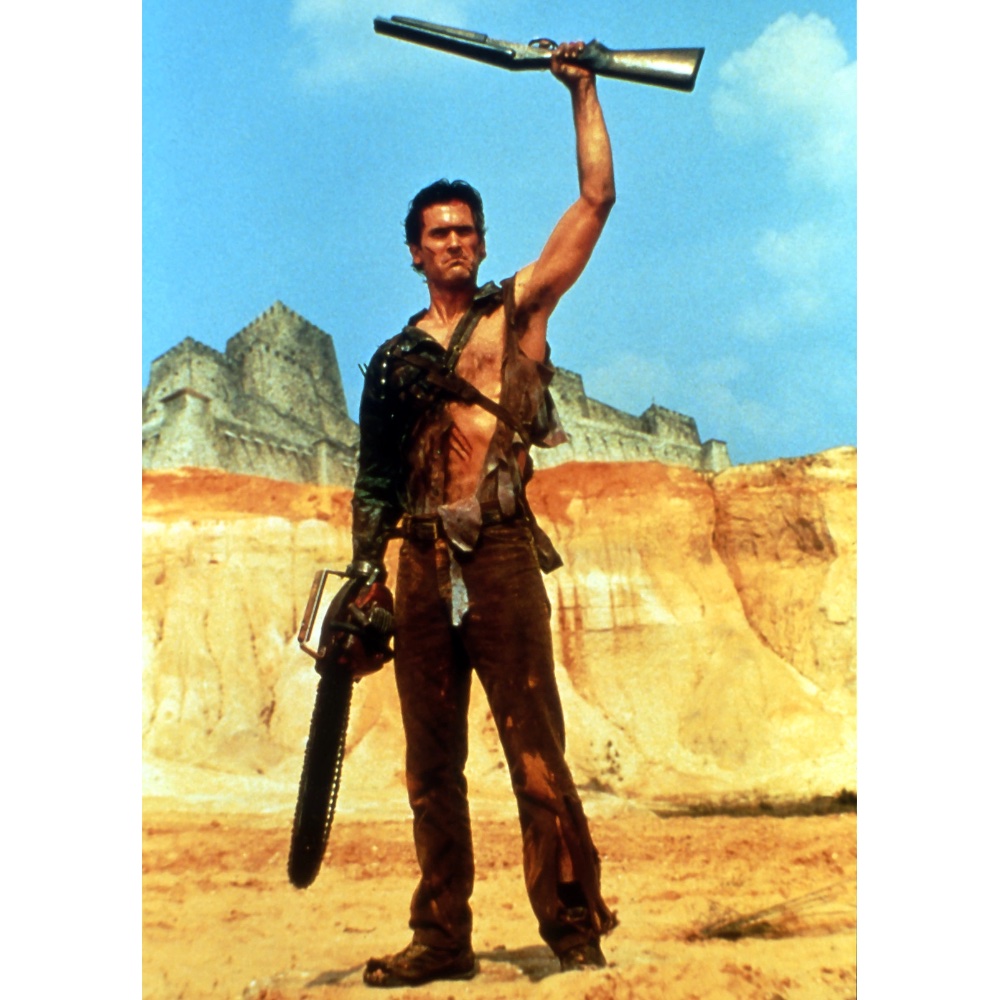 | # | Item | Description |
| --- | --- | --- |
| 1 | Shirt, denim, button-up | The denim shirt gives Ash a very rugged look that suits his character and personality very well. |
| 2 | Pants, khaki | These pants are a very versatile item and are perfect for demon killing. |
| 3 | Harness, leather, shoulder | This leather harness is one of the really cool items in this costume. Ash uses it to tuck his shotgun into. |
| 4 | Satchel, dark color | When you're a demon killer on the run, you're going to want to keep your most vital items close to you, and that's what this satchel is for. |
| 5 | Shotgun, costume | Ash uses his trusty shotgun to do most of the demon killing. A shotgun is definitely a great weapon for a rugged guy like himself. |
| 6 | Chainsaw, costume | Besides his shotgun, Ash also uses a chainsaw to kill demons with. This weapon choice of his has become very iconic in movie history. |
| 7 | Blood, fake | You're supposed to be doing lots of demon killing in this costume, so for an extra look, splash some of this fake blood over parts of your costume. |
| 8 | Boots, black | To finish off this costume, these black work boots are a perfect shoe. |
Ash Williams Overview
Ashley J. Williams, better known as Ash, is a character portrayed by Bruce Campbell and created by filmmaker Sam Raimi. He first graced the silver screen in the 1981 horror classic "The Evil Dead" and later became the central figure in a franchise that includes sequels, a television series, and even a reboot.
Ash begins as an everyday guy, working as a stock boy at a department store and looking forward to a quiet weekend getaway in a remote cabin with his friends. However, things take a nightmarish turn when they discover the Necronomicon Ex-Mortis, the Book of the Dead, in the cabin's cellar. Unleashing unspeakable evil, the book's dark magic turns Ash's friends into grotesque Deadites—demonic, possessed creatures.
From that moment on, Ash's life becomes a relentless battle against the forces of darkness. He evolves from a reluctant hero into a chainsaw-wielding, sawed-off shotgun-carrying, one-liner-spouting, demon-slaying machine. His iconic look includes a blue shirt, brown pants, a chainsaw for a hand (thanks to a gruesome encounter with a Deadite), and his trusty boomstick (a sawed-off shotgun).
Ash's character is known for his resilience, resourcefulness, and over-the-top, sarcastic sense of humor. He's a symbol of both horror and comedy, making him a beloved figure in the world of cult cinema. So, if you're ready to channel your inner Ash Williams and take on the Deadites, let's dive into creating a costume that'll have everyone saying, "Groovy!"
Check out more Evil Dead costume ideas here.