Get ready to channel your inner Billie Eilish and step into the world of this iconic pop sensation with our comprehensive guide to creating the perfect Billie Eilish costume. Known for her distinctive style, fierce individuality, and chart-topping hits, Billie Eilish has become a fashion icon in her own right. Whether you're dressing up for Halloween, a themed party, or just want to capture her unique look, this guide will help you master every detail of her signature style.
This fancy dress is based on her clothing and style from the Bad Guy For music video.
Billie Eilish Costume – Bad Guy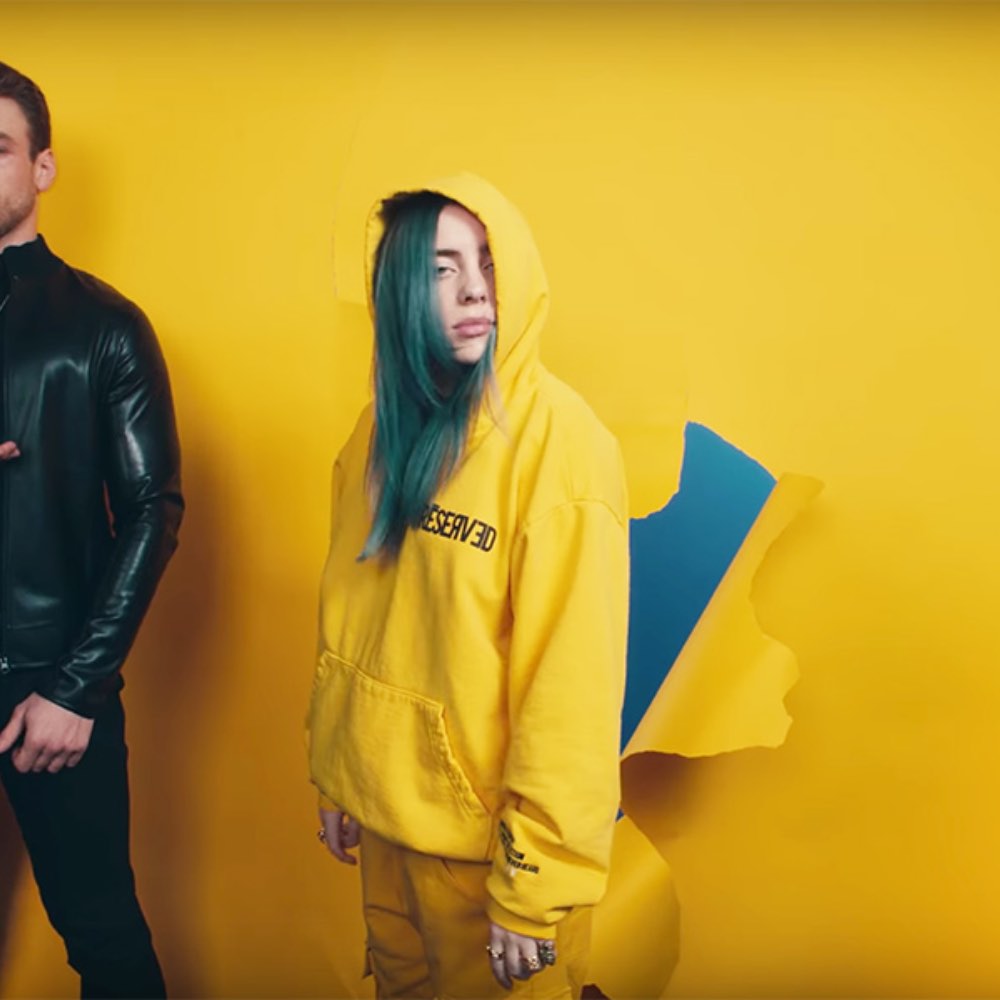 | | |
| --- | --- |
| Yellow Pullover Hoodie | The yellow pullover hoodie is a signature piece of Billie's outfit in the video, making it a must-have for capturing her style. |
| Yellow Scrub Cargo Pants | These pants match the color scheme of Billie's outfit in the video and are an integral part of her distinctive look. |
| Reserved Essential Puff Pocket Logo Pullover in Gold | This specific pullover mimics the style and design of Billie's hoodie in the video, helping you achieve a screen-accurate appearance. |
| Utility Cargo Pants in Gold | These cargo pants complement the outfit and add depth to the costume, staying true to Billie's style in the music video. |
| Yellow Sneakers | Billie's choice of yellow sneakers completes the ensemble, and they are essential for replicating her iconic look. |
| Green Long Straight Wig | Billie's vibrant green hair is a striking feature of her appearance in the video. A green wig is crucial to emulate her hairstyle accurately. |
| Pendant Chain Necklace | Billie often accessorizes with necklaces. A pendant chain necklace adds an authentic touch to the costume. |
| Clear Plastic Mouthguard for Invisalign | Billie Eilish wears a clear plastic mouthguard in the video, and incorporating this detail is essential for achieving an accurate portrayal. |
| Blue Snorkeling Mask | Billie wears a blue snorkeling mask at one point in the video, and including this prop adds a playful and recognizable element to the costume. |
Billie Eilish Overview
Billie Eilish's music videos are a visual feast, and her "Bad Guy" music video is a testament to her knack for pushing boundaries and embracing the unexpected. Released in 2019, this video showcases Billie's playful and unconventional style.
In "Bad Guy," Billie's fashion choices are a reflection of her bold and irreverent personality. She sports an oversized neon green tracksuit with contrasting black accents, instantly catching the eye and challenging conventional norms of beauty and fashion. Her choice of attire exudes confidence and fearlessness.
One of the defining elements of Billie's look in this video is her penchant for quirky accessories. She sports chunky silver chains, bracelets, and rings that add an edgy flair to her ensemble. Her iconic and enigmatic face mask further amplifies the mystique of her character.
Billie's makeup in the "Bad Guy" video features bold black eyeliner and nail art that perfectly complements her eccentric style. Her hair, dyed electric blue, adds another layer of uniqueness to her appearance.
In our guide, we'll dissect the key components of Billie Eilish's style from the "Bad Guy" music video, providing you with tips and insights to help you recreate her audacious look. So, let's embark on a creative journey to capture the essence of this fearless artist and make your Billie Eilish costume truly unforgettable.
Check out more celebrity costume ideas here.