Welcome to our comprehensive guide on creating an amazing Phil and Lil DeVille costume! Whether you're preparing for a costume party, a cosplay event, or simply want to pay tribute to this beloved pair of mischievous twins from the iconic animated series, "Rugrats," we've got you covered. In this guide, we'll take you through all the essential steps and provide valuable tips to ensure your costume captures the essence of Phil and Lil DeVille. Get ready for an exciting journey as we dive into the world of these adventurous toddlers and bring their vibrant personalities to life!
Phil and Lil DeVille Costume – Rugrats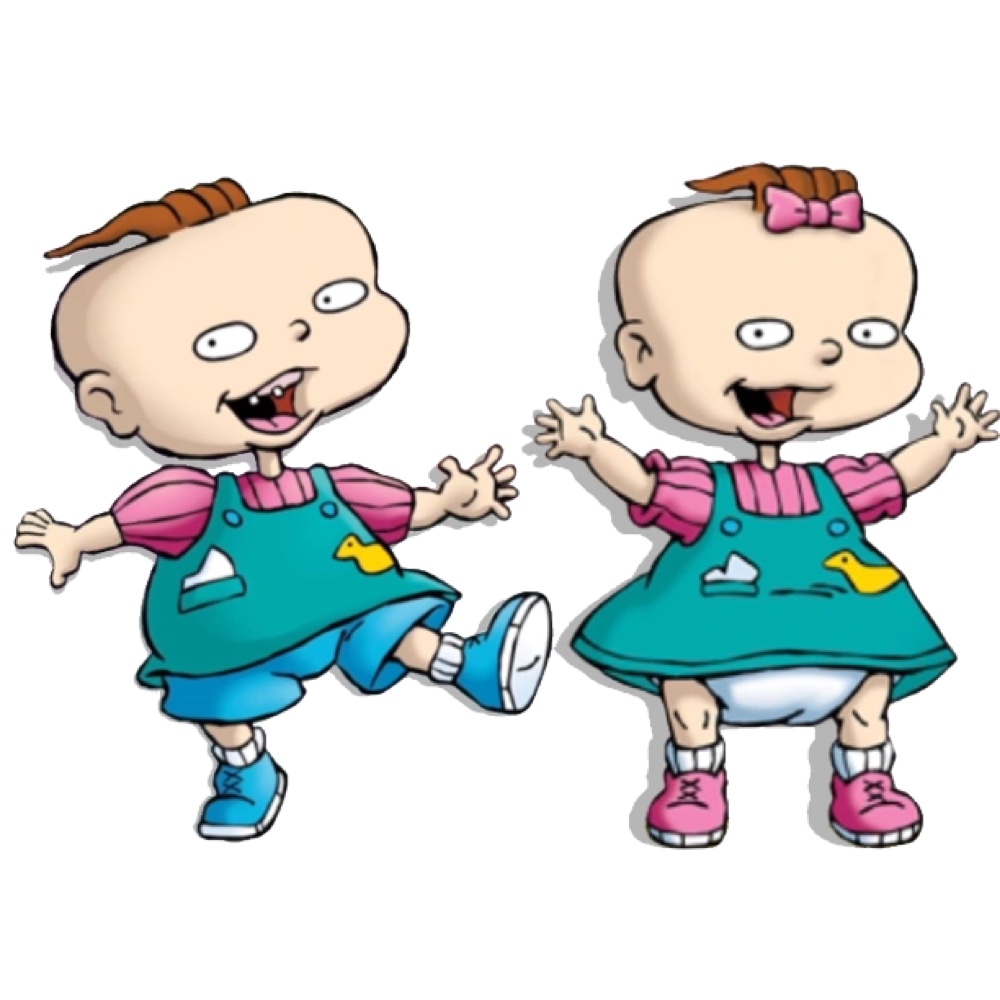 | # | Item | Description |
| --- | --- | --- |
| 1 | Green T-Shirt Dress | This dress serves as their signature look, a plain green dress that captures the essence of Phil and Lil DeVille. |
| 2 | Duck Sticker | For an extra touch of detail, you can place this adorable duck sticker on the left side of the dress. |
| 3 | Pink Shirt for Men & Pink Shirt for Women | To complete the look, find a plain pink shirt to wear underneath the dress, matching the vibrant style of Phil and Lil DeVille. |
| 4 | Pink Bow Tie | To recreate Lil's charming look, don't forget to add a cute pink bow tie on your head, capturing her distinctive style. |
| 5 | Pink Sneakers for Women | If you're aiming for Lil's look, complete your costume with a pair of fashionable pink sneakers, adding a playful touch to your overall appearance. |
| 6 | Blue Shorts | If you're opting for Phil's style, make sure to wear a pair of comfortable blue shorts that perfectly complement his adventurous and energetic personality. |
| 7 | Blue Sneakers for Men | To complete Phil's look, find a pair of stylish blue sneakers that capture his vibrant spirit and add an extra touch of authenticity to your costume. |
| 8 | White Socks | Both Phil and Lil wear plain white socks, so make sure to choose a comfortable pair that extends above the ankles, completing the authentic look of these mischievous twins. |
Phil and Lil DeVille Overview
Phil and Lil DeVille are two inseparable twins who add a delightful dose of chaos and mischief to the Rugrats gang. These lovable characters, created by Arlene Klasky, Gábor Csupó, and Paul Germain, have captured the hearts of fans worldwide with their hilarious antics and unique sense of style. Phil and Lil are known for their iconic appearances, each with their own distinct personality.
Phil DeVille, with his trademark red hair and oversized blue shirt, is an adventurous and spirited young boy. Always ready for excitement, he fearlessly explores the world around him, often with his trusty twin sister, Lil, by his side. Lil DeVille, distinguished by her purple shirt and adorable pigtails, is just as mischievous and energetic as her brother. With her contagious laughter and witty remarks, Lil brings an extra spark to their escapades.
As you embark on the journey of creating your Phil and Lil DeVille costume, remember to embrace their playful spirit and let your creativity shine. From capturing their signature hairstyles to replicating their distinctive outfits, this guide will provide you with all the necessary steps to ensure your costume is a perfect homage to these beloved characters. So, let's dive in and discover how to bring the lovable twins Phil and Lil DeVille to life through your costume!
Check out more TV show costume ideas here.