Welcome to our comprehensive guide on creating a spine-chilling Purge Couple costume. The Purge franchise has introduced a world where all crime is legal for a night, unleashing chaos and fear. Dressing up as a Purge Couple allows you and your partner to embody the eerie atmosphere and sinister characters from this dystopian universe. In this guide, we will provide you with step-by-step instructions, creative ideas, and helpful tips to help you craft an unforgettable Purge Couple costume. Get ready to embrace the darkness and create a haunting ensemble that will leave a lasting impression.
The Purge Couple Costume – The Purge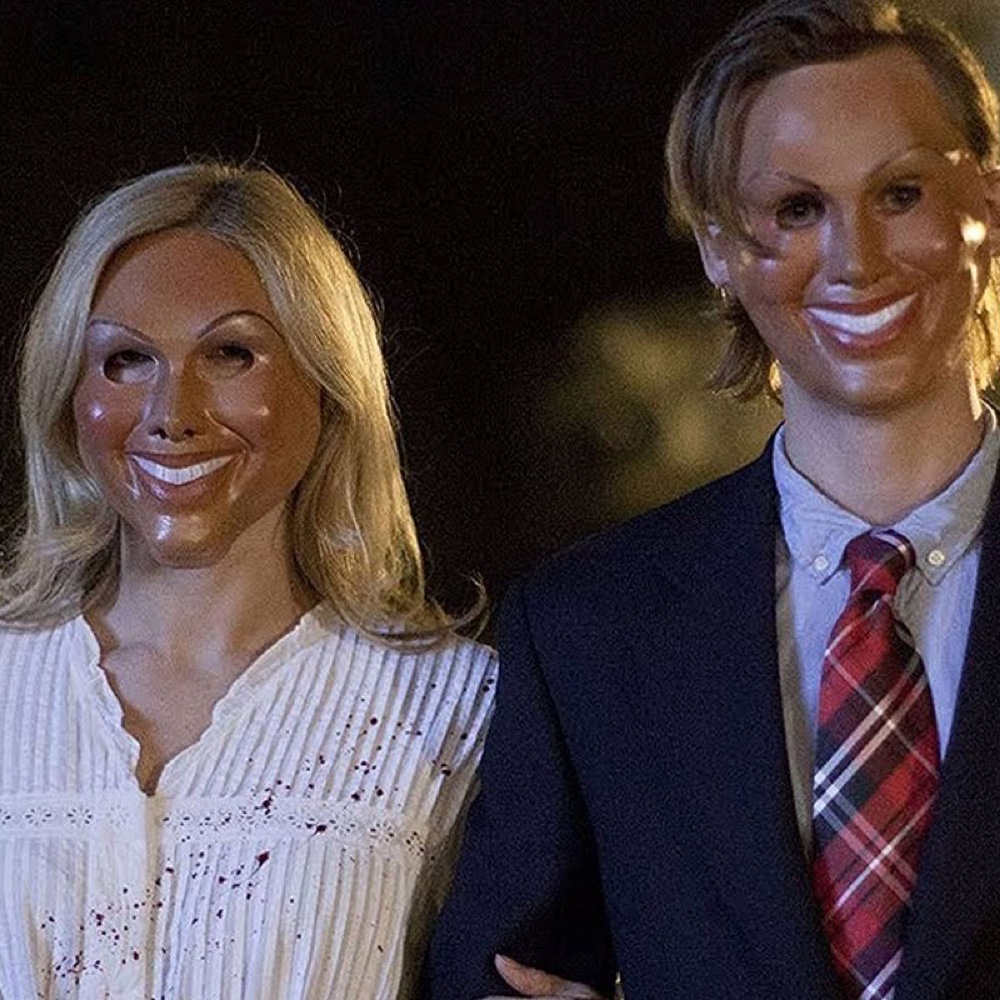 The Purge Couple – Man Costume
| # | Item | Description |
| --- | --- | --- |
| 1 | White Dress Shirt | Elevate your sophisticated look with a crisp white dress shirt, adding a touch of elegance to your ensemble. |
| 2 | Blue Suit | Immerse yourself in the world of privileged boarding school boys by donning a dashing blue suit, exuding an air of prestige and sophistication. |
| 3 | Red Plaid Necktie | Complete your ensemble with a striking red plaid necktie, accentuating your rich schoolboy persona with a touch of boldness. |
| 4 | Smiling Mask | Heighten the eerie factor by adorning a chilling smiling mask, creating an unsettling presence during the Purge. |
| 5 | Fake Shotgun | Add a touch of authenticity to your Purge persona with a realistic-looking fake shotgun, completing your outfit with an intimidating edge. |
The Purge Couple – Woman Costume
| # | Item | Description |
| --- | --- | --- |
| 1 | White Nightgown | Indulge in the innocence of a pure white nightgown, which appears harmless and delicate at first glance. |
| 2 | Blonde Wig | Transform your appearance with a captivating blonde wig, granting you an alluring and enigmatic allure. |
| 3 | Smiling Female Mask | Unleash a chilling smile upon your victims by donning a malevolent smiling female mask, amplifying your sinister presence. |
| 4 | Bloody Machete | Arm yourself for the Purge with a menacing bloody machete, ensuring you have a formidable weapon at your disposal. |
The Purge Couple Overview
The Purge Couple is a symbol of terror and fear, representing the twisted relationships that emerge during this night of lawlessness. They embody the essence of the Purge, exuding a sense of danger and unpredictability. The couple's costumes often reflect a combination of macabre elements, such as bloodstains, masks, and unsettling accessories. Whether you choose to portray a murderous duo or a haunting pair seeking survival, the Purge Couple costume allows you to explore the depths of your creativity and create a truly chilling presence. Join us as we delve into the details of crafting an eerie Purge Couple costume that will send shivers down the spines of those who cross your path.
In the following sections of this guide, we will guide you through the process of creating a remarkable Purge Couple costume. From selecting the perfect attire and accessories to mastering the unsettling makeup and details, we'll provide you with all the information you need to bring your Purge Couple to life. Get ready to immerse yourself in the world of the Purge and unleash your creativity in designing a haunting ensemble. Let us embark on this journey together and create a Purge Couple costume that will leave a lasting impression on those who dare to witness it.
Check out more The Purge costume ideas here.