In this guide, we will delve into the exciting world of creating costumes for the dynamic duo of Candace and Stacy. These two characters have captured the hearts of fans worldwide with their endearing friendship and adventurous spirits. Whether you're planning to cosplay as Candace and Stacy for a convention, Halloween, or simply to celebrate your love for these characters, we've got you covered with step-by-step instructions and helpful tips to bring these vibrant personalities to life through your costumes. So, let's dive in and embark on this creative journey together and look at your Candace and Stacy costume.
Candace and Stacy Costume – Phineas and Ferb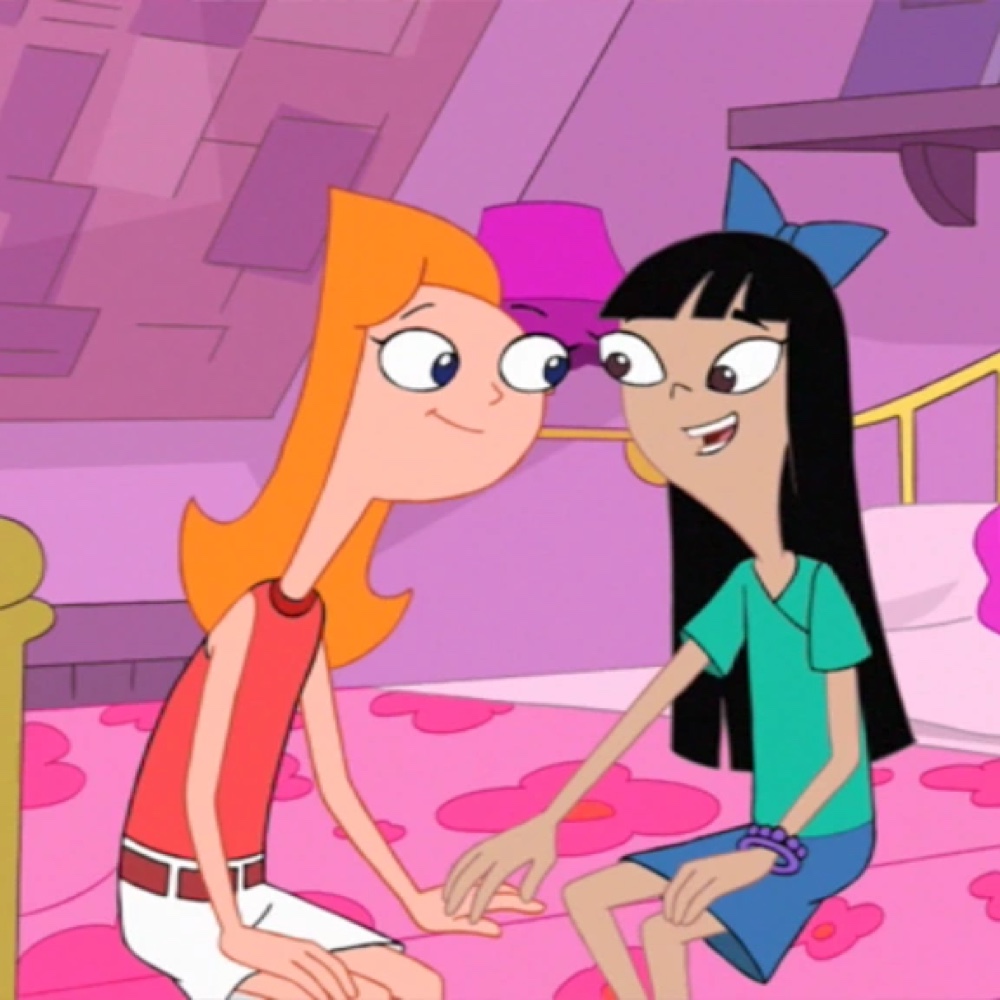 Candace Flynn Costume
| # | Item | Description |
| --- | --- | --- |
| 1 | Red Sleeveless Top | Start off your simple Candace outfit with this vibrant red sleeveless top. Crafted with premium fabric, it ensures both style and comfort, allowing you to chase adventures and keep up with Phineas and Ferb all day long. The eye-catching design adds a touch of flair to your ensemble, perfectly capturing Candace's lively and adventurous spirit. |
| 2 | White Skirt | Match your stunning red top with a plain and elegant white skirt. This versatile skirt complements your entire ensemble, adding a touch of sophistication to your Candace costume. The stretchy and breathable fabric ensures easy movement as you embark on your summer adventures or dance to the tunes of the "Phineas and Ferb" theme song. |
| 3 | Red Belt | Accessorize your outfit with a chic and stylish red belt. The covered buckle and stretchy leather construction ensure a comfortable fit while adding a pop of color to your ensemble. This eye-catching belt perfectly captures Candace's sense of fashion and adventure, making it a must-have accessory for your costume. |
| 4 | Red Socks | Stick to the theme with a pair of vibrant red socks. These lightweight and non-binding socks ensure maximum comfort while adding a fun and playful touch to your Candace costume. As you keep up with Phineas and Ferb's wild escapades, these socks will keep your feet cozy and stylish throughout the day. |
| 5 | White Mary Janes | Step into the classic look with a pair of pristine white Mary Janes. These comfortable and fashionable shoes perfectly complement your Candace costume, allowing you to walk in style and confidence just like Candace herself. Whether you're enjoying a beach day or embarking on a thrilling mission with Phineas and Ferb, these shoes will keep you stylish and ready for any adventure. |
| 6 | Orange Wig | Complete your Candace transformation with an exquisite orange wig. This vibrant and stylish wig replicates Candace's iconic hair, making you look just like the adventurous character from "Phineas and Ferb." Crafted with high-quality materials, the wig ensures a comfortable fit throughout your day of fun and excitement. With this wig, you're all set to embark on your own thrilling adventures in the world of "Phineas and Ferb." |
Stacy Hirano Costume
| # | Item | Description |
| --- | --- | --- |
| 1 | Mint Crop Top | Elevate your Stacy outfit with a refreshing mint crop top. Crafted from lightweight and breathable fabric, this top ensures comfort while exuding Stacy's vibrant and cheerful personality. The stylish floral prints add a touch of elegance to the ensemble, making it the perfect choice for a beach party or a day out with your friends. |
| 2 | Bright Blue Skirt | Embrace Stacy's love for brighter colors with a stunning bright blue skirt. This versatile and stretchy skirt complements your entire ensemble, allowing you to move with ease and style. Whether you're attending a beach party or dancing the night away, this skirt is the perfect choice for a chic and trendy Stacy look. |
| 3 | Blue Knee-High Socks | Stay true to the blue theme with a pair of delightful light blue knee-high socks. These comfortable and sporty socks add a fun and youthful touch to your Stacy costume, ensuring you stay in character as you enjoy your beach party or any exciting adventure with your friends. |
| 4 | Black Mary Janes | Opt for a classic and timeless look with a sleek pair of black Mary Janes. These comfortable and stylish shoes perfectly complement your Stacy costume, giving you the confidence to dance, laugh, and enjoy every moment of your beach party or any other exciting event. Whether you're on the sandy shores or exploring the nearby attractions, these Mary Janes will keep you looking stylish and fabulous. |
| 5 | Blue Hair Bow | Embrace Stacy's signature look with a cute and vibrant blue hair bow. This adorable accessory adds a playful and fun touch to your Stacy costume, capturing her cheerful and outgoing personality. Whether you're at the beach or attending a beach-themed party, this blue hair bow is the perfect way to complete your Stacy ensemble. |
| 6 | Bracelet | Add a touch of elegance to your Stacy outfit with a stunning bracelet. This chic and versatile accessory complements your beach party attire, elevating your look to a whole new level. Whether you're mingling with friends or enjoying the sea breeze, this bracelet will be a delightful addition to your Stacy costume. |
Tips for Your Candace and Stacy Costume
Creating the perfect Candace and Stacy costumes requires attention to detail and a touch of creativity. Here are some helpful tips to ensure your cosplay brings these lively characters to life:
Candace's Signature Look: To embody Candace, opt for her iconic outfit, which typically consists of a turquoise tank top, white shorts, and red sneakers. Add a touch of flair with a red hair bow, similar to the one she wears on the show. Don't forget Candace's expressive facial expressions, which are key to capturing her character's essence.
Stacy's Unique Style: For Stacy's costume, go for a more casual and quirky look. She is often seen wearing a pink collared shirt, a purple skirt or shorts, and purple sneakers. Accessorize with glasses and a purple headband to complete Stacy's charming appearance.
Hair and Makeup: Candace and Stacy have distinct hairstyles that are integral to their looks. Candace's hair is long and parted on the side, while Stacy sports short and slightly wavy hair. Make sure to style your hair accordingly to match each character. Keep makeup simple and natural, as both characters have youthful and vibrant personalities.
Accessorize Wisely: Pay attention to the small details that define Candace and Stacy's personalities. Candace often carries her smartphone, so consider having a prop phone with you. For Stacy, a quirky tote bag or backpack can add a fun touch to her character. These accessories will enhance the overall authenticity of your cosplay.
Practice Character Poses: Candace and Stacy have distinct body language and poses that define their personalities. Study their mannerisms from the show and practice replicating them in your photos and interactions. A well-executed pose can bring your costume to life and add an extra level of authenticity to your portrayal.
Group Cosplay: If you have a friend or fellow fan who shares your love for "Phineas and Ferb," consider teaming up for a Candace and Stacy group cosplay. The dynamic duo's adventures are often centered around their friendship, making this a fantastic way to celebrate the bond between these beloved characters.
Have Fun and Be Confident: Ultimately, the most important tip is to have fun and be confident in your portrayal of Candace and Stacy. Embrace their personalities and let their friendship and humor shine through your cosplay. Enjoy the experience of becoming these delightful characters, and your enthusiasm will undoubtedly resonate with fellow fans and cosplayers alike.
Candace and Stacy Overview
Candace and Stacy are best friends and central characters from the popular animated series "Phineas and Ferb." The show follows the summer escapades of two stepbrothers, Phineas and Ferb, as they embark on extraordinary adventures and create inventive contraptions. Meanwhile, Candace, Phineas' older sister, often attempts to "bust" her brothers by revealing their outlandish projects to their mom, Linda. Candace is a determined, sometimes exasperated, yet caring sister who provides humor and relatability to the show.
Stacy, on the other hand, is Candace's loyal and quirky best friend. She is always by Candace's side, supporting her endeavors and providing comedic relief with her witty remarks. Throughout the series, Candace and Stacy's friendship remains steadfast, showcasing the power of strong bonds in the face of wild summer adventures.
Cosplaying as Candace and Stacy allows fans to embody the spirited and humorous personalities of these beloved characters. Whether you're attending a fan convention, a themed party, or simply expressing your admiration for "Phineas and Ferb," these costumes will undoubtedly capture the essence of friendship, fun, and adventure that Candace and Stacy embody throughout the series. So, let's get started and bring Candace and Stacy to life in our own creative way!
Check out more TV show costume ideas here.